Page 2 of 2 •

1, 2

First topic message reminder :

Reading over the AMU Pistol Guide there are references in there to using a scorebook

Do you use one?
If so where did you get it?
Are there different ones?

I've done a search on google and did not turn up much.

Thanks,

John

Casey101




Posts

: 32


Join date

: 2014-01-02


Location

: New Jersey



---
Like many, I use a spreadsheet rather than a printed logbook.  There are some very nice benefits to doing so.

I make a distinction between a score sheet and a log book.  Score sheets are one per 900 and record individual shot values. Looking for patterns... a 96 with nine 10's and a 6 is a different problem to solve than six 10's and four nines.  I don't try to compute these patterns, I just review the score sheets from time to time.  For example, I realized that my Timed Fire in the NMC was consistently lower than all others.  I decided to practice Slow Fire, Timed Fire, SF, TF, etc.  It helped me not rush the first TF after SF. 

In my log book, I record string values -- one row per match. (This basically is a database which includes date, caliber, etc.) I use conditional formatting to always highlight a new personal best string, match or aggregate.  From that data, have a separate tab which is a table of my personal best scores for each gun (.22, CF, .45) for each string, match, 900 aggregate and 2700 aggregate. I keep my practice 900's in the database and keep match and practice personal bests separate.  I also compute a rolling 60-day average (900 aggregate) for each caliber.  I also keep a "theoretical" best which would be my aggregate if I shot all of my best matches on the same day.  Goals...

On a match day with a mediocre aggregate, I sometimes find a string or match with a personal best.  Although it's necessary to analyze the poor shooting, I like to invest time reflecting on what I was doing RIGHT at some point in the day to try to get the brain/body system to do those things more often.

carykiteboarder




Posts

: 134


Join date

: 2014-10-29


Location

: North Carolina



CR10X wrote:I use a score book for tracking scores for matches.  I have about 18 years worth now.
N00b.


john bickar




Posts

: 785


Join date

: 2011-07-09


Location

: Menlo Park, CA



Please send me a copy.
Dougjmbuilders@comcast.net
Thanks

djm026




Posts

: 55


Join date

: 2013-01-20


Age

: 51


Location

: Latrobe,Pa



Does anyone here still have this spread sheet that they can share.  please PM a link for download

noproblem




Posts

: 24


Join date

: 2016-01-30



noproblem wrote:Does anyone here still have this spread sheet that they can share.  please PM a link for download
If you have questions PM me.
- Dave
Sorry couldn't upload it - no space, I'll post a link.  The link is for the one I posted in 2014.  I have an updated version I can email you, either PM me or respond with your email address.
http://www.bullseyeforum.net/download.forum?id=432

dronning




Posts

: 1563


Join date

: 2013-03-20


Age

: 64


Location

: Lakeville, MN



Apparently this is what he is looking for.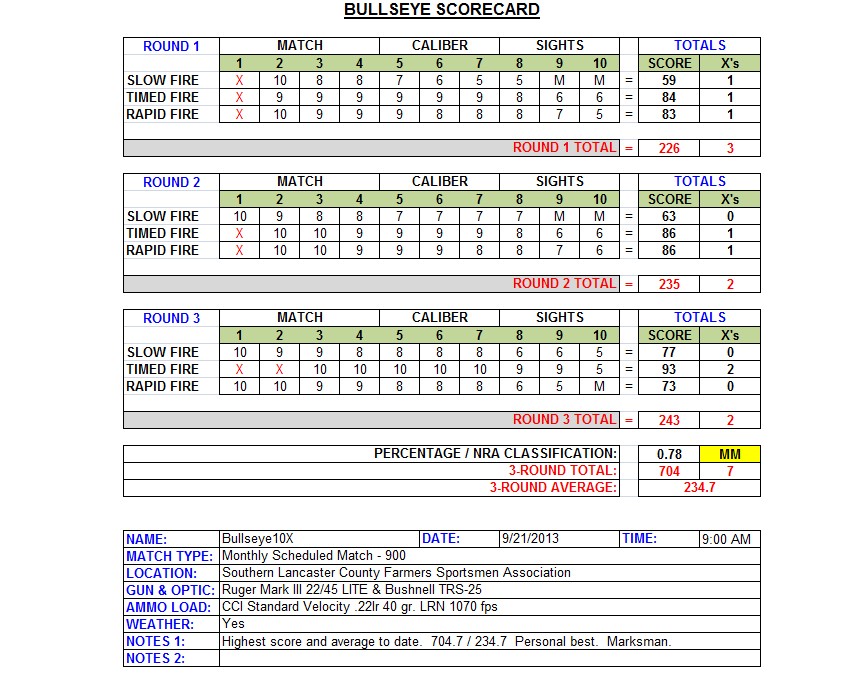 james r chapman

Admin




Posts

: 2390


Join date

: 2012-01-31


Age

: 69


Location

: HELL, Michigan



Page 2 of 2 •

1, 2

---
Permissions in this forum:
You
cannot
reply to topics in this forum