Page 4 of 4 •

1, 2, 3, 4
First topic message reminder :
Just thought we could all use some Positive Reinforcement so I made this a "sticky" which means its always at the top in this topic. So when you shoot a clean target and want to hoot a little post it here for all to see! 

Here is what I did last night at our weekly indoor league, 50 ft on the NRA reduced target, shot Timed fire style in four strings of 5 shots, we hang two targets at a time. 100 6x and a 100 7x this was a first for me to clean two in the same set of targets. Ended with a 493 26x out of possible 500. 

DavidR

Admin




Posts

: 2987


Join date

: 2011-06-10


Age

: 63


Location

: NRA:Expert, Georgia



---
Nice shooting Chris.  A 100 at 50 yards is no common feat, but I think this is your second in a relatively short period of time.

joy2shoot




Posts

: 216


Join date

: 2014-08-02


Location

: North Carolina



Talk about motivation.  The targets are fantastic, but how about some details?  Maybe gun, load, etc.
Not that the guy holding has anything to do with it. 


tceva




Posts

: 46


Join date

: 2017-04-20


Age

: 58


Location

: Virginia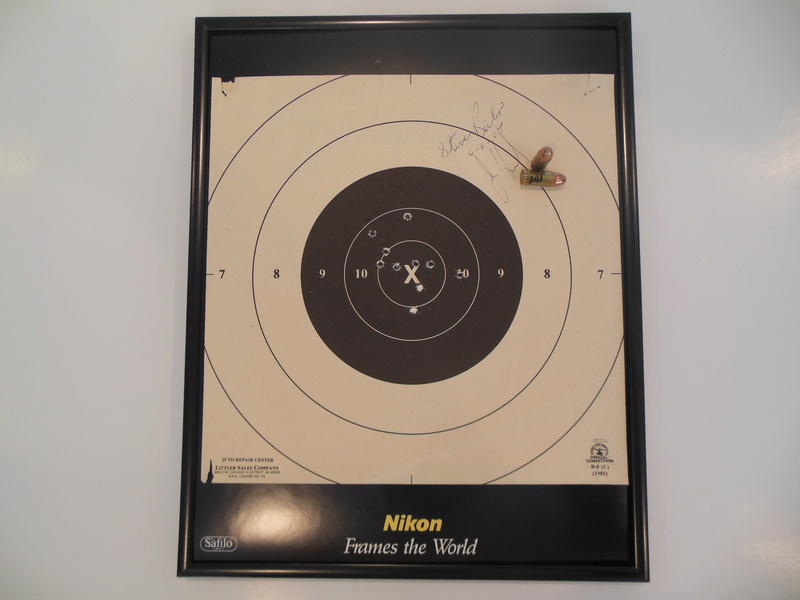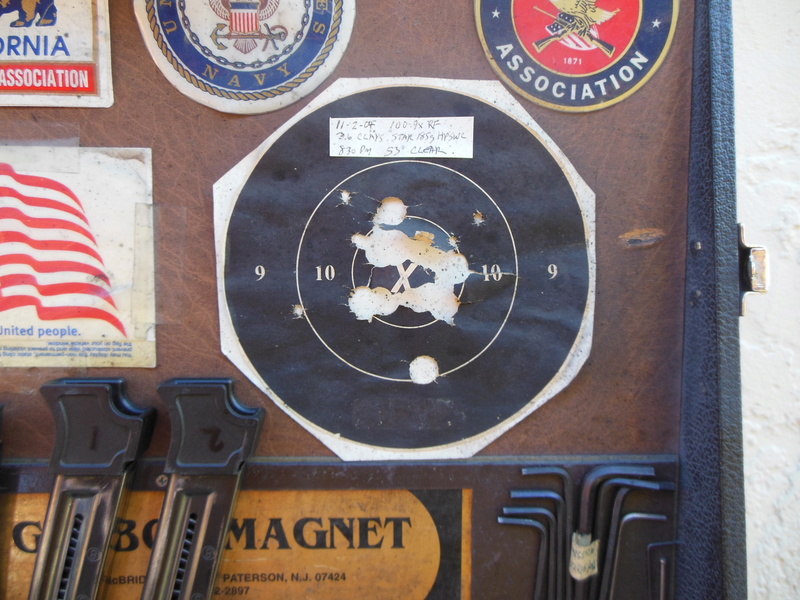 These two are my favorite keepers to instill a positive frame of mind.
The first one was scored by Steve Reiter at the Canton Regionals with Jim Henderson adjacent.  They were so loose and joked around the entire match.  I got a couple of souvenir 9mm rounds from Jim, one of which he autographed his initials.  This was shot from a borrowed H208s which was not adjusted to my hand and trigger finger and it didn't feel right the whole time. (The month was actually July and not June)
The second one was during practice just before the range was closing.  Cleaned with the .22 and with no more time to change the target, cleaned a tighter group with the .45.  This target is mounted on my gun box because it has special meaning for this novice when I had just started to shoot NRA approved matches for the first year.  At that time I didn't know about different powders, loads, springs, and all the fine details discussed in the Bullseye-List and Forum.

xmastershooter




Posts

: 126


Join date

: 2011-06-10



Shot first rapid fire clean target today. Outdoor, windy, 25yr, SK Standard+ ammo.

Boris_La




Posts

: 44


Join date

: 2016-06-26




sbtzc




Posts

: 9


Join date

: 2013-05-21


Location

: Colorado



I want to thank Larry McCorkle and Dave Salyer for making me feel welcome to my first match at Charlotte Rifle and Pistol.  It is a beautiful facility and it was a pleasure to shoot there.
The day was sunny and the temperature was in the mid 30s when the match started, but during the course of the day, it rose to a comfortable high 40s.  Because of an elbow injury I had to stop shooting three gun (till injury is healed) and have been shooting .22 Only for most of the season.  Therefore, the 'CF' score you see in the photo was shot with a .22.  (p.s. yeah, I know, I need to work on SF.)

joy2shoot




Posts

: 216


Join date

: 2014-08-02


Location

: North Carolina



Page 4 of 4 •

1, 2, 3, 4
---
Permissions in this forum:
You
cannot
reply to topics in this forum