Browsing the web I found some interesting grip treatments that are an alternative to tape, stippling or checkering.
You use a two-part epoxy and glue on silicon carbide or similar texture additive. This has been done quite a bit with plastics, its a popular treatment for glocks in particular.

Has anyone tried this on a metal gun or a coated surface? I might do some experimentation. I think roughing up the metal or coated surface a bit with 220 grit sandpaper would be enough to get the epoxy to adhere.

Supposedly silicon carbide is too aggressive for a two-handed grip without gloves, because the movement of the gun during recoil and manipulating controls will tear your hands up.
Might be perfect for bullseye though, with lighter recoil and no changing of grip or shifting of the gun.

Any experience with the stuff?

SmokinNJokin




Posts

: 278


Join date

: 2015-07-27


Location

: Nicholasville, KY



Haven't tried it but brownells used to have spray on grip adhesive.

It had grit in it

jglenn21




Posts

: 1322


Join date

: 2015-04-07


Age

: 70


Location

: monroe , ga



The carbide vs oxide isnt the big factor. The mesh size and shape of the particles are what matter. 70 mesh is pretty course, but if you get spherical vs angular,  you get two very different feels.

Carbide sounds cooler though...

10sandxs




Posts

: 103


Join date

: 2016-01-29



Take a look at Sharkskin grips by Kensight Mfg. IMHO they are the best textured grips out there for a 1911.

- Dave

dronning




Posts

: 1682


Join date

: 2013-03-20


Age

: 64


Location

: Lakeville, MN



I used JB weld and 60-90 grit mix of silicon carbide.  If I did it again, I would get a smaller grit because I like
pain
 grippiness. 


Saladman




Posts

: 96


Join date

: 2016-01-13



+1 for dronnings post.

Those grips are pretty ...grippy. they will make your hand sore until you develop some callous.
Unlike epoxy, you can just take them off if you don't like them.

arnold jim




Posts

: 17


Join date

: 2013-11-05


Location

: arnold, md... surprise



Several years ago I got a kit from either Champions Choice or Champion Shooter Supplies. It is just superglue and a container of grit. I'm pretty sure it's medium-fine silicon carbide.

I've used it on wood grips, never on metal. It works great. It could probably be sanded / filed off, but it is pretty much permanent. It has stayed in place for years. I also use grip tape, which also works, but is thicker, so it affects the grip, and it has to be replaced every year or so.
The sharkskin grips are awesome, I use them on several of my guns. My idea is to use the grit treatment on front and backstraps on aluminum guns like the beretta where you can't do sharp checkering.

2-part epoxy like double bubble and some 60-70 grit should get the job done.

SmokinNJokin




Posts

: 278


Join date

: 2015-07-27


Location

: Nicholasville, KY



So the grip treatment turned out great.
I used 60 grit silicon carbide (used for rock tumbling) and 15-minute 2-part epoxy. After carefully taping up and degreasing the aluminum frame, I applied a thin coat of epoxy with a foam brush and sprinkled the carbide over it.
The first try turned out excellent and felt great on the grip, but the epoxy couldn't adhere well to the smooth surface and everything peeled off. So i roughed everything up with 80 grit sandpaper (yes, its permanent damage now!) and re-applied. I am very happy with the results. Grip tape was not going to cut it for me, I shoot a shitload of hardball and it wasn't holding up well to the abuse.
Next I think I am going to try this with a Glock 34 project.
Check it out!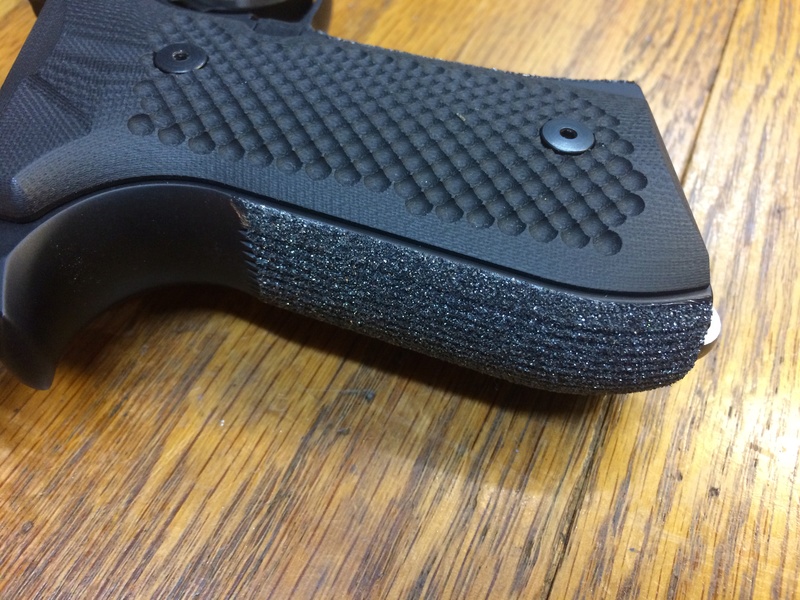 SmokinNJokin




Posts

: 278


Join date

: 2015-07-27


Location

: Nicholasville, KY




HenryA




Posts

: 88


Join date

: 2013-08-25




---
Permissions in this forum:
You
cannot
reply to topics in this forum