My Smith & Wesson Model 41 was made in late 1985-early 1986, according to the serial number.
When did S&W start producing 41s pre-tapped for scope mounts?
My iron sight days are numbered and I want to scope my guns in the near future. I'm looking at one mount called a Weig-a-Tinny, but maybe there are better options?

YourHuckleberry




Posts

: 70


Join date

: 2016-08-07


Age

: 51


Location

: Portland, OR



up to you as to whether or not you want to drill your current barrel.. I simply went with the Clark barrel.. Very happy with it.


jglenn21




Posts

: 1017


Join date

: 2015-04-07


Age

: 69


Location

: monroe , ga




Chris Miceli




Posts

: 1613


Join date

: 2015-10-27


Location

: Haymarket, VA



I drilled. Use the same weaver mount they make for the K,N frame.
Use Weaver #401 
http://www.ebay.com/itm/142072554039?_trksid=p2060353.m2749.l2649&ssPageName=STRK%3AMEBIDX%3AIT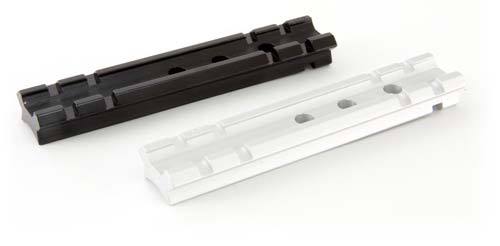 LenV




Posts

: 2586


Join date

: 2014-01-24


Age

: 67


Location

: Oregon




dhenry132




Posts

: 68


Join date

: 2014-02-09


Location

: Republic of Texas




Jack H




Posts

: 1308


Join date

: 2011-06-10


Location

: Oregon



Pictured below is an mid 80's M41 which was not drilled and tapped, but needed to be. I called S&W Customer service and found that they will drill and tap for $90.00. I think they had a mandatory range charge of $45.00.  They sent me a shipping label, so the cost of sending the complete pistol to them was reasonable. Drilling and tapping took about a month, maybe more, so the turn around was reasonable. S&W does not sell a mount, you have to buy your own. I used Weigand.
I acquired this M46 after my purchase of the M41. Didn't need it, but I can't turn down a good deal!  Anyway this pistol needed drilling and tapping. Again I went with a Weigand base.  
This time I had a friend with a mill drill and tap. He wanted specific hole spacing, so I asked Mr Weigand and he provided me the correct hole spacing for his base:   
Here are the dimensions we drill the holes to.
Back of the mount is 0.0" (keep the scope mount away from the rear sight at least .010"1st hole .3"2nd hole .9"3rd hole 2.56"4th hole 3.425"
Each hole should be confirmed using the scope mount before drilling.
Jack Weigand
570-868-8358
Weigand C.H. Inc
www jackweigand.com

Slamfire




Posts

: 3


Join date

: 2016-04-18



I'm the second owner of my M41 and it has a BME mount that replaces the rear sight.
http://www.bme-mounts.com/productlist.html
I had Alex at Ten-Ring Precision reline the barrel and it now shoots half inch groups.

AllAces




Posts

: 654


Join date

: 2011-08-30



---
Permissions in this forum:
You
cannot
reply to topics in this forum