Newbie question again.

I have a box of Zero bullets and a load of brass in a bag. How should I be storing these items?  I have heard leave the bullets in the box as well as put them in ammo cans and plastic bags.......  the brass I haven't heard much about. I see people have them in containers on their benches but the containers are open stackable ones. I am not sure what to do with these

Thanks

Mightyheb




Posts

: 8


Join date

: 2017-03-10



Plastic nut and peanut butter jugs make dandy see in brass storage.  Been using them for years.  For long term bulk storage big freezer baggies fit themselves into cardboard boxes quite nice.  To ID the brass in jars, mark a little slip of paper and stuff it inside where it can be seen.

Jack H




Posts

: 1064


Join date

: 2011-06-10


Age

: 67


Location

: Duckburg, Orygun



Jack,
What about the actual,bullets?


Mightyheb




Posts

: 8


Join date

: 2017-03-10



Mightyheb, I see you have several threads going at once. What to do with your bullets and where to get a bench? My solution only required several sheets of plywood some 2x4's wood screws and stain. Some assembly required. Empty brass goes in plastic/lidded trays. Bullets stay in their original marked boxes on counter. Loaded ammo goes on the shelves. Powder stays near press(s) and primers. I went a little overboard but have enough room for everything. Until I get more.

Not that complicated to make a 30" high bench and have lots of room for storage underneath. All the tools you need are a skill saw, screw gun, drill, bits and something to apply stain.  Might also need 1x8's and shelve brackets.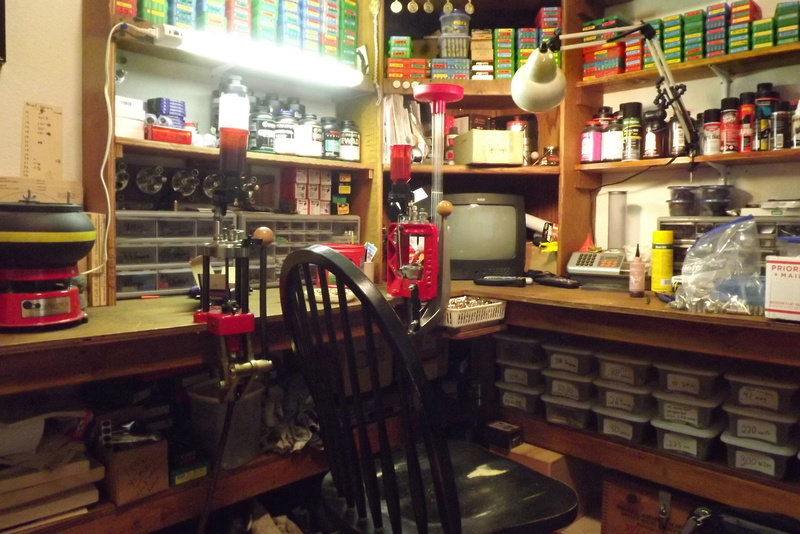 LenV




Posts

: 1991


Join date

: 2014-01-24


Age

: 67


Location

: Oargun



Whatever works.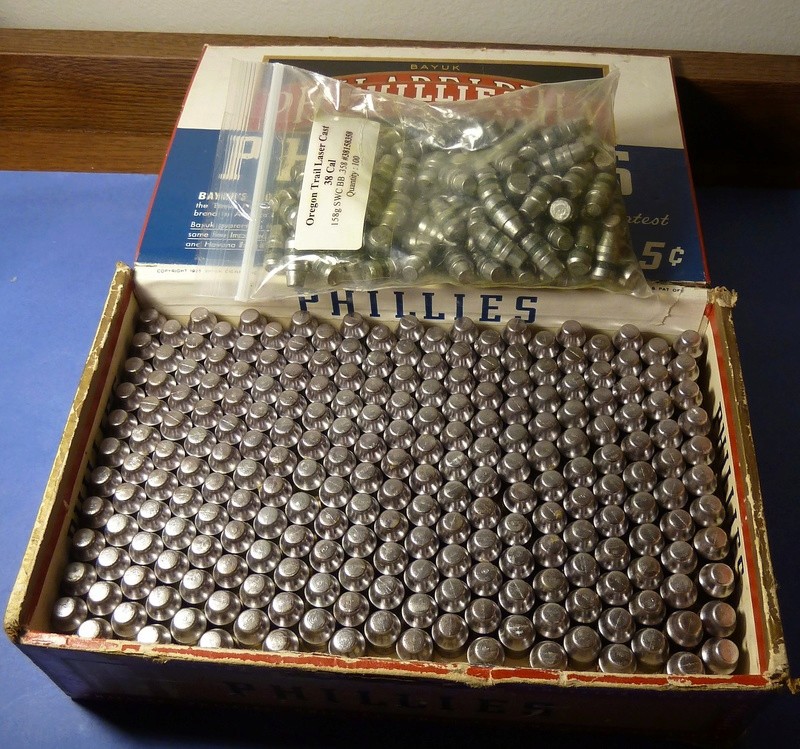 Jack H




Posts

: 1064


Join date

: 2011-06-10


Age

: 67


Location

: Duckburg, Orygun



Jack H wrote:Whatever works. 
For the OCD amongst us.

Wobbley




Posts

: 756


Join date

: 2015-02-12



When I first started reloading, the magazine articles had pics of reloaders storing bullets and brass in cigar boxes.  Even then cigar boxes were in short supply.  So I tried all sorts of things like coffee cans, small cardboard boxes etc.   what I settled on was ammo cans.  The 30 cal size are perfect for storing pistol ammo.  About 1000 45 cases will fit and 500 rounds in bulk fit easily.  I also use freezer ziploc bags.  A gallon size hold 800 45 cases and it's easy to keep brass sorted.  They work well for bullets too, but I usually keep those in the factory boxes.

Wobbley




Posts

: 756


Join date

: 2015-02-12



I like the 50 cal ammo cans for storing sorted, cleaned brass; lubed & sized bullets, and loaded practice ammo.  I just like the way they stack into the shelves & I can put a piece of tape across the front identifying the brass mfg or load. Match ammo I usually put into 100 rd MTM boxes.

Unloaded jacketed bullets stay in their respective cardboard boxes until I load them.
Al

Al




Posts

: 317


Join date

: 2011-06-10


Age

: 61


Location

: Bismarck, ND



---
Permissions in this forum:
You
cannot
reply to topics in this forum