I am suffering the dilemma of most aged shooters and need to have a dot on just about all my BE pistols.
I am toying with putting one on my model 52-2.  I was looking at some of the options that BME offers.
My 52 is like an old friend that always shows up.  I really don't want to drill the slide, but nothing is more annoying than a 
crappy mount.  I use mostly Matchdots, but have been considering a small Aimpoint.  Any thoughts?
Thanks in advance
Alex

tceva




Posts

: 130


Join date

: 2017-04-20


Age

: 59


Location

: Roanoke, Virginia



Since you don't want to drill the slide, you might think about a grip mount.

http://www.champchoice.com/store/Main.aspx?p=ItemDetailOptions&item=APM352

oldsalt444




Posts

: 135


Join date

: 2011-10-27


Location

: Commiefornia



I really like the mount I have that fits the Dovetail cut.  I tried grip mounts on the 52 and a 1911 and did not like them.  The optic set to high and it wore blueing off.  Don

Magload




Posts

: 1174


Join date

: 2016-11-18


Age

: 72


Location

: NE Florida



+1 on what Don said. Grip mounts wore the bluing off in a very short time. I went with BME and I am happy with results. Be sure to use the locktite they recommend.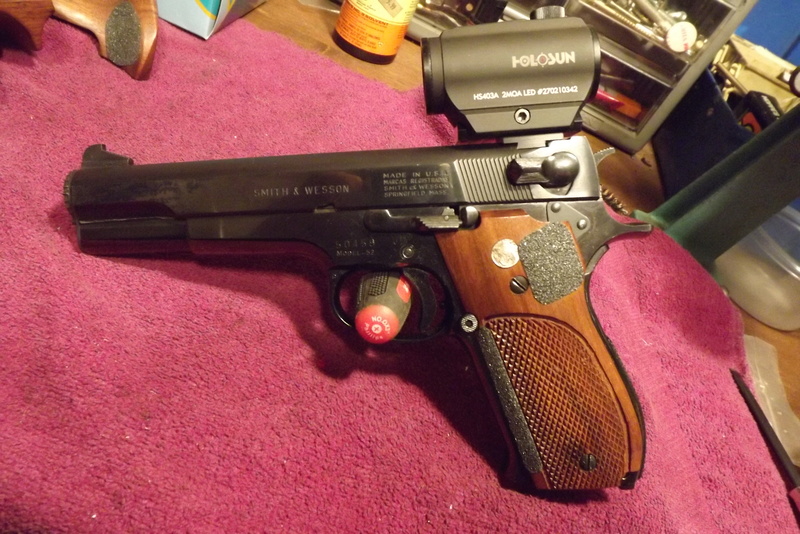 LenV




Posts

: 3298


Join date

: 2014-01-25


Age

: 68


Location

: Oregon




Multiracer




Posts

: 618


Join date

: 2017-03-15


Location

: North Ohio



They manufacture scope bases

STEVE SAMELAK




Posts

: 550


Join date

: 2011-06-10



Many thanks for the info.  I have had a not so perfect experience with one of the Aimtech grip mounts on a 1911. Glad to hear the positive about BME .  How about recoil spring changes or load variations? 148g/2.9WST  It already shoots very soft. 
Any thoughts on small red dots?
Alex

tceva




Posts

: 130


Join date

: 2017-04-20


Age

: 59


Location

: Roanoke, Virginia



tceva wrote:I am suffering the dilemma of most aged shooters and need to have a dot on just about all my BE pistols.
I am toying with putting one on my model 52-2.  I was looking at some of the options that BME offers.
My 52 is like an old friend that always shows up.  I really don't want to drill the slide, but nothing is more annoying than a 
crappy mount.  I use mostly Matchdots, but have been considering a small Aimpoint.  Any thoughts?
Thanks in advance
Alex
I just went through this.  I used an grip mount Aimtech mount.  I want to be able to remove it, as I still shoot a couple of matches that require open sights and I'm only using the dt for a 50' league anyway.  I ran into a problem with it.  Two screws replace the trigger pin and the mainsping pin.  The trigger screw caused the trigger to lock up.  Not able to get ahold of Aimtech's tech support, as they've moved.  Spoke with the S&W custom shop and posted question here.  Recommendations from both were to replace the trigger screw with the pin, which I've done.  One match with it and so far so good.  If I didn't need to be able to remove it quickly without having to re sight the iron sights, I'd have gone with a mount using the rear sight dove tail.

hp246




Posts

: 62


Join date

: 2016-10-27



I use the BME S&W52-RR mount w/ 30MM UltraDot. The usual load of 2.8 grains of BE under a 148 grain HBWC functions perfect in my 52-2.  YMMV

Virgil

Virgil Kane




Posts

: 511


Join date

: 2011-06-10




---
Permissions in this forum:
You
cannot
reply to topics in this forum