Page 2 of 2 •

1, 2

First topic message reminder :

I load for 9mm and 38spl.  I just picked up QuickLOAD and I'm going through the stages of getting acquainted and tuning powder burn rates to match my chrono results.
In the quest for the most accurate round, I've been doing lots of reading - mostly about rifles. But I figured hey, a pistol is just a really short rifle.

Ultimately, here's my question: When looking at pressure, should I tune the load to SAAMI specs, or to the BHN of the bullet (Like the "Lee Precision Modern Reloading 2nd Edition talks about).  

For 9mm I've mostly use Hi-Tek coated hard cast lead bullets, but recently started experimenting with Xtreme copper plated bullets. Both are advertised having a BHN of 18. Which upon linearly interpolating Lee's chart, gives me a compressive strength of 22,980psi.  Obviously SAAMI max pressure is 35,000psi for 9mm.

Side Note: The other think I'm looking at is barrel dwell time. I'm looking to see if it correlates to the resonance frequency of my barrel. I've calculated it using the "closed pipe" method.  3F = 0.512ms. I have a load that has a 0.522ms barrel time that is VERY accurate. Problem is, it's too slow to meet power factor for IDPA or IPSC if I ever get a chance to compete. -I digress.... this is a topic for another thread.

Hammbone




Posts

: 6


Join date

: 2016-06-11



---
Hmm, I can see I've been going about this all wrong.   I've just selected a good bullet, loaded it at the velocity/pressure that I wanted, and tested it.   What was I thinking?

Don

USSR




Posts

: 193


Join date

: 2017-07-14


Age

: 67


Location

: Finger Lakes Region of NY



Interesting - I am not an engineer, but have been learning about 22lr bench rest, "stopped muzzle" v. "positive compensation" hypotheses, etc.

How do you measure your bullet barrel dwell time to the microsecond level?

sharkdoctor




Posts

: 31


Join date

: 2014-10-16



I've noticed using QUICKLOAD that Bullseye, W231 (HP38), and several other powders burn about 70% complete in a 5" barrel, but are still accurate.  Bullseye is a dirty powder, but I don't mind cleaning the gun.  I wish WST was in the powder database.  I've read about resonant tuning, mostly applied to rifle barrels.  IMO, QUICKLOAD is a rifle cartridge program - or I should say that it appears to perform best using physics based models for longer barrels. 

However, I am always interested in learning what others have found.  For the 45 acp, the chronograph numbers were fairly close without any parameter tuning.  I was disappointed with the 32 acp results.  I haven't tried the 32 S&W long with QUICKLOAD.

As a note, I initially bought QUICKLOAD for the 32 acp and 32 S&W Long in consideration for developing a load using common components (available in the USA) for those cartridges.  I've since rethought that plan, but may reconsider it in the future.  Between combustion dynamics, fluid mechanics/gas dynamics, resonant frequency effects and the typical variations in powder, bullets, and primers, I'm OK with QUICKLOAD results for the 45 acp.
Last edited by Bullseye_Stan on Tue Dec 12, 2017 2:47 pm; edited 1 time in total

Bullseye_Stan




Posts

: 155


Join date

: 2017-06-11


Location

: Hampton Roads, VA



Wouldn't the bushing on a 1911 barrel make the "resonance" theories as applied to free floated rifle barrels at least completely different, or even non-applicable? 

Also having been in the benchrest game, this stuff does make sense for a free floated barrel, but the practitioners of this theory tend to use tuners and not a calculated barrel length. Now there is certainly a long and rich history of load tuning that is done, but again, experimentally determined on a per setup (gun w/installed barrel), by setup, basis. Even in this system, there are several elements that effect the ultimate accuracy of the rifle that are beyond any model I have ever heard discussed.  Things like erosion of the lands, torque on barrel, temperature/humidity, etc. make it currently impossible to calculate the behavior or this system down to benchrest accuracy, which is thousands of an inch in a five shot, five target aggregate. 

Finally, it is pretty clear that we are so far from that level of accuracy with pistols that none of this matters.

fpk




Posts

: 89


Join date

: 2017-04-26


Location

: Texas



To the origonal post: 

First off, like CR said, pistols aren't short rifles. They behave differently. Everything behaves differently. Two barrels cut from the same chunk of steel made one after the next on the same machines by the same guy won't behave the same. Maybe close. 

Looking for pressure and dwell time and frequencies and all this technical data may be interesting and useful in its own way some how but at the end of the day all you simply need is a load that groups good in your gun. 

You can try different powders and amounts of powder and bullets and seat depth but "will it group?" Is all that matters. Power factor: ok - but that's a different sport ... velocity... nice to know but again if you have a good load in theory on paper but it doesn't group then what good is it? 

Load, test, shoot, analyze, change one variable, repeat. Don't get hung up on the science. It's a black hole not many return from.

Tim:H11




Posts

: 1095


Join date

: 2015-11-04


Age

: 29


Location

: Columba, TN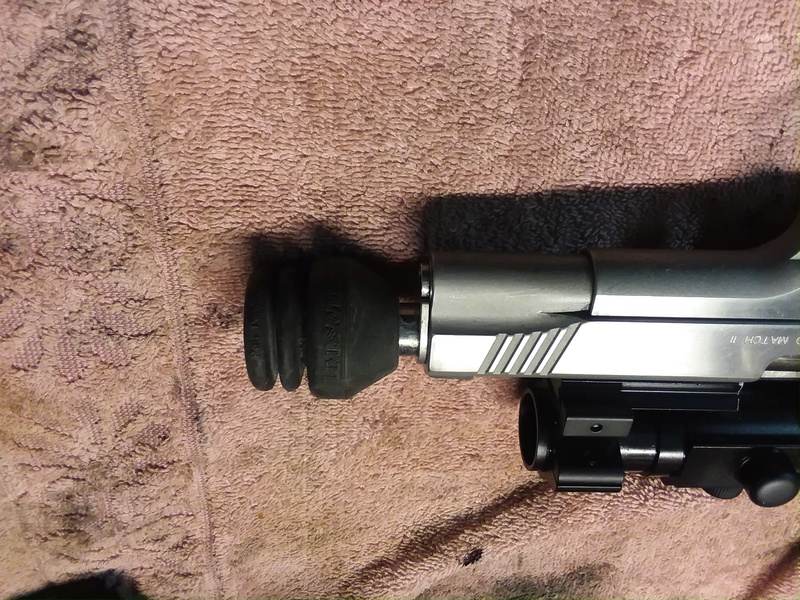 To kinda quote Rober84210 "yea, it's winter"

LenV




Posts

: 2698


Join date

: 2014-01-25


Age

: 68


Location

: Oregon




Tim:H11




Posts

: 1095


Join date

: 2015-11-04


Age

: 29


Location

: Columba, TN



Len I think that is going to cause standing waves if the frequency isn't right.  Don

Magload




Posts

: 1101


Join date

: 2016-11-18


Age

: 71


Location

: NE Florida



Not a problem Don. I have almost 3/8" I can move it back and forth to find the sweet spot.

LenV




Posts

: 2698


Join date

: 2014-01-25


Age

: 68


Location

: Oregon



Perhaps in 22s the different brands fire and bend the barrel in different ways to group in different places.

Jack H




Posts

: 1349


Join date

: 2011-06-10


Location

: Oregon



Page 2 of 2 •

1, 2

---
Permissions in this forum:
You
cannot
reply to topics in this forum