Page 2 of 2 •

1, 2
First topic message reminder :

I have been considering a Victory 22lr as I begin entering precision shooting competitions. Some of my research has uncovered dissatisfaction with the loosening of the take down screws and also some with the barrel screw as a result of vibration while shooting. This seems to happen quite quickly, At least in earlier production. But I saw on another forum someone claiming that S&W fixed the issue with a small redesign. Does anyone know this to be true?  Just FYI The victory seems to be a gun you can grow with due to it's accuracy and the aftermarket accessories, triggers, barrels, grips etc  that are already available. (still waiting on some sight choices).

Andy

Precisionjunky




Posts

: 23


Join date

: 2017-12-03



---
I think the OP found himself a nice High Standard but I think the concern about a well balanced and light weight .22 that is accurate enough for Bullseye keeps rattling around in my thoughts. There is such a pistol. They are out of production now but you can still find them easy enough. It took me 2 minutes to find a nice one on Gunbroker. The Browning Challenger was my backup pistol for a long long time. The balance is great and accuracy is spot on. I will have to try sometime to see if the new Buckmark scope mount will fit right on the old Challenger. They look like they should...
https://www.gunbroker.com/item/729143927
Gunbrokers
Old and the new generation. You can see the weight difference.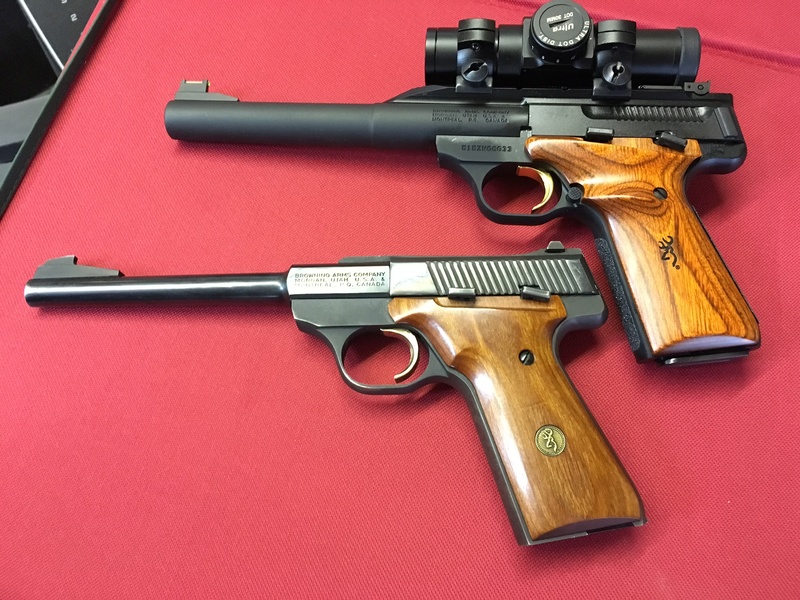 LenV




Posts

: 2651


Join date

: 2014-01-24


Age

: 67


Location

: Oregon



Len, the Buckmark and Challenger rails differ significantly, here is a guy who made really nice rails for sale for the Challenger - 
Deaconblue
I made one custom out of an AR mount and plan to shoot it tonight in league.  It was my dad's first pistol, so I wanted to make it unique (but I still have all the stock parts). 

Aprilian




Posts

: 438


Join date

: 2016-05-13


Location

: Minnesota



Mac2 wrote:To the possible screw issue:  the SW22 competitor keeps T handle wrenches close by and tests the tightness of the critical screws on a regular basis.  Rare, anymore, to need to tighten screws.  Expect everyone gives things a bit of a wiggle to see if anything is loose.  I have discovered a sight loose just before timed fire and was given a few seconds to tighten.

What has been demonstrated many times is the need for fit.  Fit has several components.  Weight and its distribution is one component.  What is vital is that new competitors try the lower price 22s with red-dot sights.  The SW22, several Mark IV (especially the Lite for someone not yet ready for more weight), and even a selected Buckmark should be tried.  Provide opportunity to try.  When some success has been achieved with a fitting low-price-spread it might be time to try something more expensive.  By then, the new shooter will have an idea of what he or she needs, likes and does not like, and may be on the way to an activity for life.

warm seasons greetings to all     Mac
I was in my first competitive NRA compliant league match yesterday with a borrowed Ruger 22/45 mark iii. Didn't do that bad.. all shots on the paper and pretty consistent. But the stock Ruger's trigger left something to be desired. I also shot the Victory after the match and a Hammerli and a Marvel. All nice guns. The Victory was a lot better then I expected. Didn't like the grips but the sights were good and it was a well balance gun in my hand and the trigger was much better than the Ruger out of the box, I may choose the Victory over the Ruger??? The Hammerli and Marvel were OK too. lol

Precisionjunky




Posts

: 23


Join date

: 2017-12-03



gregbenner wrote:I started bull's-eye shooting about a year ago. Like you, I was concerned about the weight (I am 69, and not the strongest guy in the world). I purchased a victory, and Jon did a complete trigger job, made it as good as it could be. It sits in my safe. After two or three months of shooting, I realized the victory was way too light. For a mid priced target pistol I really like the S&W 41. Reasonably priced, excellent triggers, no issues with magazines, are still made and parts are available.  Lots of aftermarket availability, as well.
The Model 41 is a great pistol.. but I don't think I can go for the money on that just yet.. In a year or two I could justify the expense if I am spending most of my time in precision shooting. I can always sell one of my tactical guns for the model 41, I like the new performance center version with the built in rail. Due to my many other obligation I have to start small. I will probably stick with a mid wait gun.. probably sometime between 35 and 40 oz before any aftermarket accessories. They seem to feel the best to me right now.

Precisionjunky




Posts

: 23


Join date

: 2017-12-03



Slartybartfast wrote:

Magload wrote:I have VQ triggers in my MK III and 22/45 Lite but VQ just never came out with a trigger for this gun unless they have just lately.

 The Tandemkross trigger I put on mine made a big difference to the feel of the gun. Love the textured flat front.

Is that the factory plastic rail on your SW22? Or is it the Volquartsen CNC one (https://volquartsen.com/inventory_configurations/1085)?

I emailed them asking if that rail could be machined in the rear to accept target sights (I suggested the same as Ruger). Would be nice to be able to switch between red dot and irons without losing zero. And would gain access to all the target sights already available for another firearm. Would just need a taller front sight or a shim.
DIP inc makes a rail that integrates the sights nicely like this two choices  https://www.diproductsinc.com/Products.aspx?CAT=10283
Andy

Precisionjunky




Posts

: 23


Join date

: 2017-12-03



Precisionjunky wrote:

DIP inc makes a rail that integrates the sights nicely like this two choices  https://www.diproductsinc.com/Products.aspx?CAT=10283

Andy
Nice! Great find.
The Victory Vent Rib Rail Kit is _almost_ exactly what I want. If they could make one that integrated sights other than the SW22 standard ones (meaning an interchangeable front sight on the rib as well, I'd buy it in a heart beat regardless of my credit card balance and the fact I don't take shooting with my SW22 very seriously anymore.
I wouldn't really care which pistol sights standard they choose, just as long as there's a target sight or two available. Ruger or maybe one of the S&W revolver standards (https://www.speedbeez.com/product-category/revolver-sights/target-blade/).
Just choose the gun with the largest number of aftermarket sight sets available and make the rail and vent compatible with that.
Another bug I have about the SW22, WTH in this day and age of CNC machining, can't one of the big European grip manufacturers not simply pump out a grip for the SW22? They have them for the 22A, the SW22 is surely outselling that and no one seems capable of keeping the one-size-fits-a-few Volquartsen grips in stock.

Slartybartfast




Posts

: 225


Join date

: 2016-11-11


Age

: 46


Location

: Montreal, Québec



DAMN IT!
"Sorry, but we do not ship internationally"
Why the hell not?

Slartybartfast




Posts

: 225


Join date

: 2016-11-11


Age

: 46


Location

: Montreal, Québec



Page 2 of 2 •

1, 2
---
Permissions in this forum:
You
cannot
reply to topics in this forum