Page 2 of 2 •

1, 2

First topic message reminder :

Here's today's go at poking the hornet's nest with a stick:

Seeing as there's no power factor requirement involved, what's the challenge of firing a custom powder puff load of 45 ACP over any other calibre with a similar power factor?

I've often read people claiming that shooting another calibre other than 45 for the CF portion means you don't have time to master the 45. But the only thing to master is the extra firearm. No?

All I'm seeing is the advantage of an extra .1 inch diameter over 9mm.

Besides tradition then, why bother shooting 45 ACP? If there's not going to be a power factor forcing the use of 45 ACP or 9mm +P loads, why not allow competitors to shoot .22, and 9mm twice for a 2700? Or 10mm (only at a .05 inch diameter disadvantage, but power seems higher)?

Being in Canada, the questions are kind of moot. Seems here competition is 1800's. .22 and a CF.

Slartybartfast




Posts

: 261


Join date

: 2016-11-11


Age

: 46


Location

: Montreal, Québec



---
CR10X wrote:Ed:

Sorry, forgot about the .22 changes from .22 rimfire; to .40 gr bullet rim fire; and now just to rimfire Long Rifle .22.  Not that I used it, but the option for .22 Short will be missed.   I did use ".45" in my post on purpose as one day I may show up with .45 Schofield wadcutter loads with black powder just for fun.  

CR
Id' follow with my .32/44 #3, but, I think BP isn't allowed

james r chapman

Admin




Posts

: 2390


Join date

: 2012-01-31


Age

: 69


Location

: HELL, Michigan



I shot a NMC last week with a 45 Colt. I just wanted to try it once. I had planned  on shooting it the 17th for a local match. Having done it once I no longer feel like shooting it for the .45 match (too heavy) But, I can do it one more time for the Reeves match. I also have a question about the rules. If those 22 only shooters can shoot the whole match with a .22 then why can't we shoot the whole match with a 45?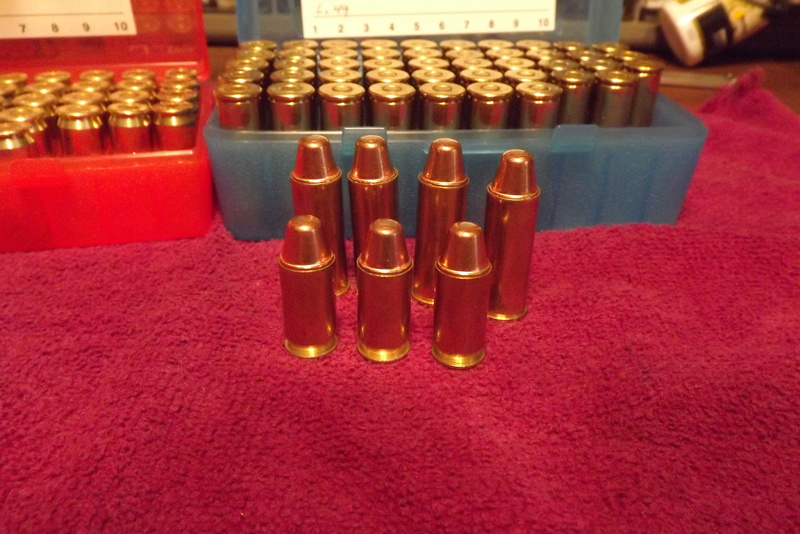 LenV




Posts

: 2741


Join date

: 2014-01-25


Age

: 68


Location

: Oregon



Hey CR,

I was mentioning the ACP part for the OP's benefit mainly, especially since it's in the title.  I noticed your lack of its use and knew you were aware it was any .45.  The .22 portion was for your posting since you mentioned 40gr and I figured you were aware of the change, but others might not be.  I also often thought of trying .22 shorts and even have a short kit for my Ruger that I used for International Rapid Fire way back when...
Page 2 of 2 •

1, 2

---
Permissions in this forum:
You
cannot
reply to topics in this forum