I want to load some 185 gr SWC for my 1911.  I have not loaded this bullet type before except in revolvers. 
Full wadcutters are often loaded flush with the case.  How does one properly load a semi wadcutter?  Or, does it not matter except to the extent a certain OAL may be more or less accurate?

sjs




Posts

: 28


Join date

: 2018-06-09



I leave about 1/32" of the should out past the brass. Its not super critical like loading long range rifle rounds, you aren't chasing the lands or anything. If anything some people may tell you the crimp matters more, I crimp to .469", some people will go tighter.

zanemoseley




Posts

: 1028


Join date

: 2015-07-11



I reload the Dardas 185 gr H&G#130 "button bullet" to a OAL / COAL of anywhere between 1.245-1.260, depending upon which gun or combo of guns that I am loading for. Most people suggest as noted above about  1/32 (.031) above the case mouth which is generally about 1.019 to the shoulder depending upon the case length & about .469-.470 taper crimp.

Gary Wells




Posts

: 356


Join date

: 2015-09-07



sjs,  There appears to be an even Bazillion different molds for 45 SWC bullets. So instead of trying for an OAL most of us have agreed on about a fingernail (ok, 1/32") of lead protruding from the case and then ignoring OAL. This works not only for accuracy but function. I crimp tighter then some but that is the way I learned it. I have also got big fingernails

This picture shows a SWC loaded by me the way I do it.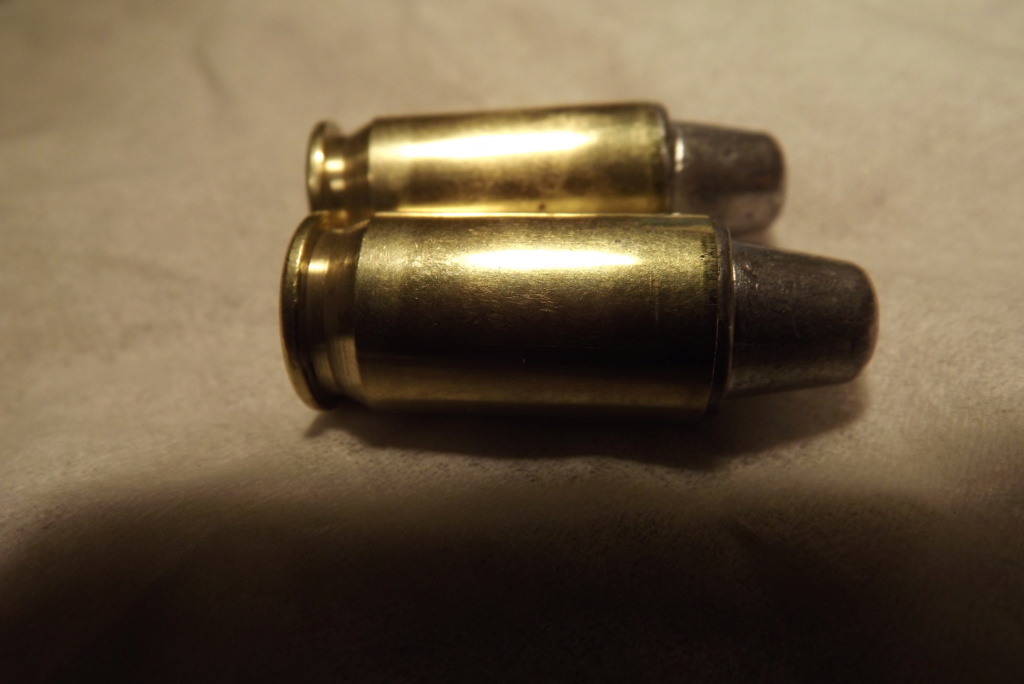 LenV




Posts

: 3375


Join date

: 2014-01-24


Age

: 69


Location

: Oregon



Thanks, that is what I needed to know.

sjs




Posts

: 28


Join date

: 2018-06-09



Once you load a few, take the time to remove the barrel from your 1911 and do a drop test to see how the cartridge fits in the chamber.  It should be flush with the end of the hood of the barrel.

cdrt




Posts

: 534


Join date

: 2016-04-12


Location

: Amarillo, Texas




---
Permissions in this forum:
You
cannot
reply to topics in this forum