Hi Folks,
I have a completely Wilsonized, accurized and reliability tested Springfield TRP which I have mounted a Vortex Venom red dot sight.  The gun has a WC match grade barrel and bushing fitted by WC and a trigger job by Springfield Armory along with slide to frame fit (no movement).  The gun came back with WC's test target at 15 yards (1 hole) but I don't know if this is going to "cut the mustard" for 25 and 50 yard shots.  It seems like it would?  All parts in the gun are machined bar stock excluding the mag well which is a cast Smith and Alexander one piece which I believes functions fine. Honestly, I have never yet shot a Bullseye match and was hoping that you could advise whether or not you believe I should try to compete with this gun. I have a S&W Model 41 with an Ultradot Matchdot II on it for the rimfire portion. I certainly am not a great shot and am really not into any type of big time competition and would be doing this to help me with my fundamentals and to have some fun.  Your thoughts are appreciated!
P.S. I am having some trouble sighting the gun in with the pistol rest I have with the reloads I have made up.  The Model 41 puts all the shots into an inch or less at 25 yards.  For some reason, I haven't got the red dot so it shoots to point of aim yet and so can't say exactly how it will group.  I need to take the gun out and shoot another 30 or 40 rounds through it to see how accurate it is and if it will group.  Oh, BTW,  I just started reloading.  I guess I'm not dead yet and can still try new things even though I am 68.

Thanks in advance for all your kind comments and help!
Gary

GaryWWhite




Posts

: 51


Join date

: 2018-03-22


Age

: 68


Location

: Lees Summit Missouri



If the gun holds 10 ring at 50 yds off sandbags,
Has a trigger that doesn't feel different each time
Will cycle every round fired.
Has grips that repeat your point of aim.
And sights that repeat, your good for the time being. Imho

james r chapman

Admin




Posts

: 2990


Join date

: 2012-01-31


Age

: 70


Location

: HELL, Michigan



68's young yet! Go shoot that first BE match with your 41 and save the 45 for later when you start to get things figured out.

Above all, have fun!

Jim

JKR




Posts

: 354


Join date

: 2015-01-13


Location

: Northern Wisconsin



Heck yeah it will be good enough. If anything it may have issues with some of the stubby wadcutter profiles. Start with H&G 68 profile wadcutters.

zanemoseley




Posts

: 1028


Join date

: 2015-07-11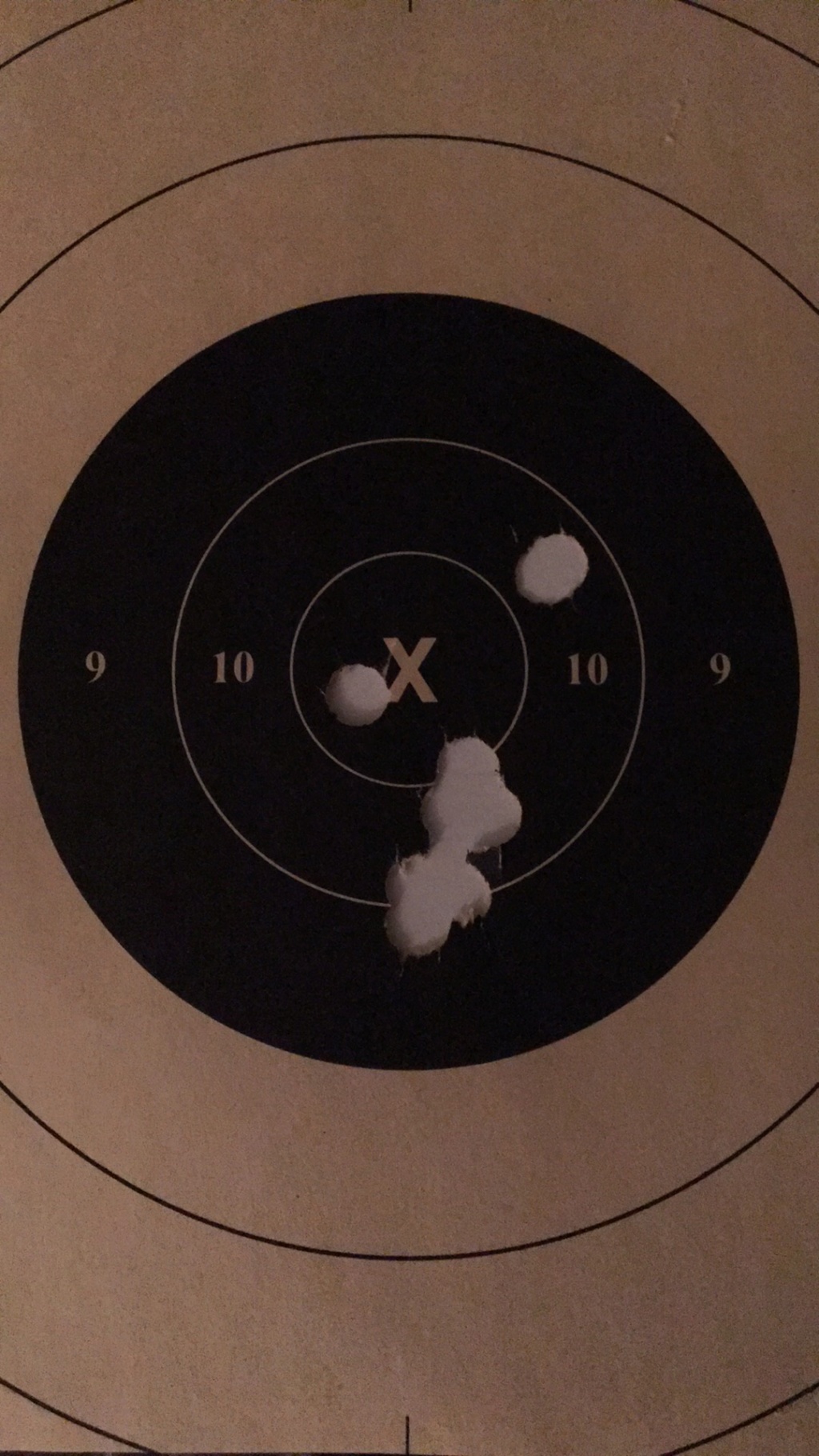 I'm pretty sure this was shot with a TRP I had mounted a scope rail on. 25 yds TF, 3.8 gr BE 200 lswc

Jon Eulette




Posts

: 2325


Join date

: 2013-04-15


Location

: Southern Kalifornia



I have a stock Springfield TRP and it is plenty accurate.  The trigger could use a little lightening for bullseye, but perhaps you had that done in the accuracy package?
You might want to heed the advice of just shooting your 22.  Many matches will allow you to shoot the 22 for the entire match, but only the first 900 points "count".  This will allow you to build confidence shooting while working on your reloads for the 45.  That said, if you are determined to shot the match with the 45, no reason the TRP would be the reason for missing the X! 


Doug Tiedt




Posts

: 100


Join date

: 2015-05-29



Thanks guys!  I must admit you meet the nicest folks on the Bullseye L Forum. I appreciate all the encouragement!  I will heed your kind advice and start with my 22 and try to build some decent loads for the 45.  I am currently shooting mixed brass with Winchester large pistol primers and a 185 gr. LSWC with 3.8 of WST.  I crimp about .001 to .002.  It is supposed to be a good load and probably is but I'm a lousy shooter!!  Well, like I like to remind myself I'm just trying to better my technique and have fun.





GaryWWhite




Posts

: 51


Join date

: 2018-03-22


Age

: 68


Location

: Lees Summit Missouri



Gary,

You have a lot of variables going on at once.  Different guns and calibers, learning bullseye, learning the pace of a match, learning reloading.  The suggestion of just shooting the 22 is merely to try to reduce the number of those variables you are dealing with at one time.  There is no shame in "just" competing with the 22 (you may find that plenty challenging for a while).   Add in the 1911 when you are ready (a bit of confidence in your ability to shoot it and in your reloads).  Some will tell you that you should master the 22 first, and then start on the 1911.  Its probably good advice, but a lot of us are not that patient.

FYI, having someone with more experience evaluate your loads (i.e. test fire) may help?  In my case I learned that I was not crimping tight enough and therefore I had to use more powder than everyone else.  I had no idea at the time that I was doing anything "wrong".

Doug Tiedt




Posts

: 100


Join date

: 2015-05-29



Back when dinosaurs ruled the earth, I started shooting just the .22 match because of my low budget. Later I shot centerfire and .45 matches with a series 70 Gold Cup. When I was shooting in the sharpshooter class, my slow fire shots sometimes didn't seem on call. I later found out that the gun would only shoot 6-8" at 50 yards with my reloads. If your pistol has a good trigger job and decent sights and functions reliably, I say use it. It's not like you are a 20 something young man on track to be a master within a year. Get some kind of training program started, like the AMU manual. Train, especially dry fire, and work up a good load for your pistol and you'll soon know if your pistol needs upgrading. I'm guessing that it won't hold you back as is. I'd be willing to wager that it is better than my old Colt series 70 Gold Cup. I wouldn't be surprised if it shot sub 3" groups at 50 yards.

BE Mike




Posts

: 1571


Join date

: 2011-07-29


Location

: Indiana



For your 1911 you might try some ammo that you know is accurate, either another bulleye shooters loaded ammo or a factory product like Federal 185 grain SWC match I would be surprised if you had any accuracy issues at 25 yards, and even at 50 yards I would think the Federals will hold the 10 ring with your pistol.  Good luck with your new pistol.

troystaten




Posts

: 346


Join date

: 2012-04-18




---
Permissions in this forum:
You
cannot
reply to topics in this forum