Think I'm going to invest in the patchworm set up for cleaning my pistols.  They seem to have plenty of options, from patchworm.  45 is top of the list as well as rimfire 22 and 9mm.  Felts? Patch sizes?  I'm all ears.  Seems like a pretty slick idea as rods make me cringe

Thanks folks

Joe

lablover




Posts

: 1127


Join date

: 2015-07-30


Location

: Michigan



I have used the Patchworm for years, but I only use it on my .22s. I use it in combination with the VFG Weapons Care System pullets.  This url shows what Brownells offers in the pellets.  I only use the plain pettets for my .22s.  I use both plain and the super intensive pellets for center fire pistols.  But for center fire pistols, I use a carbon fiber rod.  The patchworm I use for .22.
 
The super intensive pellets have some kind of bronze or copper threads embedded in them, which is why I do not use on .22.

https://www.brownells.com/gun-cleaning-chemicals/patches-mops/cleaning-pellets/weapons-care-system-pellets-prod13839.aspx

joy2shoot




Posts

: 517


Join date

: 2014-08-02


Location

: North Carolina



I've used the patchworm for years and like it. I use a standard cleaning rod and brush to scrub the barrel, then a few wet patches on the Patchworm to remove the gunk followed by a couple of dry patches. I use regular patches, 1" for 22 and 1.5 or 2" for 38 and 45. Sometimes I'll put 2 patches on for a tighter fit. I never felt the cost of the felt pellets was justified for something only used once. I never re-use a patch.

My advice is to buy 2 (or 3). The plug at the end sometimes pulls off. My current one has lasted for years, but in the past I've had at least a couple come off. I've tried making my own by melting the end of the broken Patchworm or a piece of string trimmer line, but they never worked as good as the Patchworm.
SteveT wrote:... The plug at the end sometimes pulls off...
Mine pulled off too.  I used a super glue meant for plastic and reattached it.  Been working ever since.
If you decide to use the pellets (which I think clean better than a patch), you will still want to put the patchworm cleaning head on.  In the attached photo, the green item is the patchworm, the translucent plastic piece is the patchworm cleaning head for .22 and the felt pellet is, well, the felt pellet for .22.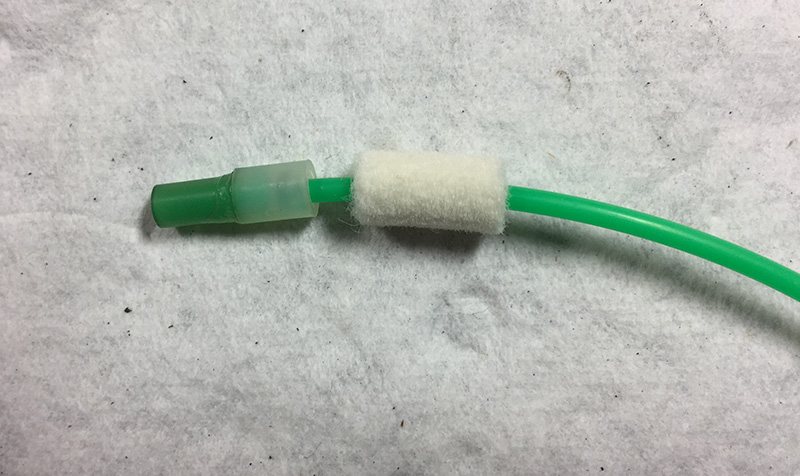 joy2shoot




Posts

: 517


Join date

: 2014-08-02


Location

: North Carolina




---
Permissions in this forum:
You
cannot
reply to topics in this forum