Hey all, question for those in the know - 
I was admiring one of Joe Chambers builds on Facebook today, and noticed he loaded 4.4 grains of VV310 for the wadgun he built. To my recollection, VV310 is a very fast powder, similar to bullseye. I shoot 4.8 grains of HP38 with Zero 185gr swaged lead hollow points in my short line loads, and the same bullet with 4.9-5 grains in my long line loads. I shot a 96 slow fire at 50 yards with this recipe last summer, figured the load was good enough for me, and never felt the need to use JHP. That said:
I exclaimed that 4.4 of VV310 seemed like a stout load for a wad gun - if memory serves me, 4.4 grains of VV310 is equal to about 5.2 or 5.3 grains of HP38/W231. Joe explained that 4.4 of VVN310 burns similar to 4.4 grains of W231 and that JHP requires a stouter load - that part makes sense, but what I can't figure out is how VV N310 is similar to W231. Does the burn rate of powders even out when shooting JHP? I've never heard of such a thing before, and I didn't want to hijack his thread, or question his knowledge - he's obviously a great gunsmith who just built a fine shooter and it would have been rude to divert the conversation further. Can anyone shed some light on this?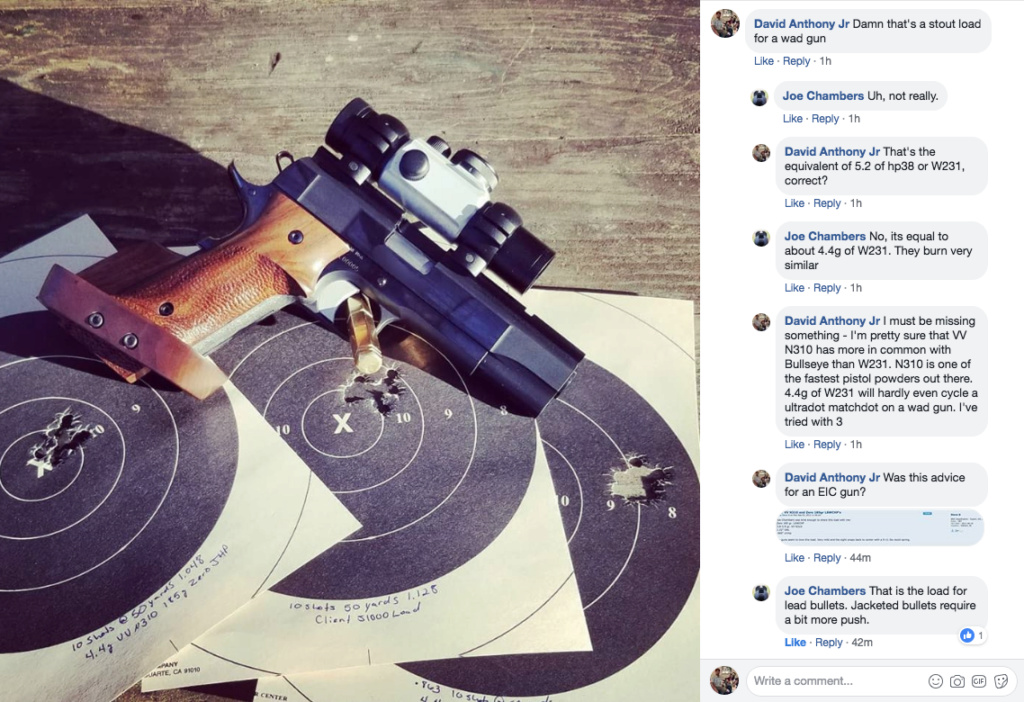 daflorc




Posts

: 200


Join date

: 2016-12-30


Age

: 34


Location

: Lisle



No expert at all but N-320 seems very simular to W-231 but N-310 seems to be faster and requires less do do the same. I don't see FMJ as changing that but I'm very interested in reading others thoughts on this.

apipeguy




Posts

: 37


Join date

: 2018-03-28


Age

: 63


Location

: Michigan



N320, 231/HP38, Green Dot, and Zip are very similar in burn rate.
N310 is the fastest powder I can find on the shelves, and should be worked up carefully as it shows pressure spikes at times.

noylj




Posts

: 324


Join date

: 2012-03-09


Age

: 69


Location

: SW USA



Take a look at this:

http://www.adi-powders.com.au/powder-equivalents/

oldsalt444




Posts

: 142


Join date

: 2011-10-26


Location

: Commiefornia



4.4 gr of 231 is a very light load for a 185 JHP.  something from 5.0 - 5.5 would be more appropriate. 5.0 will be around 700 FPS with std primers(non WLP)..

jglenn21




Posts

: 1614


Join date

: 2015-04-07


Age

: 70


Location

: monroe , ga




---
Permissions in this forum:
You
cannot
reply to topics in this forum