Page 2 of 2 •

1, 2

First topic message reminder :

Having just eased back into bullseye shooting after a very long hiatus, I am now digging out my old reloading gear.  What I found:

- RCBS Reloader Special 2
- RCBS Case Trimmer 2
- RCBS Reloading Accessory Kit 2 (Is there a theme here?)
- RCBS 5-0-5 Scale
- RCBS 10-10 Scale (What, two scales?)
- RCBS stand for powder thrower
- A boat load of dies, crimps, reamers, etc.

All of this stuff served me well back in the '90s and is in pretty good condition after all of these years.  My question is, what would you keep and what would you jettison?  

Also, my powder thrower is MIA, so I'm considering moving to a Dillon with a micrometer-equipped powder bar.  Any thoughts on that would also be greatly appreciated.

Cheers!

230Ball




Posts

: 87


Join date

: 2012-08-26


Location

: Virginia



---
Wobbley wrote:All this discussion of parts, bits and pieces to "get my Dillon to perform" and all at extra cost.  When the Hornady comes with all this "stuff" as standard....

"But Dillon is better..."
Well, the goal of discussion is to answer the question of the OP.  Several folks here outlined their setup and provided additional details, so OP can come up with his own conclusion.  For that matter you are absolutely correct about extra costs.  To enhance your message, I can say I have two Primer Fillers, and every time I add caliber, it cost me $400-$500 for dies, toolheads, and other extras.  I don't know if my approach is the same that everyone must or wants to repeat, - it is up to each individual to decide.  I go this route because I reached the point in my life when time became more valuable than amounts required to be spend in order to provide me with time saving. 
However one area where I disagree with you, Wobbley, is that Hornady comes with "all this stuff as a standard...".  I was asked by Rick Koskela to design and manufacture funnels that would work on AP LNL so Mr. Bulletfeeder can be used with Hornady presses.  So unless someone is fine with press as it comes out of the box, and BTW - Dillon presses would work out of the box as well, enhancement to loading experience will generate additional expenses regardless of the selecting brand of the press.
That is IMHO.
AP

PhotoEscape




Posts

: 306


Join date

: 2018-05-15


Location

: Northern Illinois, USA



Just because they make and sell extra stuff, especially for a Dillon, doesn't mean you really need it.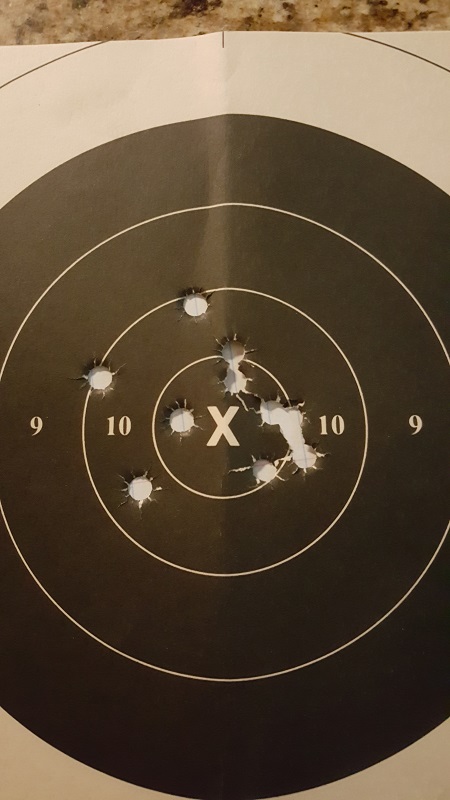 Dillon dies, powder measure, etc. Multi-fired brass, reloaded on 650, Fired at a match. Every shot was where I called it.  Don't worry about the extras until you're sure you need something different.

CR10X




Posts

: 884


Join date

: 2011-06-17


Location

: NC



Danm, CR, now I can no longer blame my XL650 for my targets...


DA/SA




Posts

: 156


Join date

: 2017-10-09



I never said that Dillon doesn't make good ammo.  Just that I think the Red press gives you more bang for your buck.  And for the base price you get features that cost a lot more if you buy blue.   Dillon designs are 20+ years old, they work, but there are as good or better machines that cost less.

Wobbley




Posts

: 1886


Join date

: 2015-02-13



That's fair.  I'm not arguing your point(s), more so I cannot do that with straight face.  Dillon XL650 is all I know when it comes to progressives.  I hope, nothing in my posts implied that Dillon is better.  I definitely didn't state that.  More so, my experience with Dillon, to lesser degree now but a lot in early days, caused me to use non-dictionary words in couple of languages first, then pull out caliper and paper, and start measuring, drawing, making prototypes then manufacturing replacement parts.  Or just pulling out tools and make improvements to OEM components.  Now that I've done all of that, and more or less happy with my presses, I'm comfortable to recommend them, and will be happy to share my experience as to how to make them better.  I'm sure you and others will share their own experience with the same goal.
AP

PhotoEscape




Posts

: 306


Join date

: 2018-05-15


Location

: Northern Illinois, USA



Page 2 of 2 •

1, 2

---
Permissions in this forum:
You
cannot
reply to topics in this forum