Well, the time has come to say goodbye to an old friend.  This 215 was my first "real" bullseye pistol.  I purchased it a few years ago from a friend and have enjoyed every minute of shooting this pistol so much, I now have a small Hammerli collection.  I am shooting a 208S now and and have others for backup and just hate to see this pistol sit in the safe.  For those who don't know, the 215 is essentially a 208 with some cosmetic changes that were made for economic reasons by Hammerli.  
I don't know the full history of the pistol nor a round count, the test target shows you the potential of this pistol even without that info.  I do know one reason I bought it was that the fella that owned it before is the most anal retentive gun owner I have ever met.  Everything he owns is in great shape, plus I was able to spend several BE league nights shooting the pistol before I bought it.  Since then, this has been my main pistol, but I often alternate between several other .22, so it has not seen excessive use from me.  This pistol goes from from a case to a pad or towel every time it comes out.  I keep it cleaned and well maintained.  This pistol has a single stage trigger, which many top BE shooters prefer.
You will get the 215 pistol, two magazines, an 80-gram nose weight, dry fire plug, and test target.
As for condition, it is in very nice shape with little wear considering the age and use.  There is some expected wear in the bluing from the slide cycling, some on the front strap from gripping, some highlights on a few raised areas, and a few small nicks that just happen over time from a gun that is in use, not a safe queen.  Breech, chamber, bore, internals are in good shape as well.
As for changes from stock, the front sight has had a "gip" or small line engraved into it.  I did this after attending a Zins workshop where he recommended this so your eye will stay focused on the front sight.  It works well, but is easily blackened if you like.  The grips have also been textured to help with slipping vs. the stock smooth grips.  I also carved a dished area into the palm rest so it would fit my XL hand a bit better, but they should still fit a medium and large hand.  I took away a little on the inside corners of the rest so it could be given a slight fore and aft tilt to enhance the fit.  No heavy shaping was done to the grips.
It was Ransom Rest tested by me at 50 yards with CCI SV sometime in the summer of 2018.  It is a dang decent target for CCI ammo at 1.12" and since then I do not think I have put 500 rounds through the pistol since then.  I have never doubted that this pistol only shoots where you aim it, but it was nice to know for sure.
I am glad to answer any questions.  I have had several good transactions here, tons on Ebay, and a vendor on other sites if you need a reference, plus I am a site admin, so have an interest in maintaining a good reputation on this board and to make sure that this pistol is everything I have said it was.  The gun will be sold to the first person willing to show me the money.  Sorry, but I will not miss a sale while you are kicking the tires.
I am asking $1400 OBO shipped.  Please make sure this gun is legal for you to receive.  I will take a cashier's check or money order. The best way to contact me is by forum private message.
This pistol has been sold.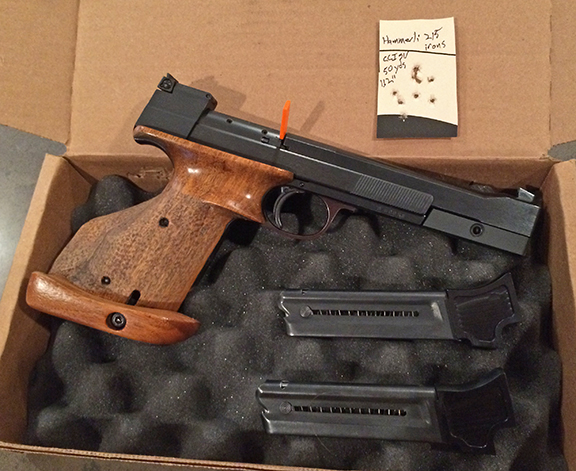 Last edited by willnewton on 2/22/2019, 11:17 am; edited 11 times in total

willnewton

Admin




Posts

: 639


Join date

: 2016-07-24


Location

: NC



I just want to state that I have dealt with Will before and it was a very smooth transaction.

285wannab




Posts

: 220


Join date

: 2014-08-13



Price reduction bump. See first post.

Thanks for the feedback Doug!

willnewton

Admin




Posts

: 639


Join date

: 2016-07-24


Location

: NC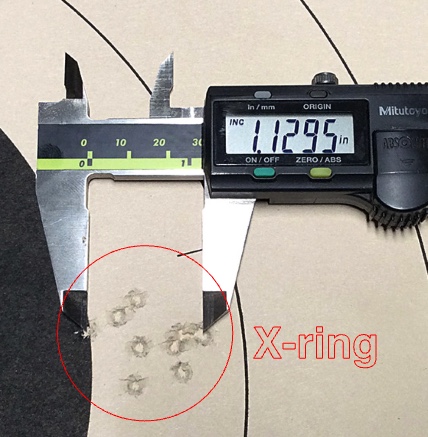 This is the same target as shown in other pic before I cut it out and wrote on it.  I used my
CAD software to overlay a properly scaled X-ring.  This was shot a 50-yd with CCI SV ammo.
Make an offer!

willnewton

Admin




Posts

: 639


Join date

: 2016-07-24


Location

: NC




---
Permissions in this forum:
You
cannot
reply to topics in this forum