I got a cheap "Truglow" 2 power red dot.  I wanted to see if I'd like some magnification.  It turns out I do, but this particular scope is big and heavy and doesn't exactly ooze quality.  I'm having trouble finding something light, with the right eye relief, and in a 2 power (or 1.5).  Any ideas?  I'm OK with either a dot or cross hairs, as long as it is fairly parallax free.  I shoot 50 foot, 25 yard and 50 yard, so one scope may not work at all 3 parallax wise.

Simonpie




Posts

: 5


Join date

: 2016-09-10



Look at the Tasco Pro. When I hear Tasco I think junk. But, the Pro has worked well for me. I use mine to test ammo and guns but I have also shot with it for matches. A little scarce but findable. I have more then one of them. They are the only scope I ever found with a 30mm tube and 1 min dot on a reticle.
Len
Pro on the 41 on the left.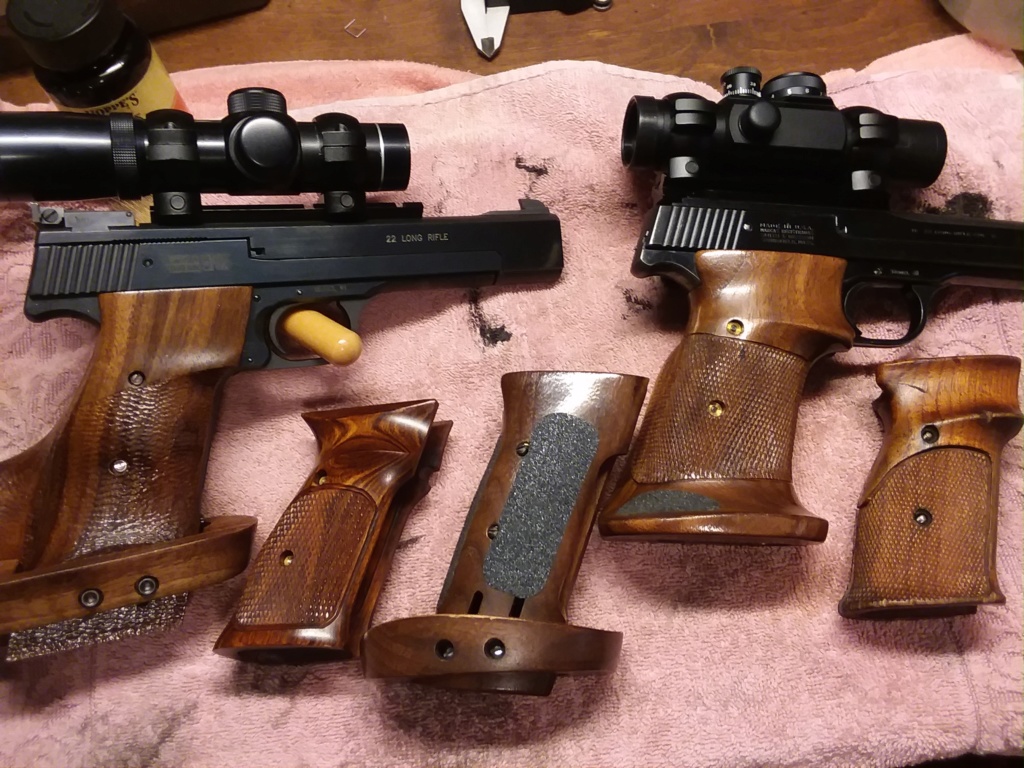 LenV




Posts

: 4034


Join date

: 2014-01-24


Age

: 70


Location

: Oregon



Thanks! I've got one on the way.

Simonpie




Posts

: 5


Join date

: 2016-09-10



Not in-expensive but not a bad price either. Since it is an Aimpoint I would expect it to be about the best available.
https://www.ebay.com/itm/Aimpoint-5000-Red-Dot-2X-MOA-Sight-Great-Shape/254101771103?hash=item3b29a5535f:g:IRUAAOSw22pcUQ6k:rk:3
0


LenV




Posts

: 4034


Join date

: 2014-01-24


Age

: 70


Location

: Oregon



Well, I'm dragging this one back up.  I went and bought them all.

Tasco Pro Class Bow 30mm + rings - 10 OZ
Aimpoint 2X 30mm + rings - 12 oz
Truglow 2X with integral rings - 9 oz
Ultra dot 1X 25mm (the standard) - 5.5 OZ.

So, I was surprised by the Truglow weight.  But, I finally took it out in daylight, and it is non-functional.  Too dim even with  a new battery.  Worked OK indoors.

The Aimpoint is a bow scope, so it might shot to pieces.  I have it on my .22 and hoping.  It is not a glow-dot reticle, just a blank dot.  We'll see.  Might be invisible.

I've had some trouble with the 30mm scope rings on my Les Baer, won't tighten down.  Once I get that fixed, I'll use the Aimpoint there.

Funny no-one can make anything lighter.  They all look like I could take some weight out with some machine time.

Simonpie




Posts

: 5


Join date

: 2016-09-10



The Tasco Pro Bow scope is a strange scope. I had one for awhile. They have 3 different size dots at 3 different heights. None of the dots are as small as the dot in the pistol model. I was able to use it on my 25-2 and had it adjusted to work with the small dot at 50yds and the middle dot at 25. In theory it should have been great. My mind does not like seeing more than one dot during rapid fire. Totally confusing.

Len

LenV




Posts

: 4034


Join date

: 2014-01-24


Age

: 70


Location

: Oregon



---
Permissions in this forum:
You
cannot
reply to topics in this forum