I have been to 2 LGS and even spoke with Browning.

Here goes:

I want to reduce the weight of my red dot. Right now it almost doubles the firearm weight. A fellow shooter showed me his Primary Arms sight and I have looked at the Sig Sauer Romeo5 model. Both appear identical.

My Buckmark has a Weaver rail and in front of me at a LGS they showed me that the guide rod will NOT fit the weaver rail slot. It was a Sig Sauer Romeo5

Another LGS by phone danced around the question with "maybes and "perhaps"

The Browning guy said any picatinny will fit a weaver flat out.

There is one more LGS that I will try, but I am not hoping to have the new sight (and or rail) by next match sighted in.

Ebay has selection of rails. My current rail is secured by 3 screws. All I need is a 2 hole rail.

Any advice other than get a Mod 41 or Pardini, etc...LOL

xman




Posts

: 51


Join date

: 2015-01-11


Location

: Tyler,TX




LenV




Posts

: 3555


Join date

: 2014-01-24


Age

: 69


Location

: Oregon



You can either file the slots on your rail to accommodate picatinny mounts, or file the cross bolt(s) on a picatinny mount to fit a Weaver rail (generally only if the cross bolts are square).

Someone correct me if I'm wrong!

Dave

Dcforman




Posts

: 193


Join date

: 2017-11-18


Location

: Ohio



With a micro scope you only have to file one slot. The interesting thing is that only my Nikon scopes won't fit on the browning mount. I am not sure why the others wouldn't fit. I did have a small problem with the indent/relief for the bolt being in the wrong spot for the scope to tighten squarely.

LenV




Posts

: 3555


Join date

: 2014-01-24


Age

: 69


Location

: Oregon



If you have a friend with vertical mill, all you need to ask for is to widen slots on your Weaver rail from .180" to about .210". Alternatively you can buy few files from Harbor Freight, and start filing. I did former when I installed Nikon Red Dot on my Buckmark.
AP

PhotoEscape




Posts

: 367


Join date

: 2018-05-15


Location

: Northern Illinois, USA



I found this on ebay..it is from Tac Sol. I sent a question about the center to center measurements.

https://www.ebay.com/itm/Tactical-Solutions-Buck-Mark-Picatinny-Scope-Rail-Mount/163570471216

xman




Posts

: 51


Join date

: 2015-01-11


Location

: Tyler,TX



Xman, You made me curious so I took a Buckmark out of the safe and played with it. I had zero problem mounting a Primary Arms/Holosun or a Sig Romeo4 on the sight rail it came with. Also the problem I mentioned about the ejection port area was just on the Rugers not the Browning. I have seen a problem when the mount is not quite opened up far enough getting a scope on but the two you mentioned should fit.

Len

LenV




Posts

: 3555


Join date

: 2014-01-24


Age

: 69


Location

: Oregon



I was wondering if you got the Buckmark figured out. I was not really trying for light weight when I set mine up. There are a lot of after market goodies for them out there since they have been making them so long.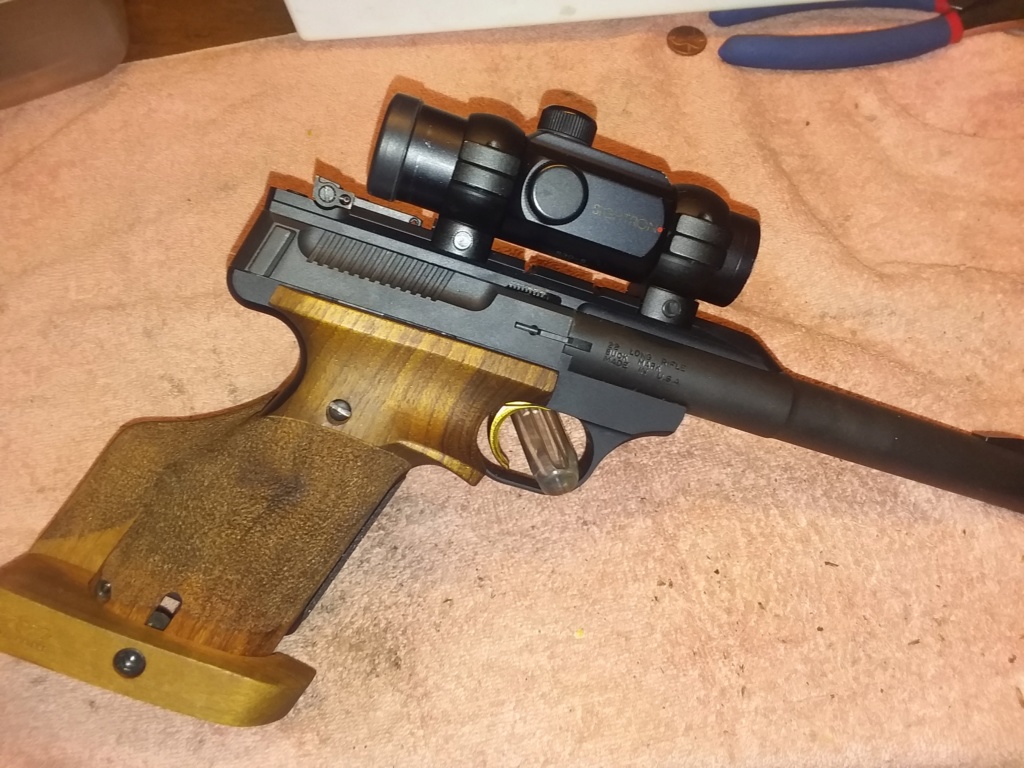 LenV




Posts

: 3555


Join date

: 2014-01-24


Age

: 69


Location

: Oregon



LenV

Found this on Bullseyegear...
Browning Buck Mark B-Square Universal Mount

https://www.bullseyegear.com/bullseyegear/browning-buck-mark-b-square-universal-mount-black.html

I might go that route as I tend to get heavy handed with files..LOL

xman




Posts

: 51


Join date

: 2015-01-11


Location

: Tyler,TX




---
Permissions in this forum:
You
cannot
reply to topics in this forum