+8
gregbenner
LenV
243winxb
Wobbley
mustachio
PhotoEscape
cdrt
mikemyers
12 posters
Page 2 of 2 •
1, 2
First topic message reminder :
Had a discussion with a fellow at the range last week, and figured I'd ask about it here.
When loading ammo for a S&W Model 52, or equivalent, does the type of brass you start out with make.a difference?  
I've been trying to use mostly Winchester brass.
He had several suggestions for me that might be better.
He doesn't reload, and brought me a big box of assorted 38 Special brass.
For Bullseye reloading, are there features to try to get, to create the best rounds?
As a simple test, I weighed some cases, in grains, using my reloading scale set to grains.


69.5 grains - the Winchester cases I've been reloading, with spent primer  ....feel lighter

74.7 grains - the S&B cases my friend gave me, with spent primers ...feel more "substantial".

He feels that S&B ammunition is premium ammo, that costs more, but is worth it.
The cases do "feel" different.  Hard to describe, but more "finished".
He also mentioned that some cases will have a "cannelure" which will be useful for loading for Bullseye.

mikemyers




Posts

: 3932


Join date

: 2016-07-26


Age

: 78


Location

: South Florida, and India



---
Thank you, OldEyes.  This is the article I referred to in my post.  And since everything in life repeats sooner or later, here is the tread on this forum from couple of years ago, -
https://www.bullseyeforum.net/t6492-38-special-wadcutter-brass
I suggest reviewing it and reading couple of times posts by David Wilson / fc60.
Next task on my list is to plug new Clark barrels on both of my 52s.  They seam to be much tighter than original ones.
AP

PhotoEscape




Posts

: 1175


Join date

: 2018-05-15


Location

: Northern Illinois, USA



So to date, what is the consensus on the optimum 38 Special HBWC case for reloading?

1. Star
2. Remington
3. WW 
4. Federal

Yes, I realize S+B was discussed previously, but I am looking for the best brass I can order (box of 5000) from one of the major reloading component retailers.

Also, is there any data on the usefulness of nickel plated cases or are these best suited for short range disposable cartridges?

From a logistical standpoint, Star, Remington, WW and Federal are more or less commercially available from a variety of sources.  Would it be possible to provide reasonable recommendation on these brands for the benefit of the new Bullseye shooters who don't have the benefit of the "good old stuff?"

New2BE




Posts

: 92


Join date

: 2017-04-23


Location

: So CAL



New2BE wrote:So to date, what is the consensus on the optimum 38 Special HBWC case for reloading?

1. Star
2. Remington
3. WW 
4. Federal


What I think I am hearing is that, for serious accuracy, you  need wadcutter brass, which be cannot be purchased new, no one sells it that way?  One needs to either purchase loaded wadcutters (of the correct brand), and shoot them, or find used wadcutter brass (I.e.originally loaded that way). I also "think" I am hearing Fiocchi as one of the better readily available choices for future reloading, although not the best initially. 
Just my take so far, it's confusing since it seems some of the really good stuff is no longer in production.

gregbenner




Posts

: 738


Join date

: 2016-10-29


Location

: San Diego area



For what it's worth, I have used Fiocchi and Magtech both FMJ and LWC with the same load and notice no difference even after the use of a trickler on each individual case. That is certainly nothing I plan to do with each case in the long run, obviously, but on a rainy day... I was also a bit curious after noticing this thread and being aware that the Fiocchi FMJ were a tad heavier than their LWC cases (no difference between Magtech FMJ and LWC).  But on target there was no difference. As for the other cases that are mentioned in the thread, I am pretty certain they are equally good. I suspect it's down to a question of curiosity and then to each his more or less subconscious conviction...

Rocambole




Posts

: 14


Join date

: 2019-03-06




saread




Posts

: 11


Join date

: 2011-06-12



Mike, I hope your still kicking. I forgot to mention when this was first posted that I also don't worry very much about the brass I use for my 52 because a couple of years ago a forum member sold me around 1200 pieces of once fired brass. Fired once and put back in the box they came in. The only work involved was getting them all out of the foam. Buying them this way is another great option.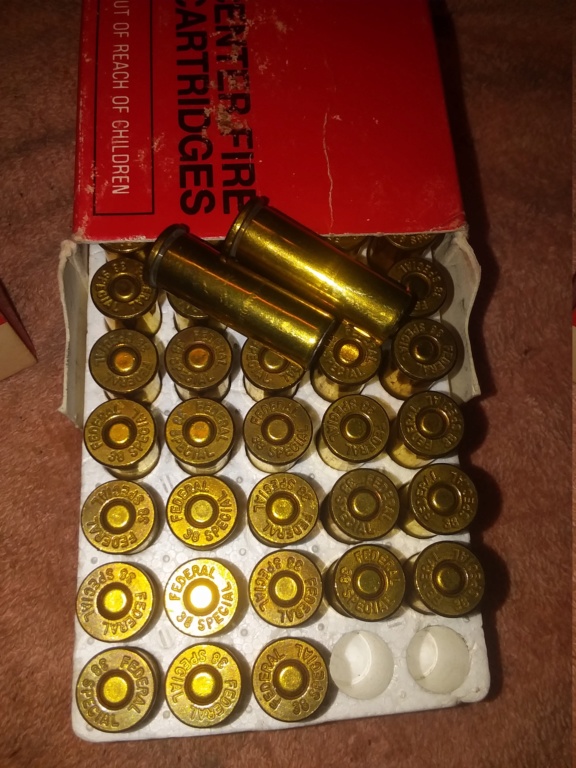 LenV




Posts

: 4523


Join date

: 2014-01-24


Age

: 72


Location

: Oregon



Page 2 of 2 •
1, 2
---
Permissions in this forum:
You
cannot
reply to topics in this forum