Looking to get mail into using this method for cleaning brass. Any recommendations of which tumbler to buy and opinions why? Was looking at the frankford arsenal platinum brand. Any comments on such?
Thanks Jake

Jake1911




Posts

: 120


Join date

: 2016-03-13



Get the big Frankfort Arsenal Rotary Tumbler (FART). Do big batches.

Wobbley




Posts

: 1997


Join date

: 2015-02-12



I have an Extreme Tumbler Rebel 17 I like a lot: http://extremetumblers.com

On the other hand a friend has a hillbilly set up of a PVC pipe with plugs that uses a discarded treadmill for the rolling action. I think it has about a 2 gallon capacity.

Sa-tevp




Posts

: 436


Join date

: 2013-07-20


Age

: 56


Location

: Georgia



I have a BiggDawg Tumbler that does 20lbs of 45acp brass at a time and with 20lbs of pins plus water it gets heavy.  Unfortunately he no longer makes them but they can easily be made just from a picture.  I guess my second choice would be the FART.
- Dave
You can kind of see the paddle in the opening of the small drum.  There are 4 in a 8" drum only 2 in the smaller drums.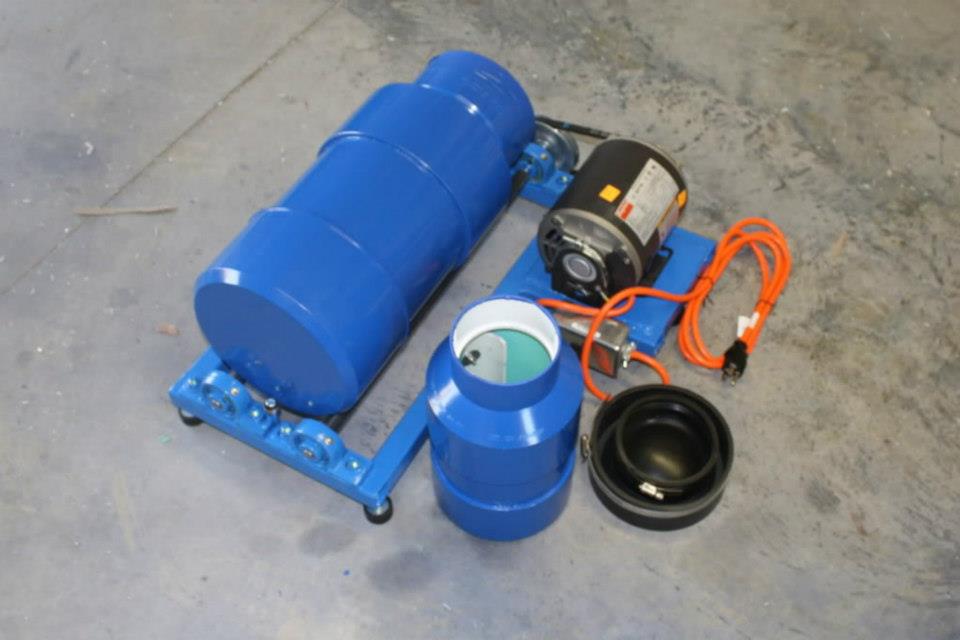 dronning




Posts

: 2179


Join date

: 2013-03-20


Age

: 65


Location

: Lakeville, MN




james r chapman

Admin




Posts

: 3167


Join date

: 2012-01-31


Age

: 70


Location

: HELL, Michigan



Not to hijack the thread, but rather to solicit opinions!  I'm trying to address my 33 blood level score by changing my cleaning habits.  That is for cleaning both brass and gun.  For the latter Ultrasonic Cleaners have been used for number of year by LE.  I had opportunity and bought 5 GA Sonic Systems cleaner, which is nowadays Infante S9 - https://www.infanteultrasonics.com/product-page/s9 I decided to try using it for cleaning brass.  So I filled main tank with solution containing tap water with liquid dish washer soap and a little bit of lemon juice (instead of citric acid) for additional acidity, and let it loose.  I tried four different batches of brass from 10mm to 50AE, and brass came out shiny and clean (yes, even 50AE that was quite dirty, especially at reams area) after 20 minutes of action with temperature setting at 60 degrees of Celsius.   So, I'm planning to keep brass cleaning solution in the main tank, and have two pans for gun cleaning and lubing.  Does anyone do something like that?  AP

PhotoEscape




Posts

: 367


Join date

: 2018-05-15


Location

: Northern Illinois, USA



You are likely to find that your brass will be "squeaky clean" and more likely to hang up in sizing and mouth expansion.  You probably will need case lube.

sharkdoctor




Posts

: 52


Join date

: 2014-10-16



I use the large Hornady US cleaner - also to address lead levels.  

I deprime, resize and expand first with a N-100 mask. then I clean with RCBS solution.  I use Hornady one-shot after cleaning, although I am also experimenting with liquid car wash/wax and have been having no stickiness at the crimp stage.

Aprilian




Posts

: 699


Join date

: 2016-05-13


Location

: Minnesota



This is what I use, but I'm certain that they all work fine:

https://stainlesstumblingmedia.com/?SID=450a75079c8d5fd0e0aa442529d94dfe

Joel

1joel1




Posts

: 244


Join date

: 2012-11-09


Age

: 60


Location

: San Diego, CA




---
Permissions in this forum:
You
cannot
reply to topics in this forum