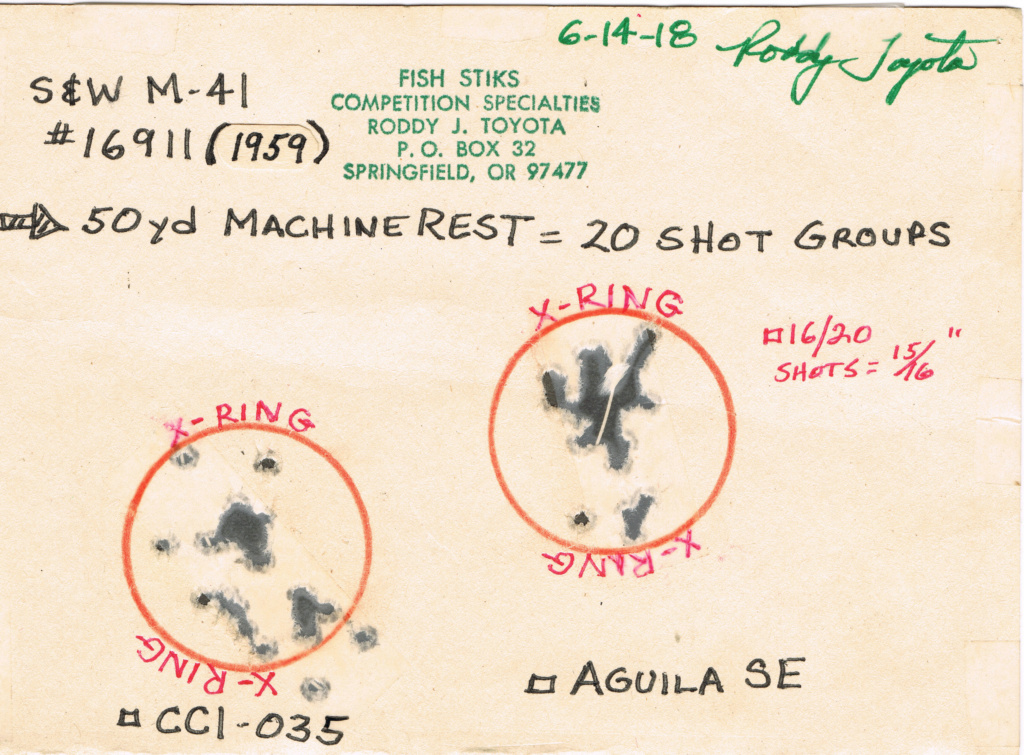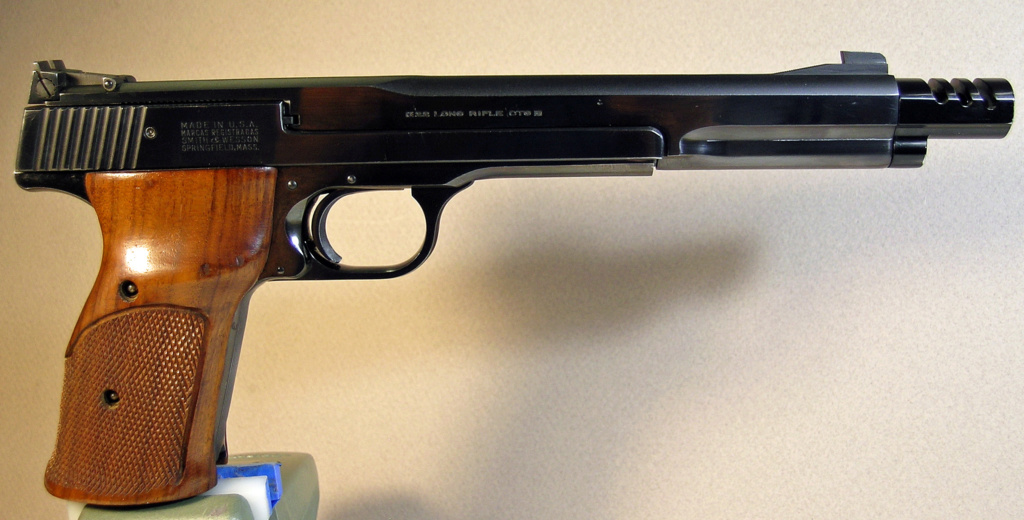 Hi All,
For Sale is a 1959, 7 3/8" Model 41, with Muzzle Break, and two (2) factory magazines.  At serial number 16,000, S&W added the scallops behind the trigger guard, as found on the 1911A1 pistols.  The pixs don't show it, but the slide/barrel do have very fine bluing scratches.  Also some of the muzzle break anodizing is worn from being holstered.  Original owner had this and several other pistols stored in a safe for nearly 30 yrs.  He lived in the country and whenever he hiked about, he would carry a holstered pistol for plinking, which he did quite often.  He didn't do much shooting, but he did a lot of hiking.  The shortened barreled custom M41 I built and  recently posted pixs of started out being a a safe queen along with this pistol and several Hammerlis I sold last year.
The machine test target I've attached was fired with cheap ammo.  Sixteen shots out of a 20 shot group, shot with Aguila SE, measured 15/16".   Another lot of either the CCI 035 or Aguila SE, could shoot better or worse.  Except for the fine scratches and holster wear, the pistol is in very good condition and a fine example of the what S&W used to manufacture.  The current owner is asking $750.00, plus shipping to your FFL, for the pistol as pictured along with two (2) factory mags.  If you aren't interested in the pistol as a "collectable," due to the cosmetic issues, and want it as a Bullseye pistol we can talk about additions.  Additions might be, adding an optical mount, shortened barrel, less crisp trigger, complete re-bluing, etc.  If you shoot Bullseye with iron sights, then this pistol is ready to go.  If you have medium/small or small hands, this pistol may not properly fit you.
Cheers,
Roddy Toyota

Roddy Toyota




Posts

: 40


Join date

: 2011-06-11



Roddy,

I would like to purchase the mdl 41

I have sent u an email to ur Juno account
Thx

JMP

Shotist




Posts

: 5


Join date

: 2019-08-09



Hi All,

Thanks everyone for looking.  The pistol is SOLD pending payment.

Cheers,
Roddy

Roddy Toyota




Posts

: 40


Join date

: 2011-06-11



Thanks Roddy,!

Roddy is great to deal with and he described the conditions on the pistol very accurately.

GREAT Transaction!

Shotist




Posts

: 5


Join date

: 2019-08-09



---
Permissions in this forum:
You
cannot
reply to topics in this forum