Page 4 of 4 •
1, 2, 3, 4
First topic message reminder :

When I used to dry-fire for about half an hour every day, everything seemed fine, although it took a while to notice the benefits.

I've noticed that if I dry-fire for an hour, something in my shoulder/neck/arm starts to feel sore.  In two days maximum, all is back to normal.


Not wanting to develop any shoulder issues, I'm wondering if this is perfectly normal, or does it mean I should shorten my dry-fire practice sessions, maybe doing them more often, but for a shorter period of time.  I guess my question is "how much is too much", or maybe I should word it "is it normal to feel "sore" after doing this?

(Just for reference, Keith Sanderson suggested something like one minute of "holding", followed by two minutes of "rest".  I'm sure the "holding" is what is causing the discomfort, not the firing.  It's not really "pain", just a feeling of being "sore".  Nothing hurts if my move my arm around, or hold the gun out in front of me. )
Last edited by mikemyers on 9/13/2019, 10:36 am; edited 1 time in total (Reason for editing : added "holding drills" to title)

mikemyers




Posts

: 3095


Join date

: 2016-07-26


Age

: 76


Location

: South Florida, and India



---
What the hell is a "practicel?"

inthebeech




Posts

: 388


Join date

: 2012-03-17


Age

: 55


Location

: North Carolina



inthebeech wrote:What the hell is a "practicel?"
Good question.  I thought I typed "practice".  Not sure how that "l" got tacked not the end.
You get the prize for the "eagle eyes".  I get the penance for my typo.  
I'm usually reasonably good at correcting my typos, but not so good when I don't realize I made one.  
I was able to go to "practicel.com" but that wasn't much help.

mikemyers




Posts

: 3095


Join date

: 2016-07-26


Age

: 76


Location

: South Florida, and India



DA/SA wrote:I set little "goals" for each range visit or match, just like your "goal" is to keep all shots in the black. 

Having a positive attitude makes a difference!
Went to a match today, 22 only.  
Since I'm now on a "positive" track, I scored 721", which is the best I've scored
since
February with my Model 41 when I got "736".  All targets were B-8 except the 50-yard targets with the 8 ring blacked out.
Several times the Nelson went "click" instead of "bang"; it always fires the second time I pull the trigger, but by then I'm out of time before I fire 5 rounds.  I'll talk to Larry Nelson about that tomorrow (Monday).
On a more positive note, last night I dug out my old High Standard, which has been sitting in my safe for ages.  I took off the anatomical grips, and replaced them with some wood grips that I got from Hereto Stocks maybe four years ago.  The only sight I had to put on it was a Matchdot II, which is heavier than I like.  Long after the match, I got out the High Standard, and started to sight it in.  It wasn't responding very well, but eventually I thought I had it centered.  Then I tried shooting at 50, then 25.  As the photo below shows, the sighting was no longer centered, but the grouping certainly makes me feel good.  I don't do this well with my Nelson or my Model 41.  Target is at 25 yards, with my remaining 22 rounds of Eley ammo.  If I still had any ammo, I'd have tried again on a B-8 target.  That will have to wait for tomorrow.
Another bonus, the High Standard 
never
failed to fire.  (My memory from years ago was that this was an issue back then.)
I've got a match next Sunday, but it's an "Old Shooter's Match" so we only shoot at 25 and 15 yards.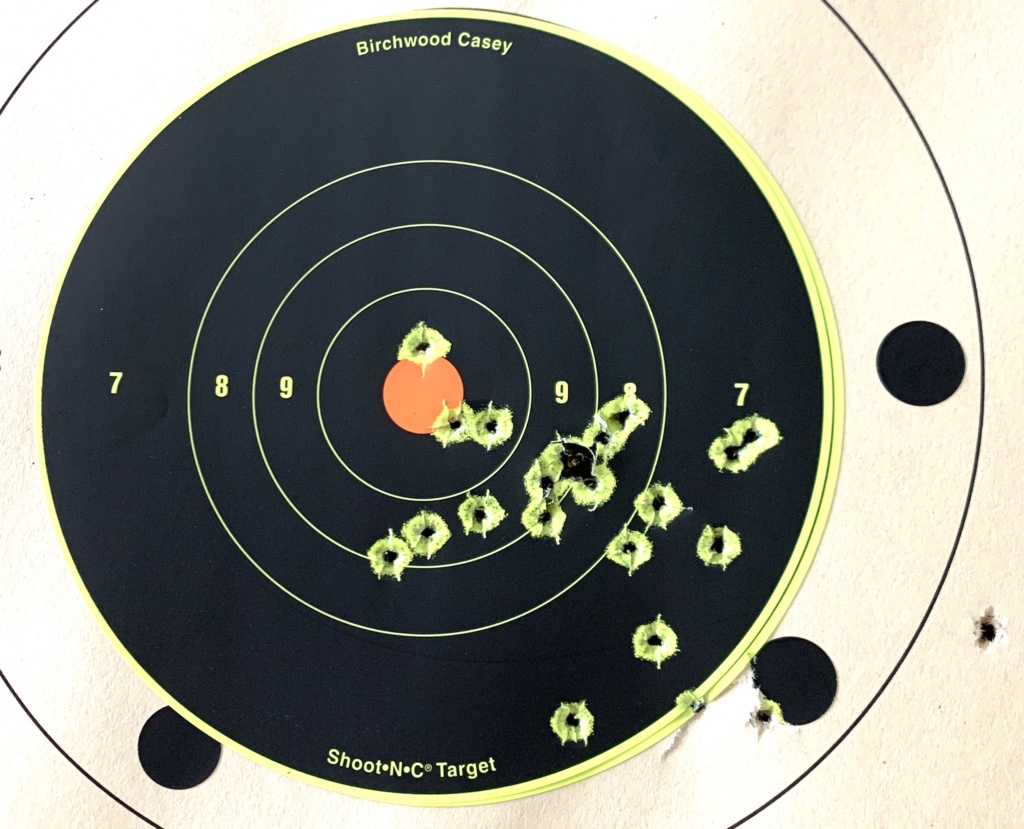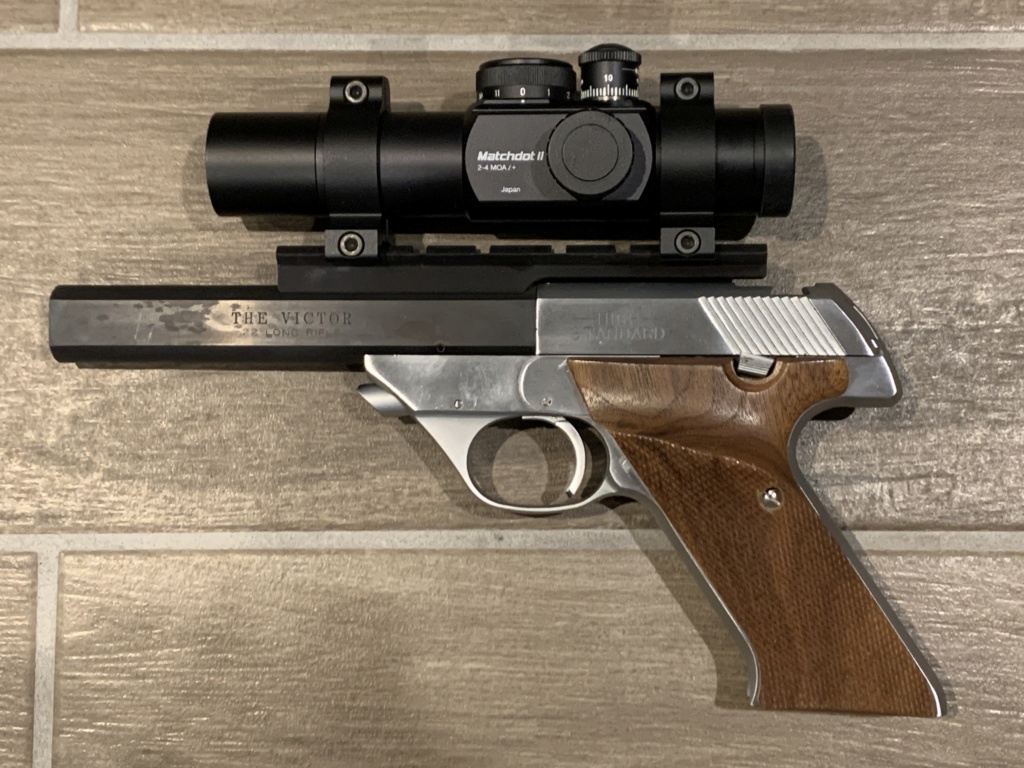 mikemyers




Posts

: 3095


Join date

: 2016-07-26


Age

: 76


Location

: South Florida, and India



Did you ever change the mainspring under that Nelson?

james r chapman

Admin




Posts

: 4377


Join date

: 2012-01-31


Age

: 71


Location

: HELL, Michigan



I asked Dave Salyer about it - he built the gun.  He tells me the lighter spring he used is fine for the Nelson.  I bought a new spring from Brownell's, but after communicating with Dave I left his spring in the gun.

My "gut feeling", based on my vast experience (ha!), the most logical thing is the chamber is too tight.  If the round isn't fully seating, my firing pin is just pushing the round to where it belongs, so the second time I try to fire, it works.  

Based on feedback from here, from Dave, an from Larry, I've been cleaning the chamber with an over-size brush.  Kevin thinks that there is a particle that gets stuck to the chamber, and as I shoot more and more, the "stuff" that builds up makes it difficult to fully chamber the round.

I tested for that, trying to drop rounds into the chamber AFTER I had returned from the range.  They totally failed the "plunk test".  


The best grouping for 20 or more rounds with the Nelson is at least an inch larger than the groups I was getting today with the High Standard.  I won't do it until after I talk to Larry, but I really want to "steal" my Aimpoint from the Nelson, and put it on my High Standard.  Musical Chair.....   er, Sights !

mikemyers




Posts

: 3095


Join date

: 2016-07-26


Age

: 76


Location

: South Florida, and India



I feel like the guy who called a TV technician because his TV wasn't working, and then having the technician point to the AC plug lying on the ground.
In addition to everything else and the kitchen sink in this thread, I was struggling to get past my personal goal of all rounds in the black.  I've given up on being bothered by an occasional flyer, but I think you know what I mean. Nobody has said it yet, but I was wondering of any of you were thinking it was time for me to pick up a new hobby, maybe "underwater basket weaving" or something else completely un-related to guns and shooting.  Then yesterday, at the match, I got some good targets, but my Nelson failed to fire several times, meaning by the time I fixed it, I never got off all my shots.  It's going back to Larry and Kevin, for re-grooving.
My Model 41 meanwhile is off at my new favorite gunsmith, to clean it up and set the trigger to the correct trigger pull, like my old High Standard.
I had already dug out my High Standard, dusted it off, and cleaned out the cobwebs.  Last night, after a bit of struggle to remove the barrel, I gave it a nice cleaning.  I then stole the Aimpoint Micro from my Nelson, and put it on the High Standard, instead of the Matchdot II which makes the whole thing too heavy for me.
I went to the range today with a one-track mind, get the gun sighted in at 15, then see how well I can use all the advice I've gotten in this forum in shooting a 10-only target, as DA/SA seems to feel I can do.  The results are shown below.  Needless to say, I drove home in a very good mood.   
I should add that this was with Dave Salyer's area aiming.  When I was trying to sight in the gun, I was aiming for the X, and I got a beautiful "donut" of holes, all around the X, but all an inch or so away from it.  I should have taken a photo, before I shot a few more holes Dave's way (just centering the blur over the X), and voila, holes actually appeared in the X !!!!!
Sorry to be such a pain at times.  I'm probably too slow to pick up on new concepts, and too stubborn to quit or give up, and (eventually) all the concepts I've been told about in this forum actually start to work for me!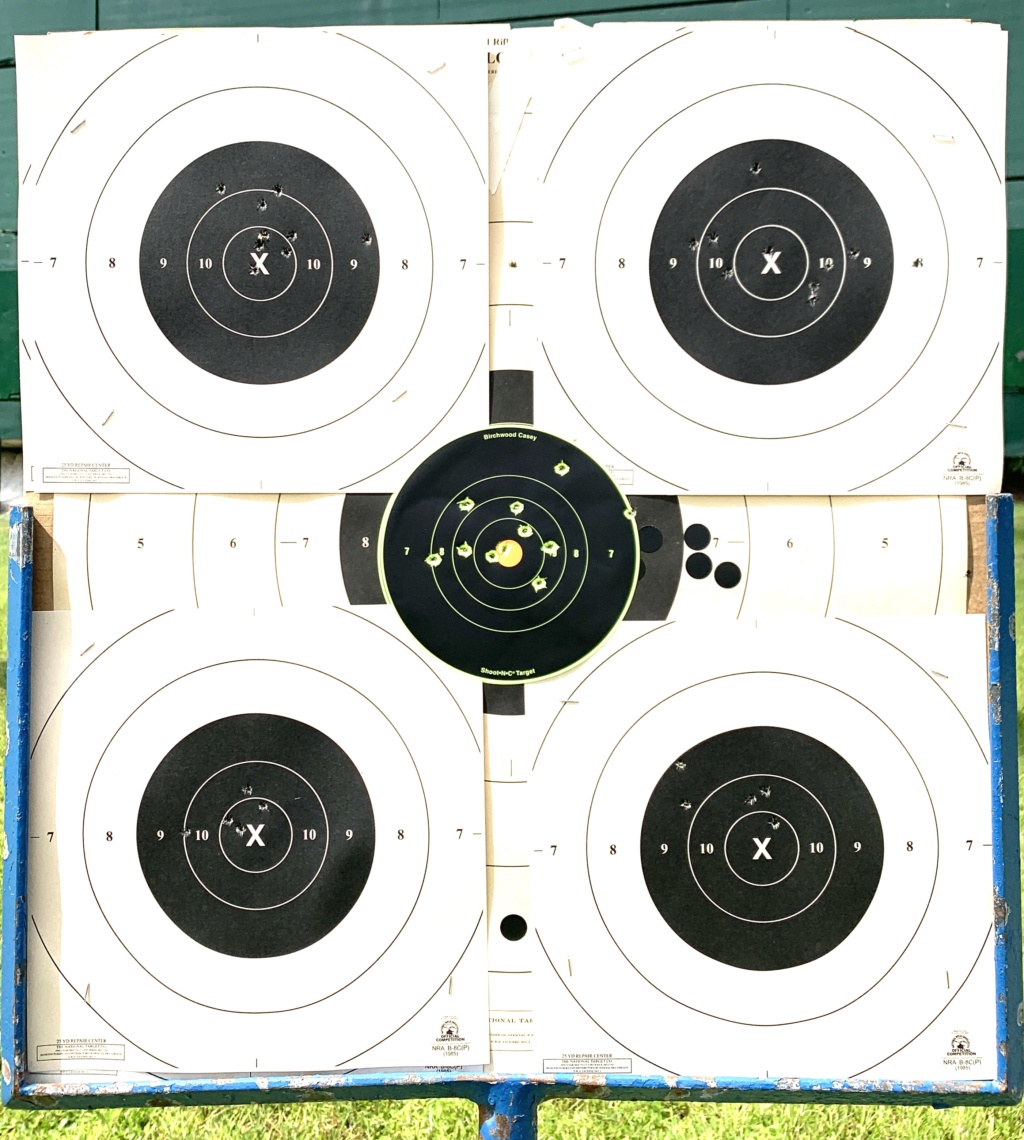 mikemyers




Posts

: 3095


Join date

: 2016-07-26


Age

: 76


Location

: South Florida, and India



If you keep that up, you'll prove me right!

Nice!

I won't post my target from yesterday...miserably windy and had my box blow shut three times, and my stuff blown all over the range. 

I got a real lesson from the wind...

DA/SA




Posts

: 591


Join date

: 2017-10-09


Location

: Southeast Florida



Ouch!!!!!    Sounds like a day to forget.  I remember reading about the wind and rain at Perry.  It's got to be a real struggle to get through conditions like those.
This was outdoors in a field, or someplace that was at least covered?

mikemyers




Posts

: 3095


Join date

: 2016-07-26


Age

: 76


Location

: South Florida, and India



mikemyers wrote:When I used to dry-fire for about half an hour every day, everything seemed fine, although it took a while to notice the benefits.

I've noticed that if I dry-fire for an hour, something in my shoulder/neck/arm starts to feel sore.  In two days maximum, all is back to normal.


Not wanting to develop any shoulder issues, I'm wondering if this is perfectly normal, or does it mean I should shorten my dry-fire practice sessions, maybe doing them more often, but for a shorter period of time.  I guess my question is "how much is too much", or maybe I should word it "is it normal to feel "sore" after doing this?

(Just for reference, Keith Sanderson suggested something like one minute of "holding", followed by two minutes of "rest".  I'm sure the "holding" is what is causing the discomfort, not the firing.  It's not really "pain", just a feeling of being "sore".  Nothing hurts if my move my arm around, or hold the gun out in front of me. )
So I'm not a physical therapist, just an old paramedic/army medic (take my advice with a grain of salt...) You're working muscles that are not accustomed to regular use (or have forgotten)  in the way Bullseye treats them. They're sore because they getting tired from the hold. It's sorta like someone deciding to get into shape goes to the gym and deadlifts; the next day they be all sore and decide to back off. But, if they had lifted lighter and pushed thru the "soreness" then it would fade, the muscles strengthen and soreness doesn't happen until you increase the workload. Soreness = fatigue.
As long as you do not push thru "sharp pain" the soreness will fade as the muscles get used to taking the load again. You can take tylenol if the soreness becomes a persistant discomfort. If it doesn't resolve, increases or becomes 'sharp' then you'll need to make a change.

Doc Siphon




Posts

: 1


Join date

: 2020-07-01



Doc Siphon, thank you for posting that.  This is from last September, and in early October I left on a four month trip to Aravind Eye Hospital in India.  The "sore-ness" followed me there, but gradually faded away, and in a few weeks it was gone.  
I like the way you explained it - now it actually makes sense to me.  
I'm sort of doing what you suggested now, although doing so was just a guess.  I'm definitely using all those muscles in dry-fire practice, but not to the degree as I was before.  It's working - either that, or my guns are losing weight.  
It never really "hurt", it was just annoying.  No need for Tylenol, other than for my brain, that was getting thoughts of I did something permanent.  As you explain it, it's no big deal, but a warning to myself not to go further.
As of a few weeks ago, I've started on Physical Therapy, both to strengthen my body all over, and especially my arms, shoulder, and hands.  My therapist and I are both interested in photography and shooting - when I go there, I brin"g a camera, and he takes photos of me and the gear.  They're all filed away in a private gallery at my gallery site, "[url=m.smugmug.com]m.smugmug.com[/url] ".   I gave my brother and the therapist the code to get into that gallery - I would have no problems with anyone seeing it, but I doubt they would be interested.....
If you have any opinions, I'd be real interested in the following - how to improve my strength "training" at home.  What I do the most, is to use an app on my phone, Interval Timer Pro.  It gives me an alert sound for the following:


Start - a starting buzzer goes off, giving me a 20 second "Warm Up" (during which I get the gun and myself ready.

"High Cycle" - after the buzzer sounds, I have 12 seconds to stand up, aim, take a shot using good trigger control, cock the hammer, and take a second (or more) shot(s).  Sometimes I take many more than just the two shots, continuing after the next buzzer goes off.

"Low" - after this buzzer sounds, I have 45 seconds to sit down, cock the hammer again, and rest.


(This goes on for 25 repetitions.)


Then the final bell is for the start of a 15 second "Cool Down", which for me means placing the gun in a case, and sitting down to relax.

I do this frequently, with each of my guns.  I place a lead filled magazine, or a magazine with "dummy rounds" in it, so I'm holding the appropriate weight.
My target, taped to my wall, is a scaled down version of a B-8 NRA target, so it looks just a little smaller than what I would see at the range.
Now that Cecil has taught me how to call my shots, every time I fire, I note where the dot was (where the hole in the target should be).  
I've created several other "programs" in the app, for various things.
Oh, and because my mind tends to wander, as I get bored, I do this with the TV on, playing a movie I've seen a gazillion times already, so I pay no attention to it.
What I would like to do, is create a similar "Holding Drill", where I would hold a gun of the appropriate weight, for _____ seconds, then put it down and rest.  What got me into trouble last time is I was not only holding the 45 with a lead filled magazine, but I also had what I think was a two-pound wrist weight around my arm.  
In retrospect, all of this has been helpful.  I used to struggle with the weight of my guns.  It was no problem with two hands, but only one hand....  Ugh!!!!   A few years ago, my problem was just holding the gun up with one hand, reasonably steadily.  Ha!  I could barely hold my Baer 45 up for more than a second or so before my hand began to tremble.  I figured I would pass for the 95 pound weakling in the old Charles Atlas ads.  Jim said something about this long ago, but the worst part was it was all true.  So, Bullseye became a struggle, a goal, a life-style, and one of the most important things in my life.  It's like a graph, on one side I'm getting better with advice and practice, and on the other I'm getting worse as I move past my age of 76.  
My PT guy knows all this, and thinks I can improve a lot.  I'm already improving, at least regarding body strength.  Dave Salyer told me I shouldn't be using my current goal, of all shots in the black.  Lots of things are helping.  Slowly.  
Back to your post - thanks again, as lets me see all this in a new way, from your perspective.  Muchly appreciated.

mikemyers




Posts

: 3095


Join date

: 2016-07-26


Age

: 76


Location

: South Florida, and India



Page 4 of 4 •
1, 2, 3, 4
---
Permissions in this forum:
You
cannot
reply to topics in this forum