Page 2 of 2 •
1, 2
First topic message reminder :

I've tried the search function but I'm probably not using the right words. Apologies if this has already been talked to death. My Ultra Dots and my Vortex red dot sights all present a distorted dot. It's not a dot at all, really. It's more like a red smudge. I do try to keep the lenses clean. I'm using Rx glasses set for my distance correction (.75) and I'm told by my eye MD that I do not have astigmatism. Is it really all a matter of spending a lot more money on, say, the Aimpoint I see a lot of guys using?

John McCormick




Posts

: 128


Join date

: 2014-06-25


Location

: SW FL



---
There are more options towards the end of this page:


https://www.at3tactical.com/blogs/news/ar-15-red-dot-sights-and-astigmatism


mikemyers




Posts

: 3335


Join date

: 2016-07-26


Age

: 76


Location

: South Florida, and India



Yes, the 
A prismatic sight is another option.  My LED-based RDS is an Aimpoint M4S, and my holographic-based one is a Vortex UH-1.  One reason I never went the prismatic route is I never found a quality one - at least the ones I found were all entry level sights.  Would be interested if someone knows of one.

jlow




Posts

: 177


Join date

: 2019-01-06



Maybe one of these?


https://www.opticsplanet.com/di-optical-eagle-prismatic-circled-red-dot-reflex-sight.html?utm_source=connexity&utm_medium=cpc&utm_campaign=publisher_network


mikemyers




Posts

: 3335


Join date

: 2016-07-26


Age

: 76


Location

: South Florida, and India



They seem to have good reviews but from a company I have not heard of and no body seems to have stock which is interesting...

jlow




Posts

: 177


Join date

: 2019-01-06



I have a couple of the "holographic" red dots - one on an air pistol. On a home made mount fitted in place of the OEM rear iron sight.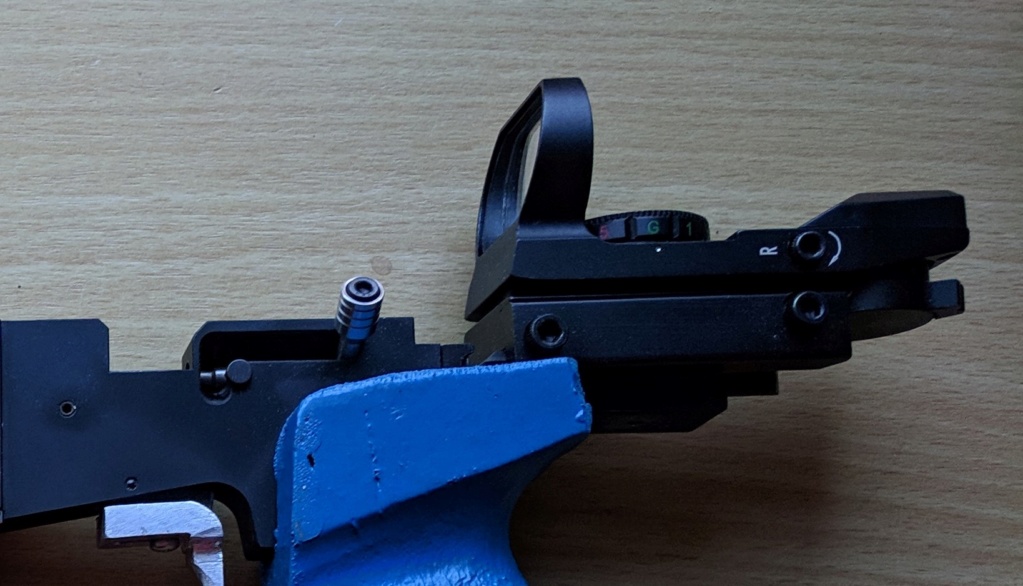 And one on a Hammerli 120 single shot 22 pistol.
I got the air pistol unit from an Airsoft shop in Asia and used it a lot during last winter. No problems.
I think that I got the VisionKing in USA - it came with the mount to fit directly on the 11mm dovetail of the 120. I admit that I rarely shoot the 120 and so the sight has not seen much action. But the dot is clear and round - it also has a switch to change to different reticules and red/green.
They were both inexpensive ~$25 and both work fine. Never tried them on a centerfire gun.
You can find them easily on eBay and Amazon. e.g.
https://www.amazon.com/Feyachi-Reflex-Sight-Adjustable-Reticle/dp/B01HPWATOC/ref=sr_1_10?dchild=1&keywords=holographic+red+dot&qid=1570901832&sr=8-10

radjag




Posts

: 863


Join date

: 2017-03-23


Age

: 64


Location

: Oregon



Yes, it is a bit doubtful that it will take the punishment of a centerfire firearm.

jlow




Posts

: 177


Join date

: 2019-01-06



Page 2 of 2 •
1, 2
---
Permissions in this forum:
You
cannot
reply to topics in this forum