I see many guys going to the small tube mini red dots vs the Ultra dot large tube type with rings. What do you guys think.  Which make and models you guys like?

smsnyder




Posts

: 630


Join date

: 2019-08-23


Location

: Pittsburgh Pa




james r chapman

Admin




Posts

: 5312


Join date

: 2012-01-31


Age

: 72


Location

: HELL, Michigan



SigSauer Romeo 5.  This guy did a torture test including shooting it with a shotgun!

https://youtu.be/Fuq_N129SAI

Wobbley




Posts

: 3401


Join date

: 2015-02-12



Is there something you gents prefer of these smaller tubes vs the Ultradots?

SingleActionAndrew




Posts

: 197


Join date

: 2019-11-19


Location

: USA



I use Ultradots or look a likes where I want to use shades and micro where I don't. I know a lot of people like to put shades on a micro. That seems to be a lot like turning it into a Ultradot. If I only had three pistols I could understand putting shades on your H1/H2. The Aimpoints really are the best. Since I could never afford putting them on everything I settle for the next best thing. Wobbley likes Sig Romeo5. In the Sig line I like the Romeo4A. I also use a Vortex Crossfire, Holosun 403C and Nikon Ptactical. I have 3 of the Ptactical but I don't recommend anymore because it won't fit on most rails. They have a very large cross bolt.
Len
https://www.ebay.com/itm/Sig-Sauer-Red-Dot-Romeo-4a-NIB-Factory-Sealed/193248964095?hash=item2cfe892dff:g:07UAAOSwrzBd7uaG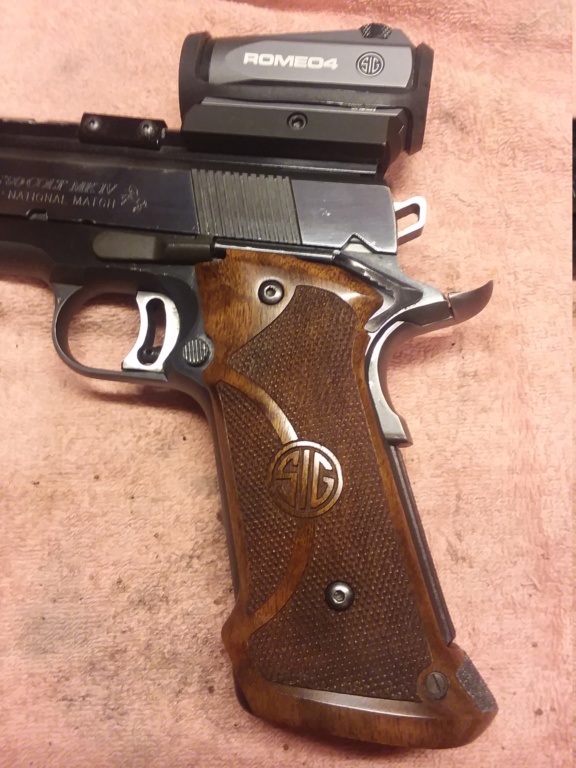 LenV




Posts

: 4454


Join date

: 2014-01-24


Age

: 71


Location

: Oregon



Dear Smsnyder:

I have given you my detailed recommendations in my other replies to your posts, I am sure you can locate them with a simple search.  

I just completed switching over all my pistols from the Ultra Dots to the micro dots.  I like the lighter weight, not necessarily for the lighter weight but the improvement in handling or feel of the gun.  I also discovered that I do not like the pushbutton brightness controls, I really like the rotary brightness adjustment since you can inadvertently turn off the scope when adjusting the brightness by holding the pushbutton a fraction of a second too long.  

 I found five models that I particularly like, the aimpoint H1, the Primary Arms, the Sig STS 081 the Holosun, and the Nikon.  The Nikon and the Holosun are pushbuttons but they are not on my primary competition firearm.  Of particular note is the Sig Sauer STS 081.  It is a discontinued model but what I like about it is that the rotary adjustment nob is on the left side of the scope, very convenient and a lot more ergonomic for a pistol when you are shooting right handed.  

I also prefer the smaller diameter 1 inch tube as opposed to the 30 mm tube.  Makes the whole sight picture a lot more focused when compared to a 30 mm tube.  

Surprisingly, the new Tasco Pro Point micro dots are a very good scope and cheap at about 60 bucks.  I do recommend them to new shooters who need the 30 mm tube which is easier for a inexperienced shooter to pick up the dot in timed and rapid fire.  5 moa dot too as compared to the 2 moa dots on most of the micro dots. 

Regards, 
Crankster

smsnyder




Posts

: 630


Join date

: 2019-08-23


Location

: Pittsburgh Pa



Buy the way holosun now makes a rotary adjustment red dot. It also comes in 2 different sights. A 65moa circle with a 2 moa round dot inside. You can also just use a 2moa round dot on this sight.

smsnyder




Posts

: 630


Join date

: 2019-08-23


Location

: Pittsburgh Pa



Any experience with the trijicon MRO red dot? It has a 24mm tube.

smsnyder




Posts

: 630


Join date

: 2019-08-23


Location

: Pittsburgh Pa



smsnyder wrote:Any experience with the trijicon MRO red dot?  It has a 24mm tube.
I have fondled one in the store and it is very heavy.  Not sure it is intended for a pistol to begin with.  Make sure you check out the weight before you purchase. 
Plus I am not sure I would want that big old rotary knob on the top as compared to the side.  Think that I would not like that rotary knob taking up so much real estate on the top whereas I do not notice it as much on the side. 
Regards, 
CRankster
---
Permissions in this forum:
You
cannot
reply to topics in this forum