These are K frame grips that fit both round and square butt. The wood is super thin across the back and front and have the best checkering I've ever seen. Maybe not the prettiest but certainly the grippiest. I bought this set from a forum member (name and date lost) and would like to find another set just like them. What I am hoping for is that someone can identify who made them and point me in the right direction. Thanks in advance for any leads.
Len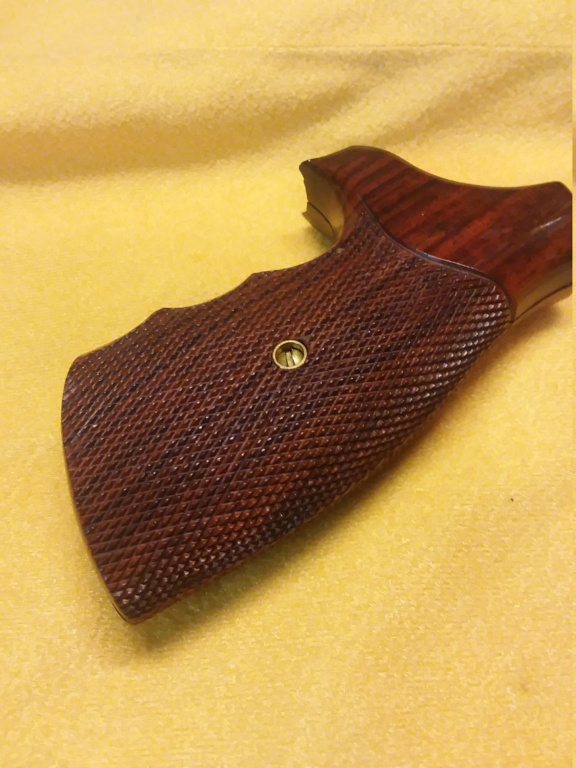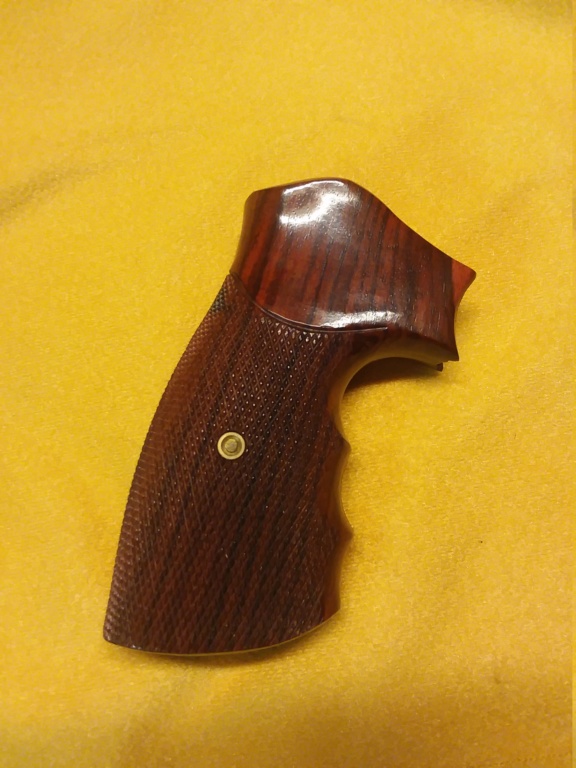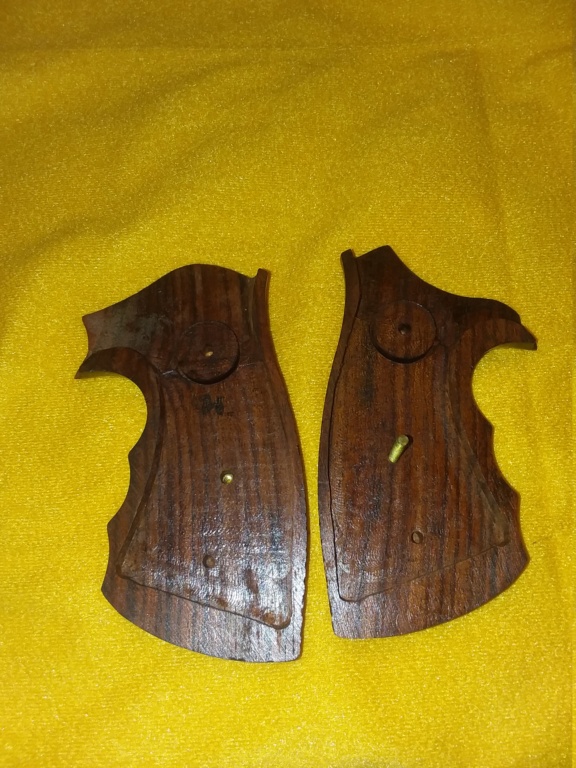 LenV




Posts

: 4037


Join date

: 2014-01-24


Age

: 70


Location

: Oregon



I think those are John Hurst grips.  2650-plus shooter, a real character.

Greg Walloch




Posts

: 102


Join date

: 2011-06-11



Len,

Do a search on eBay. There are several grips said to be by John Hurst / Fuzzy Farrant like this item 114041034286. But vendor is asking $500. Wow!

I don't know these names. Maybe others can explain.

There is a firm in Thailand producing nice hardwood revolver grips. I want to investigate, but may not get time this trip.

radjag




Posts

: 597


Join date

: 2017-03-23


Age

: 64


Location

: Oregon



I did the Ebay search. 500.00 grips Wow. I am certain these are not John Hurst grips. The comment about Thailand got me searching in a different direction. I found a set of grips from there that cost 90% less. They look almost identical except for a Mickey Mouse S&W emblem. I suspect this might be the company that made those grips. 
https://www.ebay.com/itm/FULL-CHECKER-ROSEWOOD-GRIPS-FOR-S-W-K-L-FRAME-SQ-ROUND-BUTT-by-Siampride/262136122420?_trkparms=aid%3D111001%26algo%3DREC.SEED%26ao%3D1%26asc%3D20160908105057%26meid%3De30768e5b35b4c6cb35e7fae2cb94d9b%26pid%3D100675%26rk%3D2%26rkt%3D15%26mehot%3Dnone%26sd%3D114041034286%26itm%3D262136122420%26pmt%3D0%26noa%3D1%26pg%3D2380057&_trksid=p2380057.c100675.m4236&_trkparms=pageci%3A784349ee-4131-11ea-8678-74dbd1808fc5%7Cparentrq%3Ae83a48cd16f0a4b77c99f0fbfff9e89c%7Ciid%3A1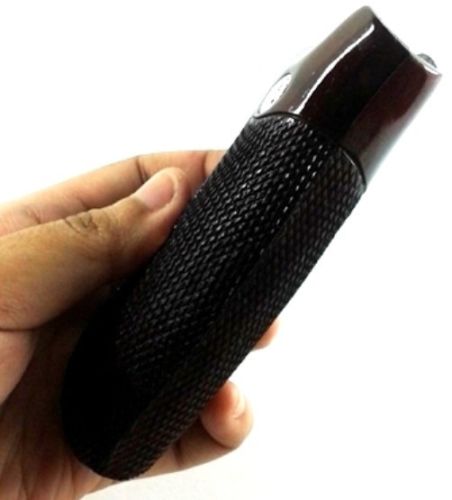 LenV




Posts

: 4037


Join date

: 2014-01-24


Age

: 70


Location

: Oregon



Len, more likely than not.

Alot of Hurst's grips required that you cut a portion of the frame at the bottom corner of the frontstrap.

Outthere




Posts

: 199


Join date

: 2013-03-20



Len / Roy,
You guys are phenomenal help. I contacted this seller on eBay, asking if he can modify grips to remove finger groves and make it smooth. I'm attracted to checkering on the back, as my hand tends to slide when I shoot revolvers. Of course I can try skate board tape trick, but having grips with checkering is a better, IMO, and it fills the palm better.
Thank you,
AP

PhotoEscape




Posts

: 713


Join date

: 2018-05-15


Location

: Northern Illinois, USA



Great minds think alike. I ordered a set 2 days ago. I thought they needed an up close and personal inspection.
I don't mind the little finger grooves. They are like traction bumps.
Len

LenV




Posts

: 4037


Join date

: 2014-01-24


Age

: 70


Location

: Oregon



Last edited by LenV on 2/6/2020, 11:25 pm; edited 1 time in total (Reason for editing : Got country name wrong. I'm blaming autocorrect.)

LenV




Posts

: 4037


Join date

: 2014-01-24


Age

: 70


Location

: Oregon



Thailand.

I think the wood is Thai Rosewood. Or Mai Makha in Thai.

My Bullseye box is made with it.

radjag




Posts

: 597


Join date

: 2017-03-23


Age

: 64


Location

: Oregon



---
Permissions in this forum:
You
cannot
reply to topics in this forum