Has anyone here tried the Air Venturi V10 air pistol? I'd rather have a pistol that uses tanks instead of having to pump the gun up for each shot. But while on lock down here at home the pneumatic pistol is sort of complete - I don't have to worry about running out of air and filling tanks. Perhaps not as good of a gun but for home sight alignment and trigger control training maybe it's a good affordable training iron. Does anyone here have one and have anything to say on it?

Tim:H11




Posts

: 1850


Join date

: 2015-11-04


Age

: 33


Location

: Midland, GA



It's actually a very nice pistol for the money.

Very good grips.
Good adjustable trigger
Adjustable rear sight blade


jglenn21




Posts

: 2221


Join date

: 2015-04-07


Age

: 73


Location

: monroe , ga



It looks like a competitor to the FAS6004 which I have.  The biggest downside is the low velocity, both claim to be 400fps pistols but my FAS cronographed at 320fps.  For the FAS there are some tuneup tips which I did and it gained quite a bit of velocity, I had to lower the rear site about 10 clicks.  There is a review on line https://www.airgundepot.com/vault/articles/head-to-head-airventuri-v10-vs-fas-6004/ compairing the two.  I shoot at a airgun match and use mine but everybody else has fancy pistols with tanks.  I would say the FAS6004 is better than no air pistol but not a serious tool.  The FAS is a fun pistol to shoot and has very nice trigger, grips and sites.

troystaten




Posts

: 592


Join date

: 2012-04-18



Mine just got delivered today.  I shot a little bit in the basement today. I noticed when you pump it's a little tough. I fine holding it down on a table and pumping it's much easier.  I only wish I could install a dot sight on it. To be more realistic to Bullseye shooting.

Pbmoser1954




Posts

: 100


Join date

: 2016-03-23


Age

: 66


Location

: Lehigh Valley Pennsylvania




LenV




Posts

: 4394


Join date

: 2014-01-24


Age

: 71


Location

: Oregon



Is your Gamo a metal slide where the site base is mounted? My  V10 is not metal.  What base did you use?

Pbmoser1954




Posts

: 100


Join date

: 2016-03-23


Age

: 66


Location

: Lehigh Valley Pennsylvania



You do have to drill some holes in the thin frame. I used weaver mounts for a Marlin 336 because they have a flat base. I used split bases but if I had it to do over I would use the one piece shown here. There is room for nuts on the inside of the frame that won't interfere with the barrel. I put a flush screw in the area shown in the picture but if I used the one piece I wouldn't bother. All the strength comes from the rail. And pulling to frame to it with nuts.
https://www.ebay.com/itm/New-Marlin-Pre-Drilled-Weaver-Picatinny-Scope-Sight-Rail-Mount/113847891263?_trkparms=aid%3D1110006%26algo%3DHOMESPLICE.SIM%26ao%3D1%26asc%3D226053%26meid%3D12534c7969ff40cd9c44a8fe55649cf7%26pid%3D100005%26rk%3D1%26rkt%3D12%26mehot%3Dpf%26sd%3D401743366880%26itm%3D113847891263%26pmt%3D1%26noa%3D0%26pg%3D2047675%26algv%3DSimplAMLv5PairwiseWebWithBBEV1Filter%26brand%3DUnbranded%2FGeneric&_trksid=p2047675.c100005.m1851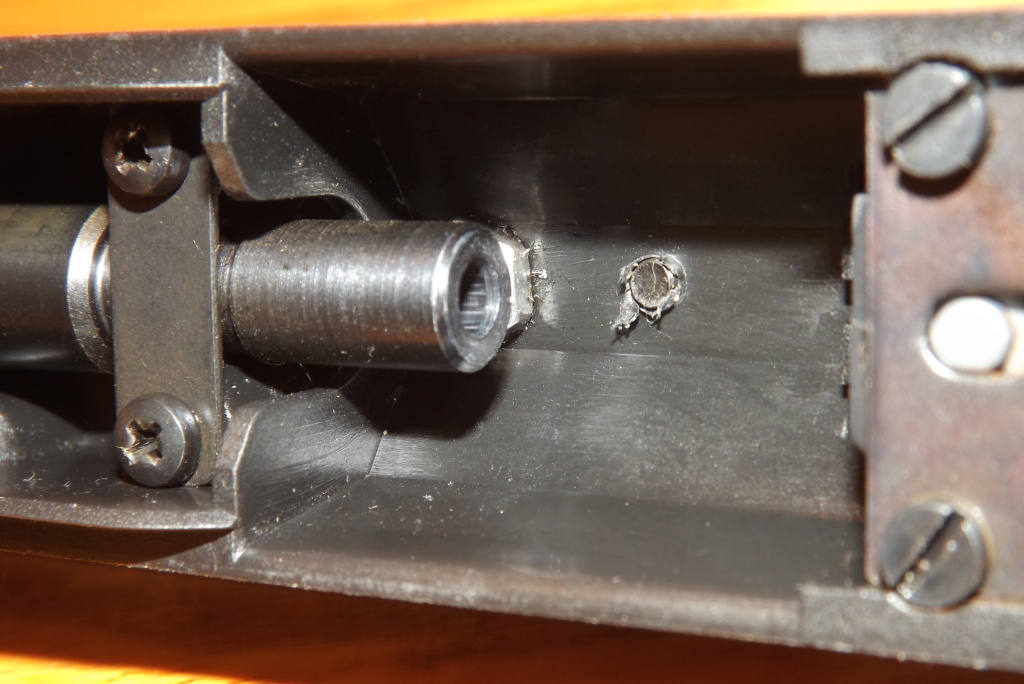 LenV




Posts

: 4394


Join date

: 2014-01-24


Age

: 71


Location

: Oregon



Thank you Len
 I just placed my order

Pbmoser1954




Posts

: 100


Join date

: 2016-03-23


Age

: 66


Location

: Lehigh Valley Pennsylvania



---
Permissions in this forum:
You
cannot
reply to topics in this forum