Well, allot of us are under lockdown orders forced to be at home.  You guys that haven't been locked down yet, keep shooting and posting, I'll keep up the data.




For those that are reduced to pellet guns, if you have sustained fire capability continue to post here as I have been doing.




There is a similar 10M air pistol group on the other web site that does a full ISSF 600 monthly.




We are also continuing here adding an ISSF 300pt slowfire match on B40 targets.




This website is all about Bullseye shooting so lets have a NRA Precision Pistol 300pt National Match Course.
Follow the NRA Precision Pistol Rules.
Shoot at any official distances with official targets or scale targets to make it basement friendly for pellet guns.


Week #14 is now open.  Shoot and post your score and information here on or before 5/24/2020.  At that time week #14 will close and week #15 will be open.
Everyone is welcome to join in.  No membership or enrollment needed.  Simply post your information.


Post the following information
Name or forum name:
Date:
Distance: 50/25yard, 25yard, 50 foot, 25 foot.....
Indoor/Outdoor:
Pistol:
Caliber:
Sights:
Shooting aids: (we're here because we like competition, if we need to deviate from the rules to continue to enjoy, please do so.  I would rather have someone with a shake shoot two handed and enjoy, than sit out.  We'll all be there sooner or later.)
Post a picture of the targets if you can.  It's fun to see.
Score Slow Fire:
Score Timed Fire:
Score Rapid Fire:


I'll summarize the results and post them weekly.
If you have any questions, feel free to ask.
Looking forward to shooting with everyone.
Attachments

Weekly NMC scores 2020.xls

Data posted

You don't have permission to download attachments.

(100 Kb) Downloaded 2 times
Last edited by JimTMich on 5/25/2020, 2:03 pm; edited 1 time in total (Reason for editing : attached data)

JimTMich




Posts

: 135


Join date

: 2019-04-01


Location

: Kalamazoo, Michigan



Aub1957
Date: 05/16/20
Distance: 50 yd slow, 25 yd timed, 25 yd rapid
Outdoors Weekend Practice Session
Pistol: Ruger MKII Competition Target
Caliber: .22 (CCI SV)
Sights: Irons
Score Slow Fire: 86-2
Score Timed Fire: 97-3
Score Rapid Fire: 94-3
Total: 277-8x
Nice sunny day out on the farm but plenty hot. A little rusty as I have not been able to shoot in a few weeks. I tested out some of the new CCI SV (the stuff in the new box). Apart from a little more smoke, they seemed to shoot as accurate as the older stuff. Will continue to evaluate. And yes, I own that 6 on the 50 yd target. Thanks for hosting this online league as it is a good motivator!

aub1957




Posts

: 68


Join date

: 2018-08-02



Beautiful sunny day here too. Nearly 70!

Outdoor 50&25, turning target.
Walther GSP, dot sight
Aguila SE
SF 94-1
TF 100-5
RF 96-2
    290-8

45 wad gun, dot sight
SF 88-1
TF 99-4
RF 95-3
   282-8

Both good scores or me. I'm especially happy with the 45 though. It's my weak area. Since there won't be any/many matches this summer, I'll dedicate most of my training time to it. Anybody wanna buy a nice 32?

JKR




Posts

: 622


Join date

: 2015-01-13


Location

: Northern Wisconsin



Rimfire, iron sights, standard bullseye course of fire, 50&25 yd, stopwatch. I ran out of 50-yard targets so I got creative with a marker.
slow    93-3
timed  91-0
made a sight adjustment, 1 click up
rapid   99-6 (my best rapid score ever!)
total   283-9
It was 82° and 70% humidity here in Florida. Yuck!

CO1Mtn




Posts

: 97


Join date

: 2017-06-22


Location

: Northwest Florida



Last week JKR challenged me to post a 45 score. Lots of excuses, really struggling with ammo and "chicken finger" in RF. I wanted to shoot a "good" one today after a very respectable 882 with the SP22, but then several other folks arrived at "MY" pistol range and it all got a bit hectic. I've got other things to deal with for the coming couple of days, so this 45 score from two days ago will have to do. 
RADJAG
NRA 50' targets shot at 45' outdoor
Springfield Armory 1911 R.O. accurised by Roddy Toyota
UD 1"
My reloads (which I'm struggling with at present)
SF - 92
TF - 97 (changed ammo for TF/RF - sight was off - my fault)
RF - 98
NMC - 287
(No point trying to count X's with a 45 on 50' targets!)
All things considered an 863 is pretty good with the 45 for me - but this is at 45' and no turning targets. No promise I can do this in a real match!!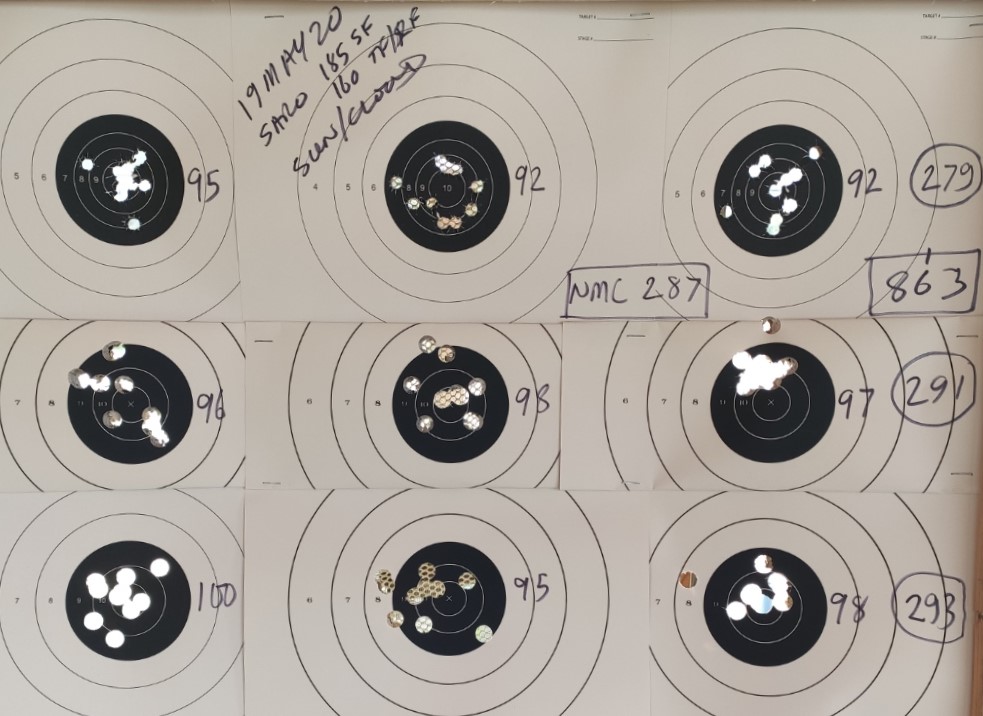 radjag




Posts

: 759


Join date

: 2017-03-23


Age

: 64


Location

: Oregon



Well done sir! I can see at least 17 x's there. 
In 50' matches I've shot in, only 5 shots were fires per target with the 45. Made scoring a little easier. Of course it doesn't matter for our weekly match here. 
JKR

JKR




Posts

: 622


Join date

: 2015-01-13


Location

: Northern Wisconsin



Oleg G.
Date:05/21/2020
Distance: 33 feet, Air Pistol B-40 Targets
Indoor
Pistol: Izh-46M
Caliber: .177
Sights: Iron Sights
Shooting aids: None
Target 1: 92-3X
Target 2: 92-2X
Target 3: 89-1X
Total: 273-6X
For the second week in a row I seem to be struggling with the last target. I usually shoot in the evening, after work. Perhaps I am getting tired, or perhaps the light is fading and I am not able to focus on the front sight as well. Will try to find time this weekend to shoot during the day to test.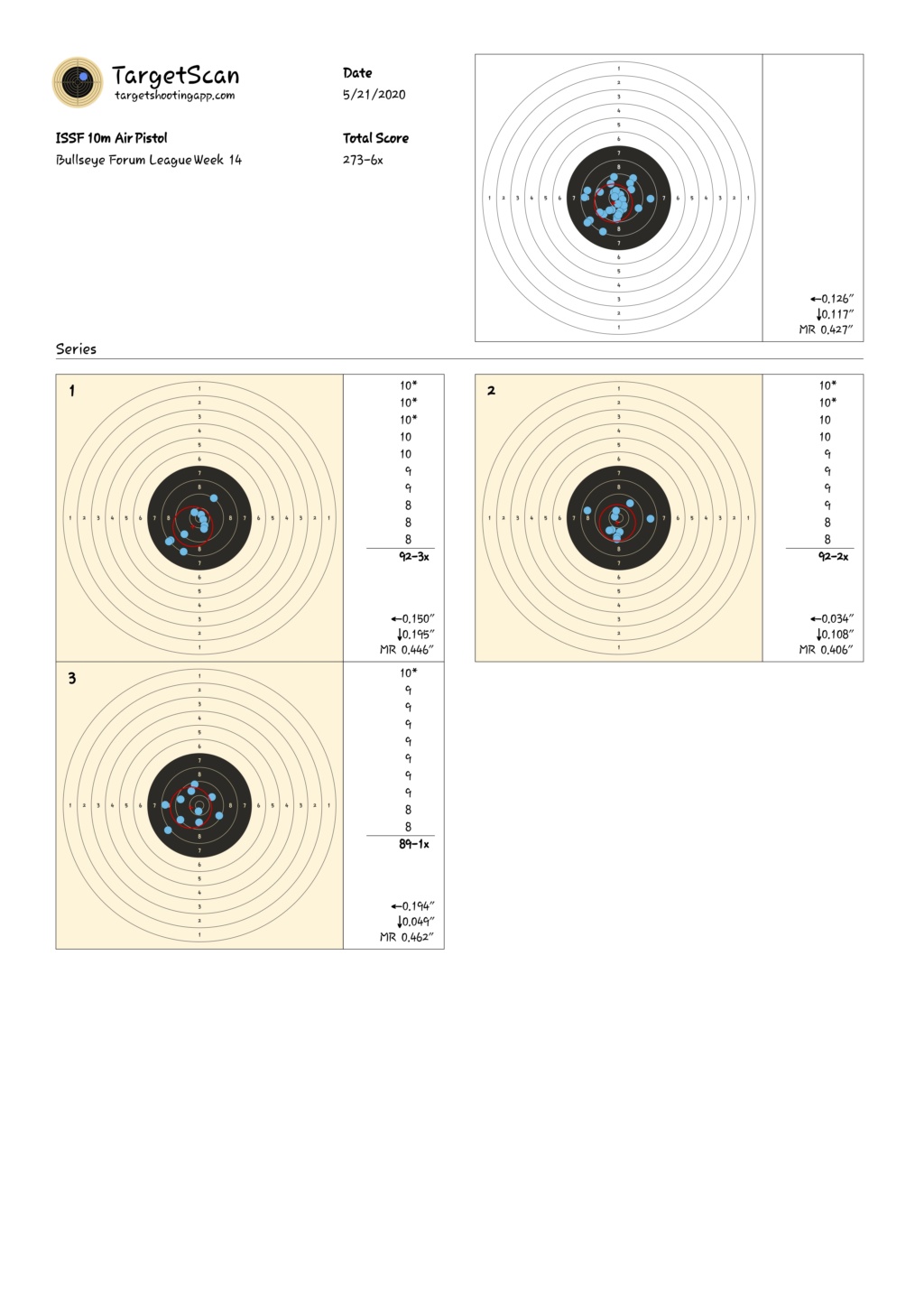 Oleg G




Posts

: 338


Join date

: 2016-05-12


Location

: North-Eastern PA



Actually your last target is pretty nicely centered. Perhaps some group tighter is all that's needed!
JKR

JKR




Posts

: 622


Join date

: 2015-01-13


Location

: Northern Wisconsin



Wow Radjag, 50 feet or not that is some excellent shooting. Especially the first target. It's almost one big hole!

CO1Mtn




Posts

: 97


Join date

: 2017-06-22


Location

: Northwest Florida



JKR, yes, I was looking to purchase another doze of group tightener but it seems to be sold out everywhere... I guess that I will have to resort to more of the old-fashioned training! 

Oleg G




Posts

: 338


Join date

: 2016-05-12


Location

: North-Eastern PA



Data posted.  Wife had heart surgery this week, so I couldn't find time the last few weeks to shoot some targets.  I'll get back on paper sooner or later.

JimTMich




Posts

: 135


Join date

: 2019-04-01


Location

: Kalamazoo, Michigan



---
Permissions in this forum:
You
cannot
reply to topics in this forum