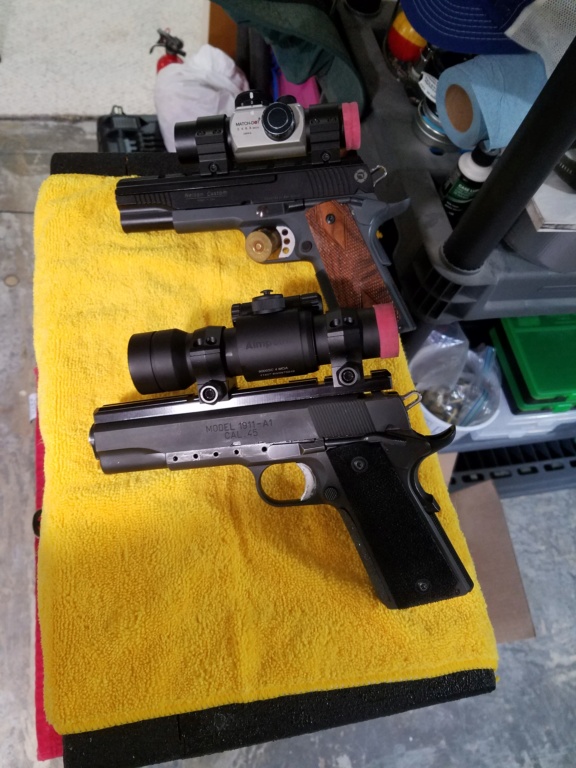 Both of my pistols are finished and ready to work together again. The Nelson has it's own lower a Foster that was built by Brian Mallette in Davenport, Iowa. He did all the great work of fitting the new innards and it has a very nice crisp trigger which I like in a 22, nice very nice. Give him a call, he's a Master Bullseye shooter and owns Bullseyegear also.
 The 45 is a Range Officer that I had Brian put a trigger job and a frame mount dot on it, a few years back. I didn't like the way it shot with that mount and wanted a slide mount instead. Brian was busy with things at home so I talked with Jon Eulette (who's known on this forum) and he was able to do it, and he rebuilt it, new barrel that locks tight and much more great work. It is the first time I had a short roll trigger done, and I'm liking it because it helps a little with the dot wobble. Don't know if I'd like one on a lighter 22 pull.
 I would recommend both these guys for gun work, great job you guys.
 I know the holes leftover from the frame mount might look awful to some, but she reminds me of a classy 55 Buick Roadmaster. I got some plugs ordered that might give it that "bling" some day. 
 For now it's all about dry fire and practice.
Stan

chopper




Posts

: 516


Join date

: 2013-10-30


Age

: 69


Location

: Western Iowa



Nice! I hope everything works out great and you love them

James Hensler




Posts

: 1108


Join date

: 2018-01-15


Age

: 52


Location

: Southwest Florida



Don't worry about the holes in the frame.  It's only the holes in the target that matter!

swissyhawk




Posts

: 57


Join date

: 2013-12-08


Location

: Northern VA



Diamond studs would be cool!

james r chapman

Admin




Posts

: 5024


Join date

: 2012-01-31


Age

: 72


Location

: HELL, Michigan



Diamond studs? My wife would be jealous, she would want hers to be bigger. I was thinking epoxy with colored bondo for contrast, will probably use the threaded plugs. No hurry I like shooting it more.
Stan

chopper




Posts

: 516


Join date

: 2013-10-30


Age

: 69


Location

: Western Iowa



---
Permissions in this forum:
You
cannot
reply to topics in this forum