SPF Thank you -
Colt MKIV Series 80; In good shape with the exception of the trigger pull issue, a couple small dings along the flats and a sub par bluing job on the sight rib.  The good, stippled front strap, Factory Colt barrel, fitted bushing, fitted slide.  It shot really well for me before the hammer follow issue.  Has the ability to clean a target, even done a few with me doing the shooting.  Uninstalled parts: KC Roll Trigger kit, Clark sight rib, Ultradot 4 red dot (no rings) are available if desired.  The story below if interested.  $800 -MAKE OFFER-
I have Colt 1911 I would like to sell but I'm having trouble putting a price on it, here is the story and hopefully someone here can put it to use.  I bought this used from a local range/gun shop to use while I had a new gun built.  It shot great for the first 5-600 rounds then I had a hammer follow and auto fire moment.  The next day I took the gun to a local gunsmith to have him correct the issue.  The Hammer follow issue was solved but now there is an inconsistent trigger pull.  With the magazine in the pull is much more than with the magazine out, 3-4 times the pressure required.  If you start the press then relax your hand then start the press again it feels almost normal sometimes but not all.  I have let the same guy look at it a few time to try and fix it but have lost all confidence in him being able to.  I found a different/better gunsmith and was on the list to have him fix it but before he got to it  my new gun came in.  I loss interest in this one and it has sat in my safe for the last 6-8 years.  I can't see it being more than installing a new trigger, sear and disconnector I did purchase a KC Roll Trigger kit and a new sight rib but just don't have anybody local to me that would trust to do the work.  Now that all the issues are known. I have no idea what a "needs repair" firearm is worth, make me an offer.  Located in South Florida if you want to take a look in person and willing to ship ffl to ffl following any and all required laws. 
I can send more pictures or discuss over phone/email, Email me at  Ken33455@gmail.com 
-Ken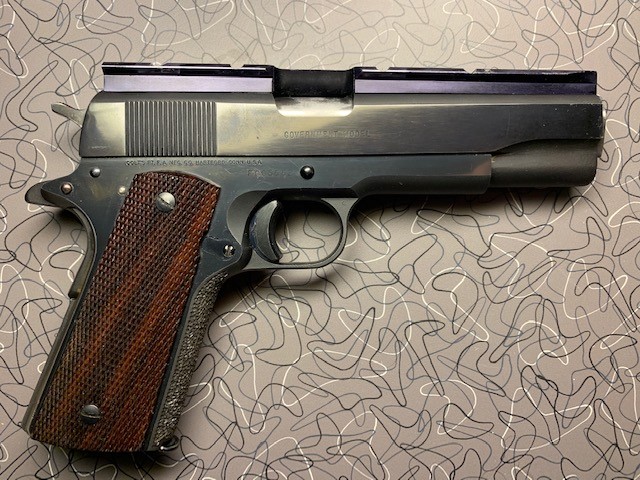 Last edited by StrayDog on 10/6/2020, 3:05 pm; edited 2 times in total (Reason for editing : update to SPF)

StrayDog




Posts

: 6


Join date

: 2014-03-10



The trigger stirrup is most likely dragging on the magazine. Easy fix.

JKR




Posts

: 698


Join date

: 2015-01-13


Location

: Northern Wisconsin



But, unfortunately, the forum rules require you to come up with a price.

Admin

james r chapman

Admin




Posts

: 5040


Join date

: 2012-01-31


Age

: 72


Location

: HELL, Michigan



Jim's right. Take a look at gun broker and put a price on it. Then you can work from there.

JKR




Posts

: 698


Join date

: 2015-01-13


Location

: Northern Wisconsin



---
Permissions in this forum:
You
cannot
reply to topics in this forum