The package is Sold and Pending Funding.
I would like to sell my custom-built 1911 wadgun.
The pistol was built for me by George Carell, of Carell 45 Shop in Bangor, PA. 
George is an AMU armorer and shooter of long ago. I believe that George has recently retired, so my pistol may be the last one he ever built
George's credentials are impeccable. He knows how build a competition 1911. He built at least one pistol for a top-level New Jersey competitor. (If needed, I will divulge the name in a private conversation).
George completed the pistol for me in April 2018. The pistol has less that 3000 rounds through it.
The pistol groups <1 inch at 50 yards. Here are the pictures of the test targets from George, which I will send to the buyer:
In my hands, the pistol is accurate using Zero Lead Hollow Point bullets over 3.8 Gr of Bullseye - this is what a friend loaded for me and this load works very well for both short and long line.
The pistol is tight and George recommended a specific disassembly / reassembly procedure for the bushing and the barrel, which I will happily share with the buyer.
I installed a full-length two-piece guide rod from EGW to facilitate an instantaneous exchange between the .45 slide and the .22 conversion slide. I will include the original guide rod and recoil spring guide. The EGW guide rod has been 100% reliable and rather easy to remove for cleaning.
The pistol comes with two Wilson Combat magazines, which George tuned to the pistol.
I would like to sell this pistol as a complete Bullseye package, together with my Advantage Arms Target .22 Conversion.
This conversion is very accurate - see the picture below. I shot this target last week, while working through the USMC exercise to keep shooting at the Slow Fire target at 50 yards until you get 10 10's. It did not take too many shots
 :
The AA conversion developed a crack in the slide over time and has been recently repaired by Advantage Arms - they simply fit a new slide to the barrel free of charge - great service! You can identify the new slide by the somewhat purplish color, which appears to be the result of a recent change in their bluing procedure.
I am including the reduced power recoil spring (installed) for the standard velocity ammo and the original, stronger spring for the high-velocity ammo.
This conversion likes Eley CMP and Target.
I will include 3 additional AA polymer magazines with the conversion, for a total of 4. I will also include a Nelson-Style  button magazine loader.
I am also including a Gen 1 Ultradot 4 MOA sight with added Weaver low rings to make this a complete bullseye package.
This package is ready for the full 2700 match, you just need to bring a steady arm!
PRICE: $2250 shipped from my FFL to yours. I will ship the conversion and the red dot site separately, as they don't require FFL shipping.
TRADE: I am selling the pistol because I want to get a Pardini GT45 and cannot afford it without selling something. I will happily trade this entire package for a GT45. Preferably, but not necessarily with a scope rail installed (full size or short).
Pictures below, let me know, if you would like to see additional specific pictures:
Pistol
EGW Full-length guide rod:

Original guide rod and plug (in the EGW bag):
Advantage Arms Conversion with additional magazines: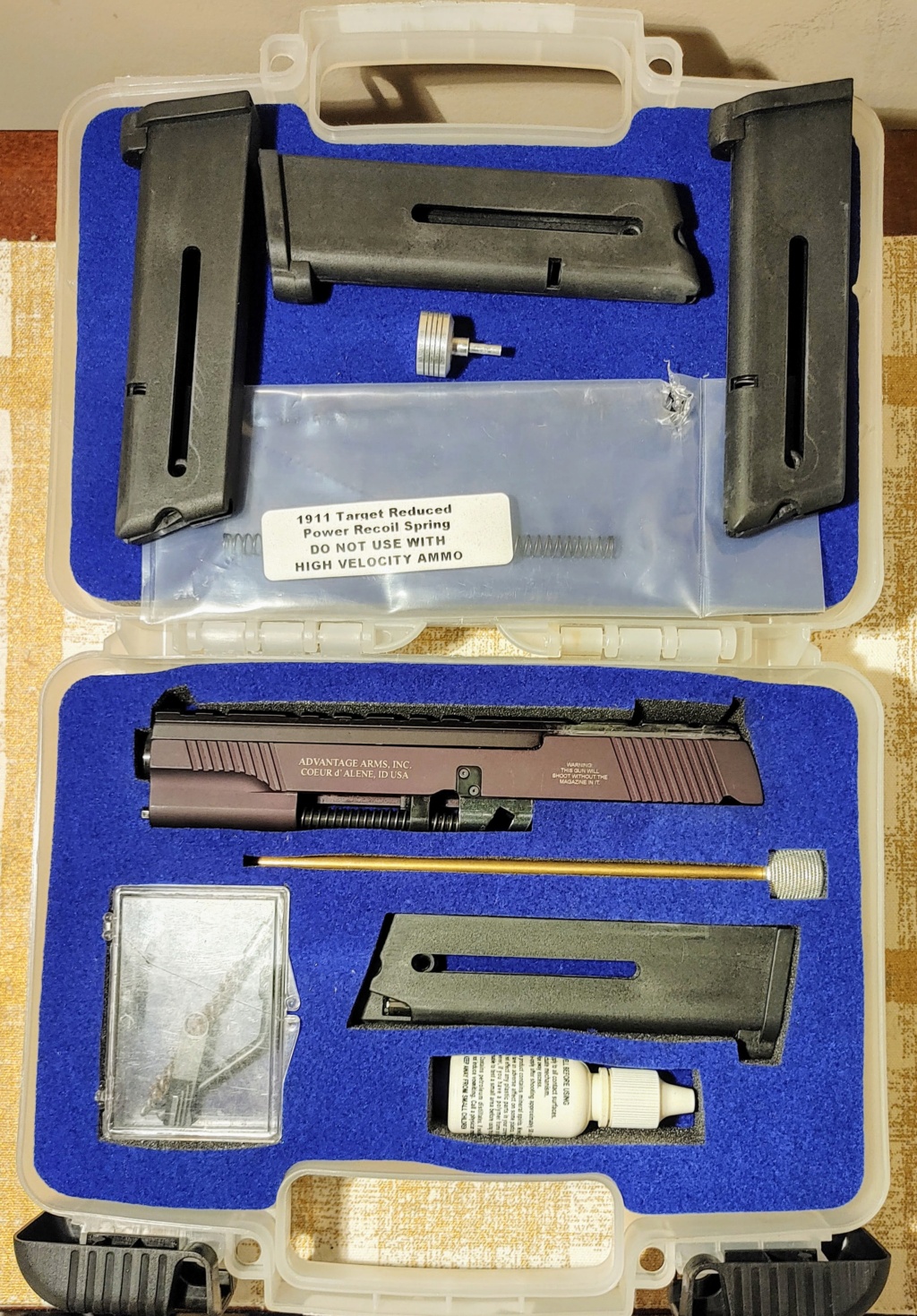 Ultradot 1" with Weaver rings:
Last edited by Oleg G on Thu Oct 22, 2020 2:16 pm; edited 1 time in total

Oleg G




Posts

: 507


Join date

: 2016-05-12


Location

: North-Eastern PA



Oleg, This is a very tempting deal.  What is the trigger weight? is it a rolling trigger or crisp?

DmitriyF




Posts

: 5


Join date

: 2020-07-19



Dmitriy,

The trigger breaks at slightly over 3.5 lbs. This is a medium Harrison Design trigger, which George set up as a short roll. You can feel the roll when you deliberately pull the trigger in slow fire. In sustained fire, I can't really feel the roll, as I focus on just keeping the trigger moving. I also installed a Flaig Ace trigger shoe.

Best Regards,
Oleg.

Oleg G




Posts

: 507


Join date

: 2016-05-12


Location

: North-Eastern PA



Sold and Pending Funding.

Oleg G




Posts

: 507


Join date

: 2016-05-12


Location

: North-Eastern PA



I knew that wouldn't last long with those target photos.
---
Permissions in this forum:
You
cannot
reply to topics in this forum