I'm the new owner of one of these pistols. They are pretty obscure. Nothing really about them on the Web. Anyone have one and is willing to take pic's of the owners manual and email the pic's to me? Can someone advise how to disassemble one for cleaning?
Thanks for your time
Regards,
Robert

824tsv




Posts

: 29


Join date

: 2016-04-27


Location

: Canada



Robert, be patient.... I have two contacts now , even if both of them require a bit of time to find it

ilLonfo




Posts

: 8


Join date

: 2018-08-23




824tsv




Posts

: 29


Join date

: 2016-04-27


Location

: Canada



For anyone interested, these seem to be well built but maybe a little over complicated pistol. Mine shoots very well and is very accurate. I haven't quite figured out a few things like his "wheel", maybe a trigger pull adjustment? There are 2 screws that adjust trigger over travel, but I'm leary about messing with this until I have a manual. The pistol also came with 2 magazines with one plugged to 5 rounds. Not sure if that one came from the factory like that.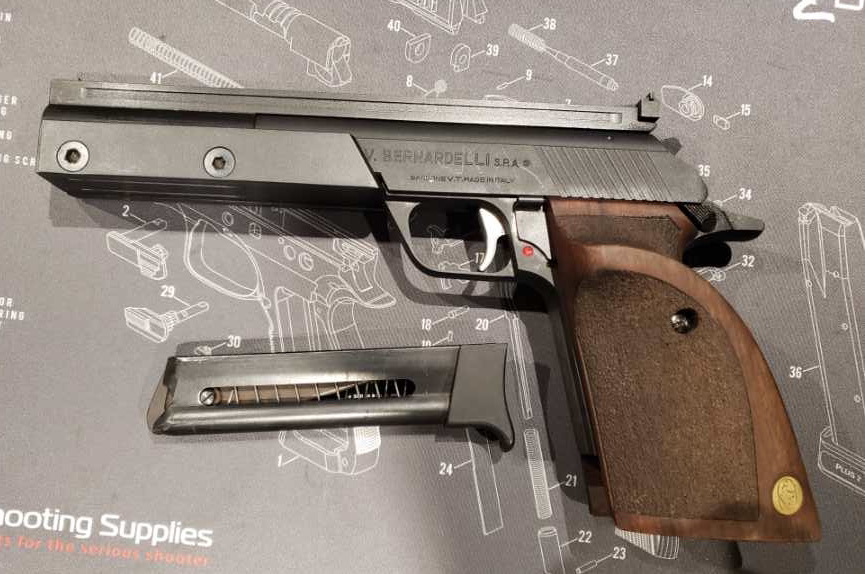 824tsv




Posts

: 29


Join date

: 2016-04-27


Location

: Canada



SingleActionAndrew likes this post
Interesting pistol, I had not seen one before.

troystaten




Posts

: 553


Join date

: 2012-04-18



Robert,
I have been eyeballing the P100 and P010 auctions. I held P100, which seemed quite ergonomic. Can you please comment on performance based on premium for these guns, especially the P010? Are they worth it? I mean the used market price for a P100 is same as M41 and P010 same as M41PC, well loaded Volquartsen, etc. Erma 85 is a bit cheaper and seems just as nice of a gun with very similar engineering.

Thanks, 
Yev

Tripscape




Posts

: 233


Join date

: 2019-03-23



Yev,
I've only had the pistol for 2 weeks, with 2 range visits. This is my first foray into a non Smith & Wesson or Colt. I shoot a Model 41, a Colt Woodsman Match target and a Marvel Unit#1 on a Colt Government Model frame. I've only known Bernardelli making shotguns, so I was surprised when I saw this one. The pistol was filthy when I received it and I wasn't familiar with it enough to try to field strip it for cleaning which is the reason for my first post. As luck would have it, now that it's clean, our range is closed until Jan 23 (4 weeks) because of a Covid lock-down we have going on here. While the pistol was filthy I put 100 rounds through it. Function was spot on with CCI-SV. Accuracy seems to be excellent. My plans are to bench rest the pistol and see what it can do. So far, I'm quite impressed with it. All I got was the pistol and 2 magazines. Looking at the few pic's on web, these pistols were available with weights and different front sights.

824tsv




Posts

: 29


Join date

: 2016-04-27


Location

: Canada



It certainly is interesting. The "AT" in the square box on the right side frame is a 1988 date code, btw. The trigger screws you mention are likely first- and second-stage length adjustments. The star wheel does look like a tension or trigger pull adjustment. I guess you remove the screw at 11:00 and turn in the direction of the + to increase. That hook-shaped pawl just in front of might be related, is it a mag release or something else?

-TT-




Posts

: 269


Join date

: 2016-10-18



Thanks Robert, really looking forward to a review

Tripscape




Posts

: 233


Join date

: 2019-03-23



-TT- and Tripscape
Without a manual I'm not going to play with anything. I'll update the thread with a range report and pic's of the target once I'm able to use our club range. Thanks for the comments and help!!

Happy New Year to all!
Robert

824tsv




Posts

: 29


Join date

: 2016-04-27


Location

: Canada



---
Permissions in this forum:
You
cannot
reply to topics in this forum