Some years ago I bought a bunch of reloading stuff from a friend who had quit shooting (eyes). He introduced me to lots of hunting and shooting activities and was a terrific mentor. 
These are a part of that collection of stuff. I've shot many boxes of these in a M52. They do fine but not any better than the Super Vel's I also got or current production Zero HBWC's. Performance may be more a function  of the pistol or my abilities. 
Anyway, I thought I'd advertise some of what's left thinking someone might like them to shoot or for a collection. I'm tooling up A Dillon 550 for cast and swaged. Selling these may defray some of the expense. 
Price is $30 per box shipped. Four boxes for $100. 
I should note, the boxes are pretty nice for their age. They all had a piece of tape holding them closed and some residue remains. WD40 or another solvent may clean this off easily. 
My email is ringram3-at-gmail-dot-com if needed.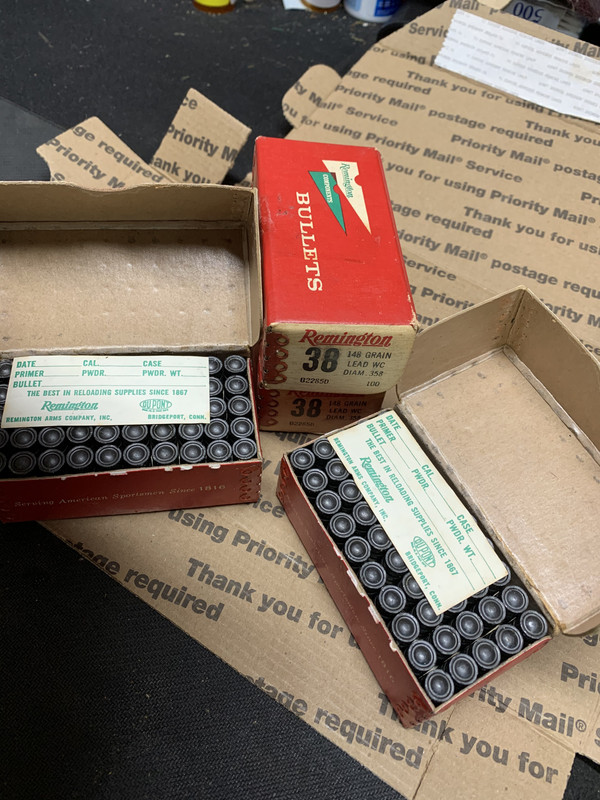 Ring3




Posts

: 7


Join date

: 2019-03-17



I'll take all.  LMK if you take F&F PP and address.
Thanks,
AP

PhotoEscape




Posts

: 998


Join date

: 2018-05-15


Location

: Northern Illinois, USA



Great, thanks!  Funny thing is I just ordered 3 of your  powder units as part of my Dillon set up. About the same cost. We could have traded
.  Looking forward to your shipment arriving in the next couple days. 
I do have PP and will forward you the info for all four boxes. 
Thanks again!

Ring3




Posts

: 7


Join date

: 2019-03-17



It is indeed funny, Rob! 

I'm ready to process payment.  Standing by for instructions, unless you are fine with me using same PP you made payment with.
Thank you,
AP

PhotoEscape




Posts

: 998


Join date

: 2018-05-15


Location

: Northern Illinois, USA



Sent you a PM. Same Same info. 

Rob

Ring3




Posts

: 7


Join date

: 2019-03-17




rich.tullo




Posts

: 1438


Join date

: 2015-03-27



---
Permissions in this forum:
You
cannot
reply to topics in this forum