+5
shooter1450
CR10X
bruce martindale
weber1b
beeser
9 posters
The pistol cases that I use to transport a couple of Pardinis and 1911 to the gun range are made out of cheap plastic which require the gun to be placed flat inside it.  Each gun is in a separate case and the fit is not very good.  Instead I was thinking of using only one case and have the guns sitting in the upright position.  There seems to be plenty of these available from Pelican, Harbor Freight, etc.  I'm mostly concerned about the odd shape of the Pardini grip with the upswept palm rest fitting.  I also bring along my Pachmayr range box that has a rack and room for pistols but don't trust this setup for transport in the back of my truck.  What pistol boxes do you recommend?

beeser




Posts

: 1111


Join date

: 2014-06-19



For my non bullseye guns when I go to the range I use a soft bag with pouches inside to hold the individual guns. Room inside for other things as well such as muffs, ammo (unless I take a lot in which case I use an ammo can) etc. Easy to sling over my shoulder with the strap. Bullseye guns always travel in my Strongbox. As far as sliding around, I use a couple of stops to keep the box in one place and upright.

weber1b




Posts

: 527


Join date

: 2015-10-03


Location

: Ballwin, MO



Used leather pocketbooks and purses. Those get loaded into something else like a canvas tote bag or a briefcase or even a suitcase. 

When I was traveling to the OTC or the USAS Nationals I would use a large American Tourister hardshell suitcase with a nylon belt securred around it. For Camp Perry, most would fit inside the briefcase which was also easier to bury, hide or secure.

bruce martindale




Posts

: 1127


Join date

: 2011-07-29


Location

: Upstate NY



For indoor ranges where i don't need a scope. I use pistol rugs in a cataloge case from the local office whatever store. Plenty of room for ammo and target centers, muffs, etc. And does not look like a gun case.

CR10X




Posts

: 1705


Join date

: 2011-06-17


Location

: NC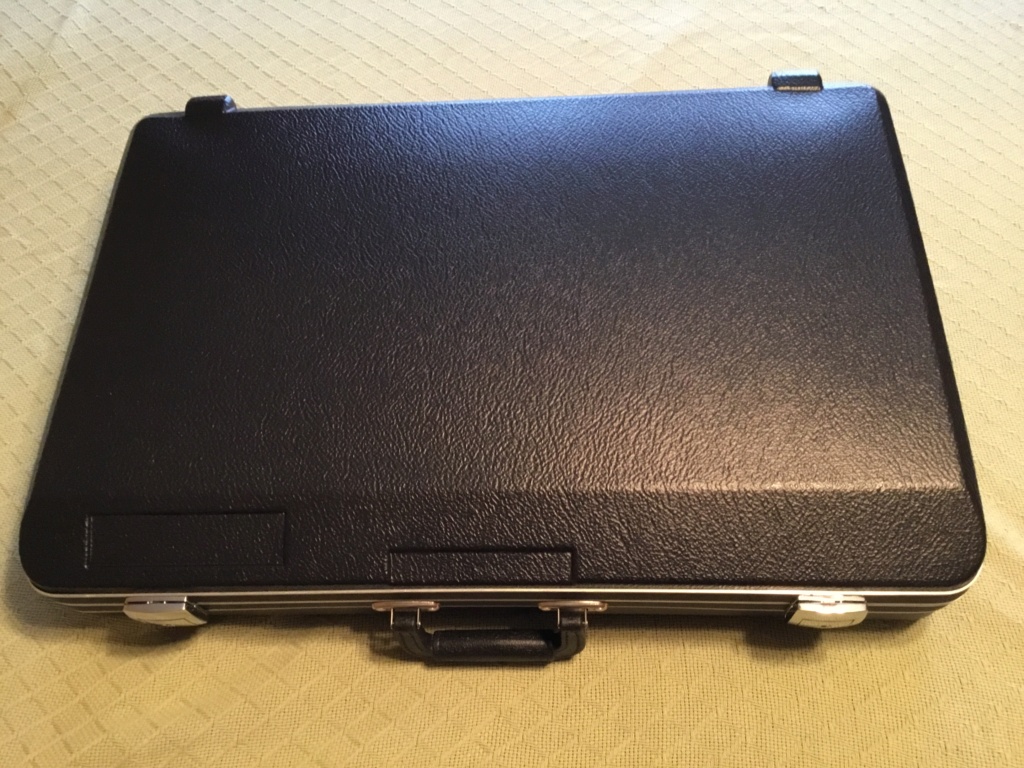 I use an electronic equipment case that has the egg crate foam interior. It measures approximately 16"x20" inside. Several pistols and accessories will fit with no chance of anything touching. I have purposed them for several other uses as well. T/C Contender barrels, scopes waiting for new rifle acquisitions. I just happen to have a couple empty at present.
Last edited by shooter1450 on 12/29/2020, 12:53 pm; edited 1 time in total (Reason for editing : Add pictures)

shooter1450




Posts

: 53


Join date

: 2013-10-10


Age

: 60


Location

: Lewistown, PA



I recently purchased 2 different cases just to transport extra pistols to the range. On EBay I found a Ridgid 22" tool box that worked neat for storing them vertically. I had to furnish my own egg crate foam. I also found a tool box that was listed as stainless but it is really plastic with stainless frame. It came with all the foam needed. It worked so well I just bought a second one. Both types have locks.

LenV




Posts

: 4512


Join date

: 2014-01-24


Age

: 72


Location

: Oregon



This is one style of hard case I use. They come with foam and since I paid 50.00 for my first one they are down to 25.00 ea now after the holidays. I bought a second one get my average cost down. Okay I wanted two. I snapped a picture and thought Beezer might want to see it.
I have zero idea why some of my posts turn sideways..

LenV




Posts

: 4512


Join date

: 2014-01-24


Age

: 72


Location

: Oregon



I have a Strong Case pistol box, same style as the older Gung Ho and Pachmayr boxes.  Unfortunately they don't make them anymore, I got mine on ebay.

troystaten




Posts

: 673


Join date

: 2012-04-18



James Hensler likes this post
I use soft cases that have pockets. They'll hold three to four guns. I use two. One carries my primary set, the other carries my back ups, plus my DR gun. Together they drop into a pelican case fine for travel, or for short distance trips they fit nicely into a discrete backpack. 

Something like this design and layout but mine are not glock branded bags. https://www.glockstore.com/Glock-OEM-Double-Pistol-Case

Tim:H11




Posts

: 2021


Join date

: 2015-11-04


Age

: 33


Location

: Midland, GA




James Hensler




Posts

: 1223


Join date

: 2018-01-15


Age

: 53


Location

: Southwest Florida



---
Permissions in this forum:
You
cannot
reply to topics in this forum