Hello everyone,

Do you have time to help me with something please? I have a 1911 with a Nelson conversion on it. I like to do a lot of dry firing, but I think that it will eventually put too much wear and tear on the unit. Even if it didn't, it's more work to have to reset the hammer every time I dry fire.

When I was a child, I had a toy 1911 that was green plastic. It was a 1:1 replica of a 1911, and the hammer clicked every time I pulled the trigger. It was probably a 2 pound pull, but that's only slightly lighter what I have with my rimfire setup. It probably cost $4.

Does anyone know where I can find something similar again? I have looked on amazon.com but all they have are nerf and airsoft guns. I don't want something that fires any projectile; I just want something with a working hammer and trigger that goes "click" when I pull the trigger. And in Pennsylvania, we aren't allowed to buy replica pistols.

Thank you in advance for your time.

CO1Mtn




Posts

: 282


Join date

: 2017-06-22


Location

: Pennsylvania



My daughter has gone through multiple Airsoft guns since age 2. I keep upgrading, to keep up with her ability to wear them out.
The most recent version is a 1911 clone that is actually made out of metal and is quite hefty. I know you said you "don't want something that fires any projectile", but this is the first one of the progression that I've found to be accurate and fun to shoot. I think I got it at Big 5 (as much as I hate to recommend them).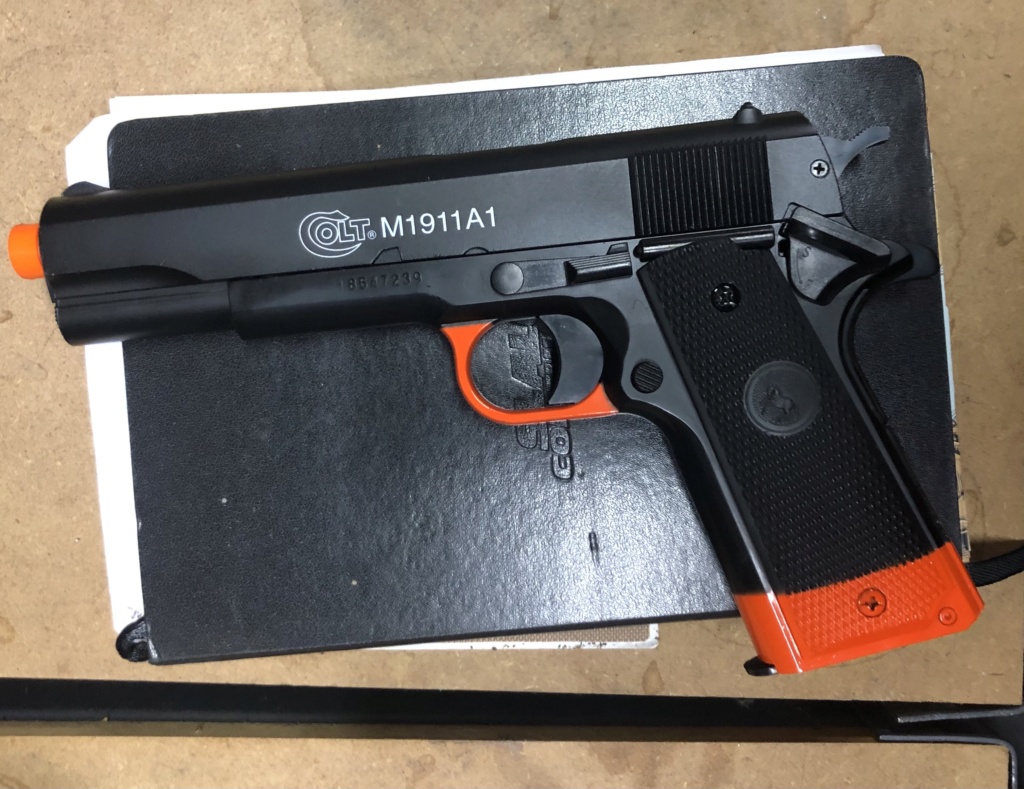 john bickar




Posts

: 1851


Join date

: 2011-07-09


Location

: Menlo Park, CA



Search 1911 blank gun or pistol. Else search prop gun (ommit rubber, no mecanism, etc). No projectiles, legal to own, looks and feels real. There are some that even cycle the slide like real if you shoot actual blanks. Many choices out there, I will let you search which one has decent trigger pull, reliability, etc. Let us know if yoh chose one.

Tripscape




Posts

: 537


Join date

: 2019-03-23



Just a super quick search:

https://www.westernstageprops.com/blank-firing-gun-45-colt-1911-Nickel-finish-p/sg45n.htm

Tripscape




Posts

: 537


Join date

: 2019-03-23



SORRY 
I guess not legal, just searched blank guns and they are illegal in PA. Ughhh. Well, I suggest the airsoft route then. Gas or single shot piston operated.

Tripscape




Posts

: 537


Join date

: 2019-03-23



Weird how blank guns and replicas are illegal, but airsoft is ok here. Thank you for the help.

CO1Mtn




Posts

: 282


Join date

: 2017-06-22


Location

: Pennsylvania



Similar topics
---
Permissions in this forum:
You
cannot
reply to topics in this forum