I plan to focus on 2700's and the .22 EIC for the foreseeable future so this sweet shooter needs to find a new home. I haven't even shot it for the past several years. I'm the first owner and I had David Sams build this from a nearly new Beretta 92. It's a real tack driver. The test target is in the pics below. I started shooting leg matches with a 1911 and then transitioned over to this pistol. I legged out with it and got my P-100 patch in 2013 and haven't really shot it much since then (maybe 3 or 4 leg matches at the most). I'm guessing it's had about 500 rounds through it total. Its trigger pull weight is just a tad over 4 lbs.
This gun doesn't have many cosmetic issues at all- maybe a little loss to the finish on the back of the grip. I've customized the grips by sanding off the plastic checkering and then putting on grip tape. They're a little dirty. The grips screws are aftermarket stainless steel. As you can see in the pictures, most all of the magazines that come with the gun have seen some use but work well nonetheless. I'm including six (6) mags with the purchase of the pistol.
His new builds run around $2300 not including the cost of the pistol. I'd like to get
$2500 $2000 shipped
SPF
for this one. I'm not interested in any trades at this time. I'll have my FFL ship this one out. I'd prefer payment by USPS money orders but I'm flexible with payment methods. Any cashier's checks will need to clear before I ship it out. I'm happy to offer the standard 3-day non-shooting inspection period with money back (minus shipping costs) if you're not happy with it. This inspection period starts when it's delivered to your FFL. Thanks for looking!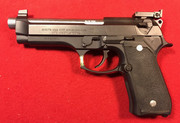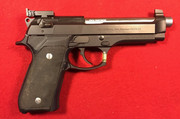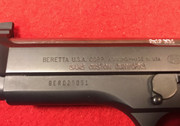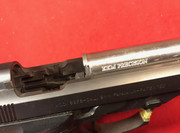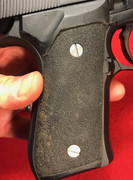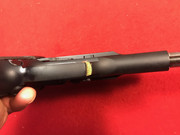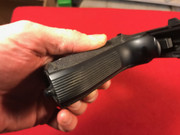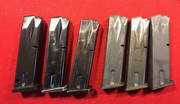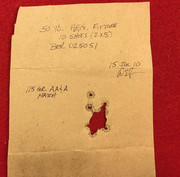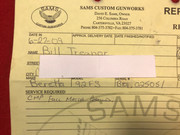 Last edited by Bill Treanor on 2/22/2021, 8:44 am; edited 2 times in total

Bill Treanor




Posts

: 158


Join date

: 2011-06-16


Location

: Nashville, TN



While I have no interest in buying yet another gun, at least until I'm shooting again, I am curious about this gun.  What did David Sams do to turn the Baretta 92 into such an accurate gun?  I have a Taurus PT92 AFS, which is why I'm interested.  Is it just careful tuning and tight specifications, or were some of the parts replaced with "better" components?  Does it still use the same trigger?  

If you'd rather not post that here, maybe you can send me a PM.  Thanks!!

mikemyers




Posts

: 3699


Join date

: 2016-07-27


Age

: 77


Location

: South Florida, and India



David Sams uses steel inserts in the frame rails to provide a better "steel to steel" fit for the slide and frame.  (Others do nothing or add "Acc-U-Rail type rods which reduce the lock up area for the slide / barrel lug lockup points.)  He reworks the locking block and area (you can see the little set screws in the frame), fits the barrel and adds a tapered cone sleeve to the barrel to improve the fit of the barrel to front of slide.  Trigger work, adjustable sights, tuning and testing, etc..  Most versions have redone front sights that are nice and tall with excellent and crisp serrations. David is known for testing barrels before they go into the gun to ensure he's working with a quality product.   

Yes, they are expensive, but I shot my first 295 NMC for ball gun matches with one.

If you want a Beretta and like the feel and want one that shoots, then get the Sams.

CR10X




Posts

: 1548


Join date

: 2011-06-17


Location

: NC



Great pistols, not ammo sensitive. Large grip, though.

Outthere




Posts

: 296


Join date

: 2013-03-20



Thanks for the information - now I understand the higher cost.  After all this precision, I assume people shooting these guns load their own 9mm ammo, not to mention that good 9mm ammo mostly is sold out.  The gun pictured up above looks great - from what you've written, what's inside is what really counts.  Thanks.

mikemyers




Posts

: 3699


Join date

: 2016-07-27


Age

: 77


Location

: South Florida, and India



Another bump for Bill. 

Note the test target.  115 Atlanta Arms and Ammo, pretty much the benchmark for 9mm loads.  Tends to work well in the 1/16 and 1/32 twist barrels.

CR10X




Posts

: 1548


Join date

: 2011-06-17


Location

: NC



David Sams is the Gold Standard for M9s

rich.tullo




Posts

: 1439


Join date

: 2015-03-27



Bump to the top- still available! Reduced price!

Bill Treanor




Posts

: 158


Join date

: 2011-06-16


Location

: Nashville, TN




Bill Treanor




Posts

: 158


Join date

: 2011-06-16


Location

: Nashville, TN



---
Permissions in this forum:
You
cannot
reply to topics in this forum