If you have ever tried a Hammerli Xesse or Trailside with other than factory grips, you might have experienced a situation where the slide rubs on your hand and either cuts, or scratches you, or you hand slows the slide down and causes a malfunction. Or in my case, my thumb rides too high and sometimes I kick the slide stop/release up and the slide locks back on a loaded magazine. In any of these situations a beaver tail atatchment is a good fix for this. 
Larry's Guns made one at one time but currently one is not available. Actually as far as my search has taken me, one is not available anywhere. So I asked around and it seems a JB Weld "Steel Stick" was going to be the way to go. 
I wrapped the gun in plastic, mixed the putty compound, and shaped what I needed. When it was done, some filing was needed to clear ways for the slide to ride freely. Then some test firing proved that it needed to be filed some and fitted to my hand better. But after some tinkering around I think I've got a good solution to the hand/slide contact issue.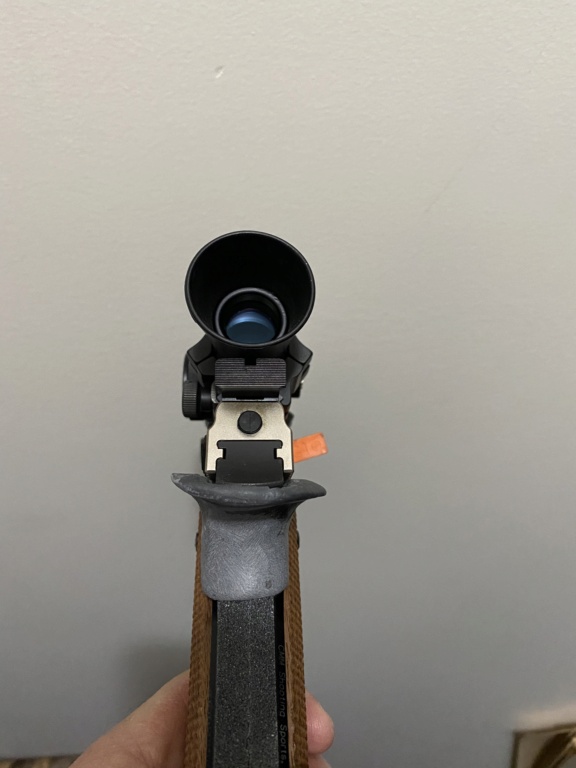 Tim:H11




Posts

: 2021


Join date

: 2015-11-04


Age

: 33


Location

: Midland, GA



Yep I experience exactly what you are talking about also.  I have a set of Larry's Gun grips made by Rink on one of my Hammerli Xesse and CM Machine grip frame adapter grips on another. I get slide bite from both guns.  I have learned to live with it by keeping my thumb down instead and being extra careful about thumb pressure.

Allen Barnett




Posts

: 454


Join date

: 2012-10-22


Age

: 66


Location

: Central Missouri



Looks nice Jason. Now go have someone replicate it on a 3d printer

jglenn21




Posts

: 2341


Join date

: 2015-04-07


Age

: 74


Location

: monroe , ga



How is it attached to the gun?

Black_Talon




Posts

: 143


Join date

: 2011-06-10


Location

: SoCal



Black_Talon wrote:How is it attached to the gun?
Well...
currently it's not. I'm searching for a non permanent glue type deal. I heard once of something called goop..?? I tried 3M double sided tape and that worked but it was too thick and set the beaver tail too far back making it feel too thick. So I'm looking for something thin. That's why I was thinking some sort of non permanent glue. I will update when I solve this aspect of the whole thing.

Tim:H11




Posts

: 2021


Join date

: 2015-11-04


Age

: 33


Location

: Midland, GA



Take a strip of aluminum ( cut from a pop can will do) and wrap it from top grip screw to the other side top grip screw. Pick up the screws with the aluminum. Cement the beaver tail to the strap with clear epoxy, you can inlet the strap if you like.

Wobbley




Posts

: 3627


Join date

: 2015-02-12



Similar topics
---
Permissions in this forum:
You
cannot
reply to topics in this forum