Some may call this vandalism but I wanted to have some fun and shake off a bout of cabin fever.
I had an old Kimber rear sight plate in my parts bin for a Vortex venom. I made up a mount from some aluminum  bar stock.  I used four 8-32 nylon tipped set screws to keep it in place and the the Venom can be removed from the mount and I can go back to irons. If only I could use this in an AP match! It makes getting nines and tens so much easier for my 60 year old eyes! It works so well I'm going to finish the job and paint it  with Brownell's black epoxy paint.
Attachments

CM162EI._SMjpg.jpg

You don't have permission to download attachments.

(72 Kb) Downloaded 16 times
Last edited by CraigB5940 on Mon Feb 22, 2021 2:13 pm; edited 1 time in total

CraigB5940




Posts

: 186


Join date

: 2018-01-26


Location

: SE PA



Yes, I did something similar with an Alfa Proj clone and a cheap reflex. Makes a world of difference for older eyes!

And with no significant recoil impulse to deal with the mount can be very simple. Excellent!

radjag




Posts

: 1080


Join date

: 2017-03-23


Age

: 66


Location

: Oregon



I got lucky, Steyr has a red dot mount that will even accommodate a Aimpoint Micro. It is very nice to be able to practice with a dot, I've got up to 571 in my basement with it.

zanemoseley




Posts

: 2496


Join date

: 2015-07-11


Location

: Cookeville, TN



My air pistol.  The dot is a SigSauer Romeo 5.  It makes shooting it so much easier for my ancient eyes.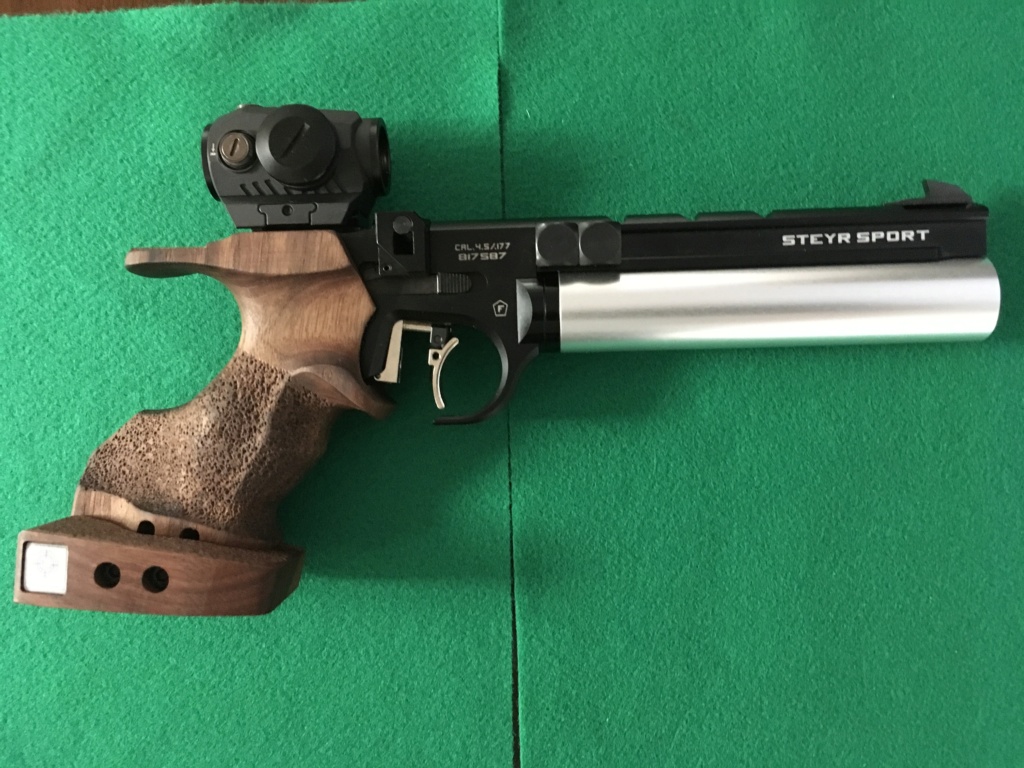 Wobbley




Posts

: 3627


Join date

: 2015-02-13



Probably a slightly unpopular opinion, but I have found adding a dot to an 10m air gun kills the balance of the gun.

chiz1180




Posts

: 687


Join date

: 2019-05-29



Looks like I'm not alone, it's fun to mix it up and add a dot to the mix. I have to say this pistol is probably one of the most difficult to get a dot on. I have a Styer LP 50 on the way from Pilkguns when their next import order arrives and I know I'll have an easier time getting a dot on it, I think I'm going to use an ultradot on it since it's going to be set with a 3.5 lb trigger and the 1911 grip option for home rapid fire drills. I'm doing this to conserve my 45 ACP reloading components for matches and rationed training/practice. I got into serious air pistols when we had the 2013 ammo crunch, now it's back to them again!

CraigB5940




Posts

: 186


Join date

: 2018-01-26


Location

: SE PA



Similar topics
---
Permissions in this forum:
You
cannot
reply to topics in this forum