+12
Dcforman
Tim:H11
james r chapman
Outthere
troystaten
rkittine
messenger
KBarth
Boxturtle
kjanracing
Wobbley
valbern67
16 posters
Page 2 of 2 •
1, 2
First topic message reminder :
On my wish list is a S&W Model 17 (and Model 25)....
Is there a more desirable dash number? Not sure what all the dash variants are.
Thanks!
Val

valbern67




Posts

: 273


Join date

: 2018-09-04


Location

: Norman, OK



---
Wobbley wrote:The -8 models had an aluminum cylinder.  They wear faster than the steel cylinders.
Well I don't care for that!  No matter how well it tests in a lab.

Lightfoot




Posts

: 230


Join date

: 2016-08-08


Location

: Aggieland TX



Can any of you post what size group the Model 17 is capable of?  I've got a Model 17-5 that has the target grips, but none of the other "target" options.  
Jim, any things you do to your Model 17's to help them shoot at their best?
This is mine; the rear sight blade was damaged when I bought it, and it is finally back in operation: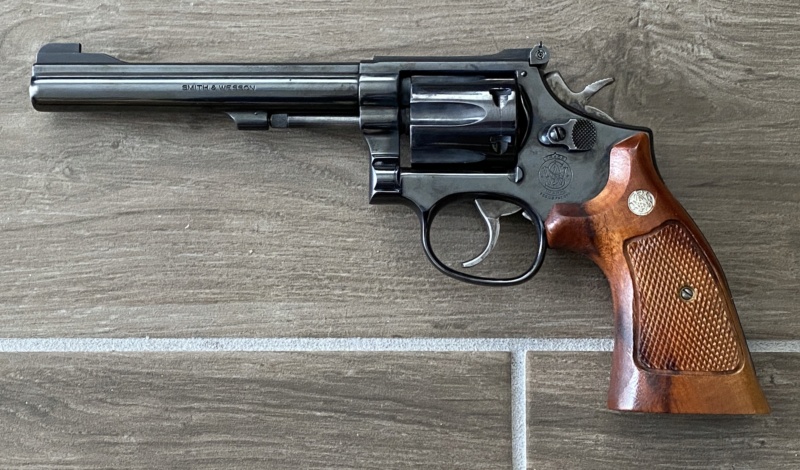 mikemyers




Posts

: 4218


Join date

: 2016-07-27


Age

: 79


Location

: South Florida, and India



Hey Mike I have not benched my 17-4 in a long time but it is definitely an X ring gun on a B-8 target at 25 yards with CCI SV if the shooter does their part.  I think as long as the timing on the action is correct and there is nothing wrong with the barrel accuracy will not be an issue with these guns.  In my case the loose nut holding the grips is often a problem

troystaten




Posts

: 748


Join date

: 2012-04-19



Have had a 17-3 since 1971, can't even guess how many rounds it has fired.

Rich/WIS




Posts

: 85


Join date

: 2014-07-01




LenV




Posts

: 4627


Join date

: 2014-01-24


Age

: 73


Location

: Oregon



I'm impressed!  Really nice targets, especially from the Model 27.  Were both at 25 yards?  Also, what kind of rest did you use, if any?  If those were off-hand, wow!!!!!  Treat yourself to an extra glass of your favorite drink!
It's a very poor comparison, but the other day, I set up my targets at 15 yards for use with my 45, and I notice one of the best shooters (my opinion) at the range was there training for an upcoming combat match.  I asked him to take a few shots with my Model 17-5 to see if it was working properly.  He rested his hands against a vertical board, part of the range structure, and fired off two close shots and one "flyer".  He then shot two more.  I'll post his target below.  He told me my gun was working fine, and that the "roughness" in double-action is typical for this gun, but he liked the single-action.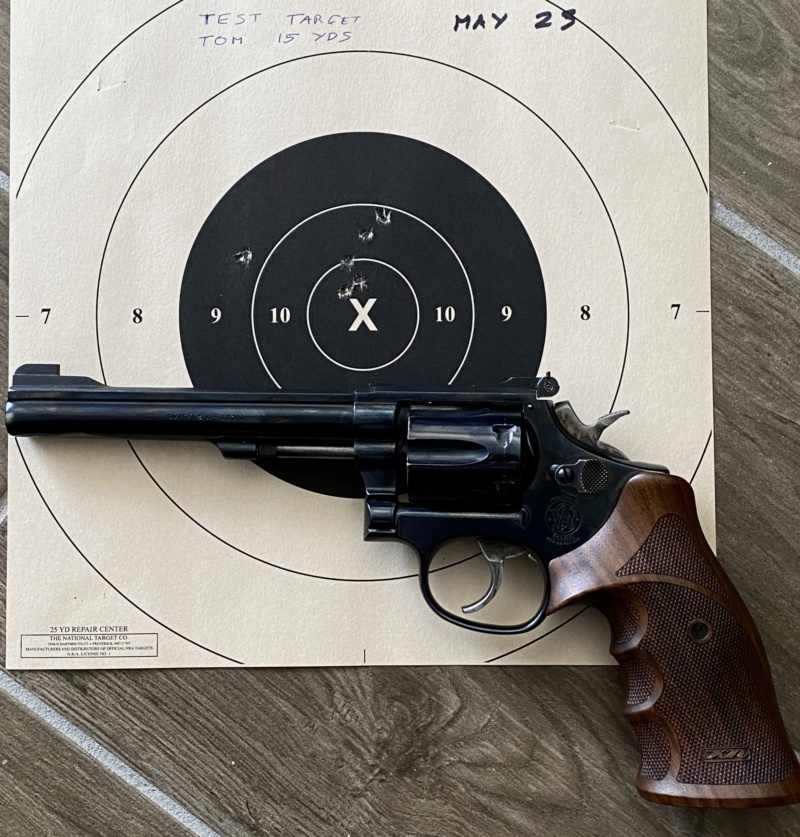 One more thing.  While dry-firing last night, it may have been a little darker than usual, and I noticed I had trouble seeing the front sight of my 1911 clearly.  On a whim, I went through my large collection of old glasses, trying them, one after another to look at the front sight.  All were the same, or worse, except one pair which I think was my "computer glasses" years ago.  With those lenses, I could see all the individual serrations on the back of the front sight.  I tried this twice, and then tried it on my revolver.  With the new glasses, not only was the front sight clear and sharp, the "stuff" in the background was less sharp.  I'll try these glasses out the next time I get to the range.  I'll probably end up getting the lenses replaced with polycarbonate.
Jim - is my rear sight needing to be adjusted almost all the way towards the right "normal"?  Are any of your revolvers like that?  On the one hand, I wish this gun had the "target trigger" and "target hammer", but I read somewhere that for bullseye, the standard, narrow and smooth, trigger is preferable.  Do you agree?

mikemyers




Posts

: 4218


Join date

: 2016-07-27


Age

: 79


Location

: South Florida, and India



I shot everything yesterday at 25 yds. I shoot sitting with one hand resting on a sandbag. This means my trigger finger and the recoil are still in play for P.O.I. I've had good results with that zero matching my standing zero..

LenV




Posts

: 4627


Join date

: 2014-01-24


Age

: 73


Location

: Oregon



Page 2 of 2 •
1, 2
---
Permissions in this forum:
You
cannot
reply to topics in this forum