+7
John McCormick
chopper
CR10X
LenV
Jack H
SteveT
mikemyers
11 posters
Page 2 of 2 •
1, 2
First topic message reminder :
There's a saying that goes something like "
Be careful what you wish for, as it might come true.
"  Despite that, I thought the best way to get feedback as to what I'm doing right and wrong in shooting a revolver would be to post a slow motion video and ask for feedback.
I can shoot this gun one handed or two handed.  Week after week I'm getting better at one handed shooting with it, but when using two hands, it almost feels like I'm using a rest (I guess in a way, I am - my left hand).  The gun is a Model 17-5 S&W 22 Revolver that my gunsmith just went through to replace the cylinder stop, clean, lubricate, and tune the gun.  It should be in good shape, and one of the experts at my range shot it, resting on the table, and got an excellent group, so I think the gun is in good shape.  I replaced the "coke bottle" stock stocks with Nill stocks, with a better shape and finger grooves.
This is an email I sent to a friend for feedback - am copying it here:
I went to the range yesterday, Saturday.  I asked a friend to use my phone and capture a slow motion video of me, shooting my S&W Model 17-5 22 revolver.  This video was shooting two-handed.  Next time I'll get a recording of my one-handed shooting.  One thing at a time.
My grouping wasn't horrible, but it's not as good as I hoped for.  It's not as good as what I thought I saw while shooting.  If I was calling my shots, they all went into the X.  
Here's the video, can you point out things that I should do differently? 
https://www.youtube.com/watch?v=1JU5fIh6Jus 


I don't think I'm gripping the gun hard enough - it reacts more than I expected, for being only a 22.


My hands don't slip on the Nill grips, as they seem to slip in the standard S&W "coke bottle" grips.


I was shooting sub-6-o'clock hold, and I thought I was more steady than usual.


The gun had just been gone through by Frank, my gunsmith, so it should be in perfect condition.


I would like to think I can do better.


The most difficult thing for me was seeing the black sights, under a "covered roof for the gun range" so it's all dark, while looking out at the target which is lit in bright sunlight.


Maybe I should paint my sights white????


(Ignore the two 38-Special holes, from someone else's gun.)

Here's the target, six rounds from my gun, and two from a new Python I got to test: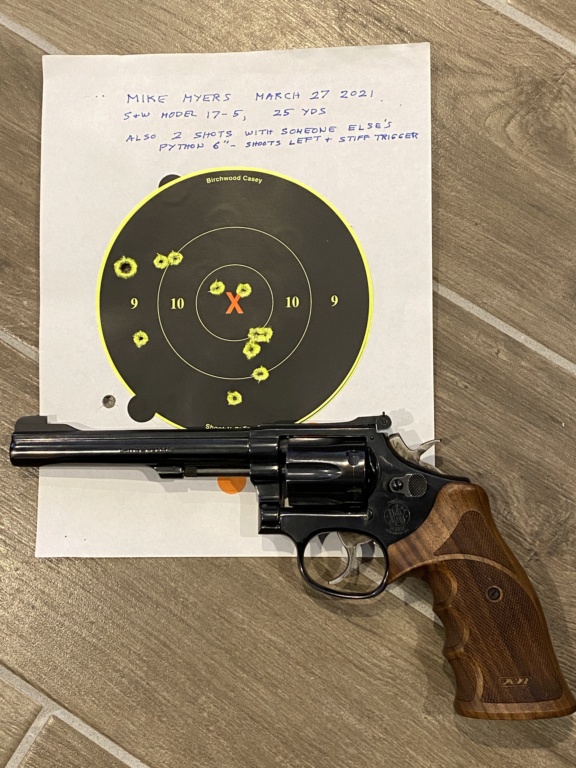 I know I'm messing up somehow, or the group would be tighter.  Feel free to say anything you want, about what you think I'm doing wrong.
ALSO:
I know how much better I shot using "area aiming" than when I was aiming for the bull.  That was with a red dot sight.  For this video, I was using steel sights, a sub-6-o'clock hold, and it was a struggle to see the black front and rear sight in front of the white target all brightly lit with sunlight.  There is a tiny white spot on my front sight, but I couldn't see it at all.  I was trying to concentrate/focus on the front sight, and deliberately NOT pay much attention to the target - which was a little blurry, but not much.  That's more difficult than shooting with "center hold".  .....but even then, I'm usually just aiming a red dot at the bull.  With steel sights, I try to ignore the bull, and concentrate on the front sight.

mikemyers




Posts

: 3940


Join date

: 2016-07-27


Age

: 78


Location

: South Florida, and India



---
Most shooters progress quickly when first starting in Bullseye, then hit a plateau. This is the point at which we have learned the difference between precision shooting and the gangsta style learned from movies and practiced with squirt guns and cap pistols in our youth. Once a shooter reaches that initial plateau the hard work starts.

Technique changes must be ingrained through training and repetition. You can't go to the range and try something once and come away knowing your ideal technique. You have to try each change for some length of time. Changes can look better due to "new gun syndrome" and look worse because of a lack of "muscle memory" (for lack of a better term). I can only separate the effects by extended training. I typically need 20 to 30 sessions to decide if a change works. A session is either dry or live fire. Dry is good for ingraining and fine tuning techniques, but I want to confirm it with several live firing sessions over a few weeks to make sure it really works.

Building up strength takes even longer. The older we get the slower we build muscle and the faster we lose it. I doubt you can improve your hold in a few days, but you don't need a shooting range to build up strength; any 2-3 lb weight can be held up in firing position. Same thing for core strength, leg strength etc.
chopper wrote:  .......... You started this post "wanting to improve your revolver shooting" some members helped you by giving their own input to help you. Then it's like you gave up on revolver shooting to shoot your M-41 and go into that. Is the revolver too tough to shoot? You should have stayed with the help in revolver shooting. Remember Target shooting requires discipline and shooting precision needs even more to get better.
For the purpose of this discussion, I should have left it talking about revolvers.  I was thinking the video would make it obvious as to why, but for me, my revolvers are more difficult to shoot with than my semi-auto pistols.
I found out a few reasons - my revolvers are S&W, and with the coke-bottle shape, my hands slide up the stocks as I shoot.  New "target stocks" solved that.  My revolvers probably belong in a museum - when Frank, my gunsmith, gets done with one, it shoots and feels so much better.
All the other stuff here was mostly from "thinking out loud", and I wish I hadn't posted it.  
I'll leave just one final thought here, for whatever it's worth.  I went to the range today with two pistols, to try to see what I should improve on.  Most of my targets came out like what Dave Salyer says people will get, if they're aiming at the bull - holes all around the bull, which will remain untouched.  As a "why not" test, I put on my prescription glasses for shooting steel sights, with a focus of 24", and tried both my pistols with red dots.  The target became a large blurry gray blob, and the red dot became a smaller blob, colored red.  Nothing was sharp.  However, I shot these the best of anything I had shot all day, and the holes were scattered around in a logical manner, with most of them closest to the center.  That's Dave's example of "area aiming".  
I know what I'll do from now on - dry firing, holding drills, etc., to get my arm at least as strong as it was a year or so ago, and area aiming.
And I know it's not the best for improving, but I will continue going to the range with whatever feels appropriate for the day, meaning black powder once or twice a week, and anything from a PPK/S to a 10"S&W Revolver which I shot Tuesday.  If Hicock45 can do it, so can I.   :-)
E.O.F.

mikemyers




Posts

: 3940


Join date

: 2016-07-27


Age

: 78


Location

: South Florida, and India



Without seeing what you are doing then there will be lot of guesswork.
Consider investing in a MantisX. This little device will show you in fine detail what is going on right before, during and after you pull the trigger.
I am not endorsed by Mantis in any way, I just find their product extremely useful when it comes to honing my fundamental shooting skills.

KosPilot




Posts

: 2


Join date

: 2018-12-08



KosPilot wrote:....Consider investing in a MantisX. This little device will show you in fine detail what is going on right before, during and after you pull the trigger.......
In retrospect, that would have been an excellent idea, as it would have already shown me my problem.
I found a 40-minute video by 'GunBlue490' ---  25 minutes into the video, he showed and explained "squeeze the trigger".
The video:  https://www.youtube.com/watch?v=jWYtazCHggs
I went to the range the next day with my Model 41, followed this advice, and was rewarded with five holes in the X-ring.  First time I've done that.

mikemyers




Posts

: 3940


Join date

: 2016-07-27


Age

: 78


Location

: South Florida, and India



Awesome, it seems you are finding your formula

KosPilot




Posts

: 2


Join date

: 2018-12-08



So many people here, especially CrankyThunder, told me to pick one gun to shoot, and put all the other guns away.  I've got lots of free time nowadays, and I'm going to give that a try, with my X-Series High Standard.  To make things even simpler, I will only shoot at 25 yards, and only shoot Rapid Fire, using my Range Commands app.  I will continue to dry-fire for 45 minutes every night, only with this one gun.
For a while, I will use my support hand for one purpose - support.  If I get good at this, I'll leave my left hand in my pocket.  Maybe, I'll take one day a week off from this routine, and shoot other guns - eventually.  For now, it's one gun.
Oops, while I was typing the above, CrankyThunder wrote me to concentrate on slow fire.
    "
slow fire is where you develop your trigger/sight picture relationship"
I'll stick with one gun, but do both slow and rapid.  If I can do rapid, timed fire cam be dome the same way with less pressure.
Thank you to all the people who suggested this over the past year or two....
Last edited by mikemyers on Thu May 06, 2021 8:07 pm; edited 4 times in total (Reason for editing : Changed what I wrote, after getting an email from Cranky Thunder.)

mikemyers




Posts

: 3940


Join date

: 2016-07-27


Age

: 78


Location

: South Florida, and India



Page 2 of 2 •
1, 2
---
Permissions in this forum:
You
cannot
reply to topics in this forum