I have this model 41 I don't need anymore, serial UAK****. It has ejection issues and for this reason was shipped to S&W.
The diagnostic is a worn out barrel, and they recommend a bolt, extractor and springs replacement. Roughly a $450 job with S&W parts.
It has a Rink adjustable right hand grip, a 1-year old Volquartsen extractor and 1-year old Wolff recoil spring. 3 magazines.
I am of the opinion that a bullseye shooter would replace the worn out barrel with a Clark one, rather than an OEM so I am inclined to sell it as-is.
The pistol is currently in transit from S&W to my FFL. I can provide pictures of the S&W quotation.
I will consider offers over $400.
EDIT :
gun characteristics:
   the slide stop/ejector assembly is brand new.
problems description:
   The pistol is jamming at least twice every 5 rounds. The typical jam is a stovepipe. Quite often also, an extracted shell is not ejected and slammed back in the chamber.
   The jamming problem occurs with any of my 3 magazines.
   With one of the magazines, the 2nd round will remain in the magazine and not be chambered.
   The magazines will not be ejected if the slide is open.
   Even with rounds in the magazines, the slide will not be closed if the slide stop lever is not acted upon.
S&W quotation: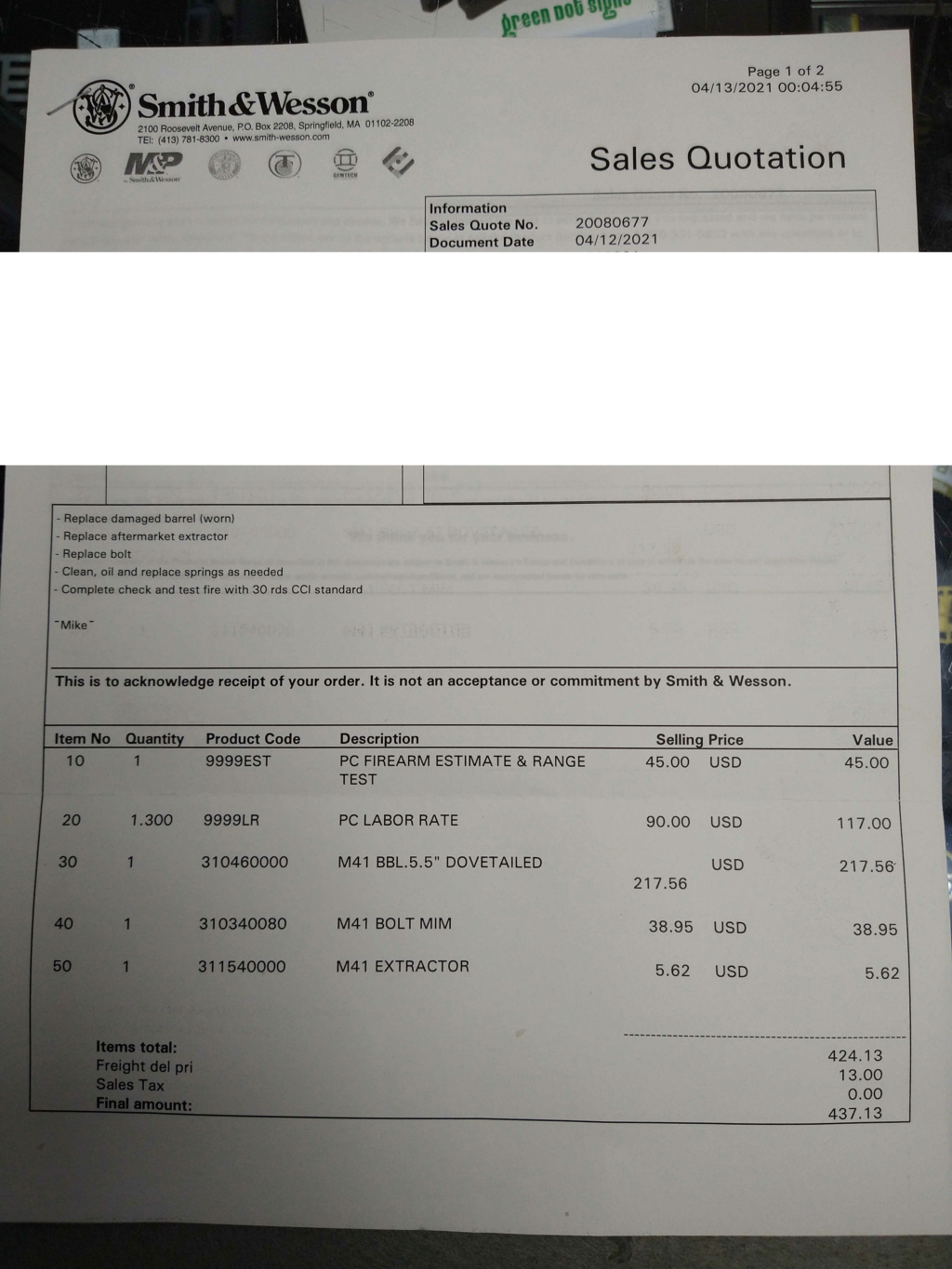 Last edited by Jambat on 4/20/2021, 10:36 pm; edited 1 time in total

Jambat




Posts

: 47


Join date

: 2019-01-31




xman




Posts

: 296


Join date

: 2015-01-11


Location

: Tyler,TX



Just a comment here gentlemen. I'd really like to know how one wears out a 22LR barrel. Poor cleaning techniques or excessive dry firing on an empty chamber?

faraim




Posts

: 10


Join date

: 2020-06-10



"I will consider offers over $400."
As much as I would love to get a model 41 for $401 to work on as a project, is this going to be a silent bidding auction or will a price be established for all to see?
Just say'in;
Mike

Mike_Anderson




Posts

: 24


Join date

: 2019-11-01


Age

: 71


Location

: Marshalltown, IA



I want to be very clear: I am not in possession of the pistol right now and I can't ship it tomorrow. I need to get it back from S&W and I have no information on the matter. They may have shipped it back already, I don't know.
To my amazement I received several offers, none mentioning anything else than $400. I will try and resist being greedy and will not turn this into an auction, and will only consider the order in which I was contacted by potential buyers.
Some members requested extra pictures or asked questions I cannot answer without the pistol in front of me. So it appears I put the pistol for sale too early and I apologize for that.
I will wait until I get the gun back, then take and post pictures, answer the questions and see who would still be interested.
Thank you for your patience.

Jambat




Posts

: 47


Join date

: 2019-01-31



---
Permissions in this forum:
You
cannot
reply to topics in this forum