My Steyr LP50 is arriving early next week and my Scuba tank should come to the dive shop in a few days. The main thins missing was the home air pistol range. This weekend I built a target that accommodates a pellet trap, which I filled with rubber mulch, and Slava's Turning Target System, which works great with the Bullseye Match App. (The creator is the user of this forum and master Bullseye shooter - slavka001).
I placed the target stand at 50 feet and will be using B-3 targets for sustained fire training.
The target position may seem rather high. This is intentional, since I will be shooting from my covered deck, so I raised the target off the ground to accommodate the height of the deck.
The pellet trap is directly behind the turning target. The turning target system is very easily removable, so it is not exposed to the elements.
I also ordered the spring from Pilkington's, which they use to make the 3.5 lbs trigger on the LP50. They sent me the spring free of charge. Great folks!
While the air pistol does not have recoil, my main training need for the .45 sustained fire, is keeping the trigger moving and overcoming chicken finger. This setup will serve me well, I am sure.
For those, who do not know about Slava's Turning Target System, below is the link.
http://timers.shop/Target-Turner_c_28.html
I would be hesitant to use it with center-fire pistols, just for fear of damaging the turner. But it is great for sustained fire training with LP50 or a .22 pistol.
Best Regards,
Oleg.
Last edited by Oleg G on 6/24/2021, 10:05 am; edited 1 time in total

Oleg G




Posts

: 592


Join date

: 2016-05-12


Location

: North-Eastern PA



troystaten, DA/SA and Arthur like this post
That's a really awesome set up!  I recently got a Steyr Evo10E from Pilkington and have been enjoying shooting 10m local matches as well as practice at home.  I've found 10m AP more difficult to score well than on SF BE.  As such, when I go to shoot BE it seems easier by comparison for some reason and has helped.  I think it is because there is so little room for error with the 10m target.  I'm very interested in how the LP50 works out for sustained fire training for you.  I think the way you've approached it with the pistol mods and turning targets it will simulate BE matches as close as one can get.  Keep us informed of how it goes and congrats on the new pistol and gear!

WillH




Posts

: 127


Join date

: 2017-04-27


Location

: Suffolk, VA



chopper and tray999 like this post
Oleg,
Show your wife this photo tell her I have shot for 5 years  and 20K pellets without missing the backstop! I shoot with my 45 with the TT system and no problem, I doubt you would have to worry about an errant low round hitting the control box. Good luck persuading your wife to allow you to move indoors when the weather gets colder!
I did my shooting on the fly when my wife ran errands, then one day she got home early, I confessed and it turns out she didn't mind when I told her long I had shot and that no errant shots got the plaster walls or any of her antiques! There is a china cabinet downrange to the right of the door frame!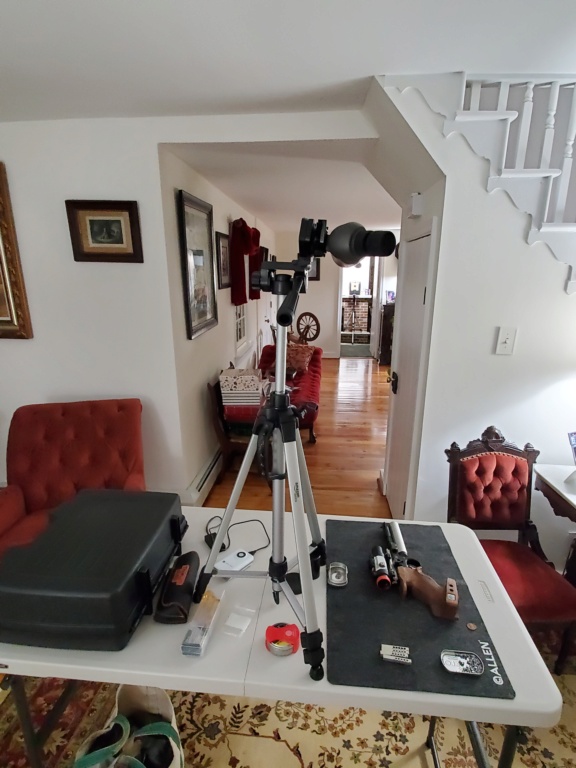 CraigB5940




Posts

: 196


Join date

: 2018-01-26


Location

: SE PA




Pac918




Posts

: 32


Join date

: 2019-05-02



Baby steps, Craig, baby steps...
I am happy with the backyard range for now...

Oleg G




Posts

: 592


Join date

: 2016-05-12


Location

: North-Eastern PA



troystaten likes this post
Pretty neat-I see decorated shooting tunnels as a theme here!

CraigB5940




Posts

: 196


Join date

: 2018-01-26


Location

: SE PA



Similar topics
---
Permissions in this forum:
You
cannot
reply to topics in this forum