+13
joy2shoot
DA/SA
RodJ
Smokinbear
rwleonard
Tripscape
messenger
C7@71
Robuc
lyoke
LenV
john bickar
willnewton
17 posters
Page 2 of 2 •
1, 2
First topic message reminder :

SCAMMERS ARE HERE!

If you think you are being scammed on this forum, then the answer is likely a strong  "maybe."

We have had several users post in someone's For Sale thread that they would like to purchase the item for sale.  Not long after, they will get a message via PM or an email from someone else with a similar item for sale for less.

A partial list of things to look out for:
—Usually from someone that has just joined.
—Maybe requested payment via non-refundable online payment methods.  Most of these payment methods are illegal for firearms!  
—Probably offering inter-state direct sale and shipping.  Also, illegal for firearms except for in-state direct person to person transfers under limited conditions.  FFLs exist for a reason!
—Probably asking you to contact ANOTHER party off site.
—Likely providing photos stolen from other online sources.
—Did they tell you a sad story or try to gain your sympathy in order to get you to do something you might not otherwise do?
—Are they getting desperate and suddenly begin offering you to send half the money now and half later?

Guess what, these scammers are also posting items up for sale as well!  We have already banned one user for this.  I am sure more will follow.

Here is a list of all the things the Bullseye Forum team of admins can do for you if you get scammed.
 1. Nothing
 2. Nada
 3. Nil

BUYER BEWARE!!!  We allow sale listings for members, but we are not enforcers or detectives.

Look for sellers with a past of valid posts. Not just filler posts that make them look like they have been active.
 
Look for sellers that can provide a reference or just ask the other forum users if they know the seller in real life.

Is it too good to be true?  It probably is!

What to do if you feel like something strange is happening?  Let us know what is going on!  Make a post in the thread, PM an admin, use the forum contact form.  We can't do much AFTER the scam, but we can do things BEFORE they happen.

Help your fellow forum members and friends by reporting suspicious postings and messages.  We can't help if we don't know there is trouble, that is why the scammers will contact you directly, hoping to avoid public notice.

We seldom have trouble, as we are tight knit community, as such there is a lot of trust here.  That trust can be too easily taken advantage of. Be careful out there folks!
Last edited by willnewton on Fri Mar 04, 2022 12:11 pm; edited 2 times in total

willnewton

Admin




Posts

: 977


Join date

: 2016-07-24


Location

: NC



john bickar, bruce martindale, Oleg G, mpolans, croesler, jrdeadeye1957, lakemurrayman and like this post
---
Ways to know you are being scammed: The user generally wont be able to provide "new" photos. You might have the talent to look at a photos metadata to see when and where the photo was taken. If the scammer found a series of "old" photos online, they will typically have the same lighting and background as the ones you've already seen. Honestly if you need to ask for anti-scam photos, you are probably engaging in a risky transaction with a  stranger....be careful.

PHONE NUMBERS are an EASY way to catch a scammer. A quick search on white pages dot com reveals that Skittlech's "cell phone" is actually a spoofed "landline" from Ohio with no name associated with it. That's a huge red flag.

You have the phone number....CALL IT. Scammers typically don't pick up. It's common for them to text you back saying they saw you called and say they couldn't talk. Have a REAL VOICE TO VOICE dialogue with your seller. It's much harder for a scammer to not trigger any "red flags" when you are speaking to them. Scammers use the internet to create plausible written dialogue, but it's much harder to not slip up in the speed of a REAL conversation.

Once you have the phone number's location, you should be able to ask them to name some friends in common. Scammers wont be able to give plausible answers.

DON'T PAY non-refundable money to strangers!

After you have done your due dilligence, if you have evidence that a registered user of this forum is a scammer, LET US KNOW.

Just click the "Contact" link at the bottom of every forum page: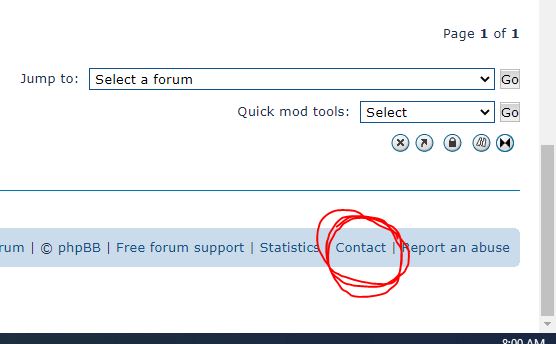 For a web site containing info on scammers see https://stopgunscams.com/ 

Let's all be safe out there!

Wobbley




Posts

: 3747


Join date

: 2015-02-12



Just got this one via PM from "Jabby":
hello are you still interested in getting this?.
you can contact Edward he has a left hand grips for a Supermatic 107 Military. for sale........... PM him @ edwardaustin283 at gmail dot com

DA/SA




Posts

: 987


Join date

: 2017-10-09


Age

: 66


Location

: Southeast Florida



Jabby is a confirmed scammer and banned now.  This same person messaged 5 or 6 members today with that exact message.

willnewton

Admin




Posts

: 977


Join date

: 2016-07-24


Location

: NC



Page 2 of 2 •
1, 2
---
Permissions in this forum:
You
cannot
reply to topics in this forum