I am nearing the end cleaning out my safe. I was very active on the old Bullseye-L 15-20 years ago, trying but failing to learn to shoot very well.  In that process I collected a lot of things including some quite nice target guns.  Most of this needs to be sold now, so I have re-appeared here on the forum.  I have sold several target guns here; this is my last gun sale.  I also have a couple of Autochamp Mk IV presses that I need to get organized and sell.  Thanks to all for your help so far.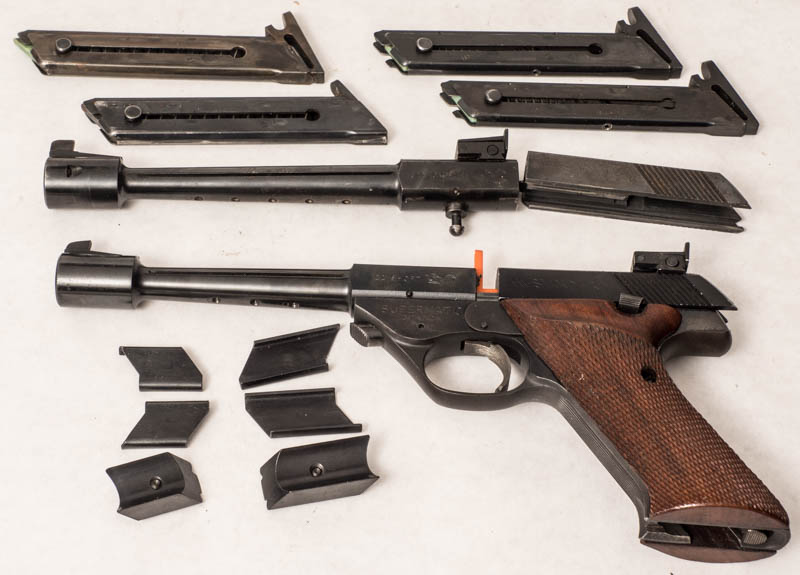 This is a nice 103 with a .22 Short x 6 3/4" ported space gun barrel and an aluminum .22 Short slide installed.  Above is a .22LR 8" space gun barrel and a steel slide, serial numbered to match the gun.  Also some space gun weights in very nice condition, with locking screws, are shown.  Above the gun are four magazines where I suffered a brain fade, as some are mil-grip mags for sale below.  This package will include four 10 shot slant grip mags, two each in .22LR and .22 Short.  $1600 for the package plus $75 shipping unless you have a MN carry or purchase permit and can pick up.
Note the .22LR barrel has some light pitting.  (All pitting is always described as light, right? But I think that's an honest assessment of this barrel.)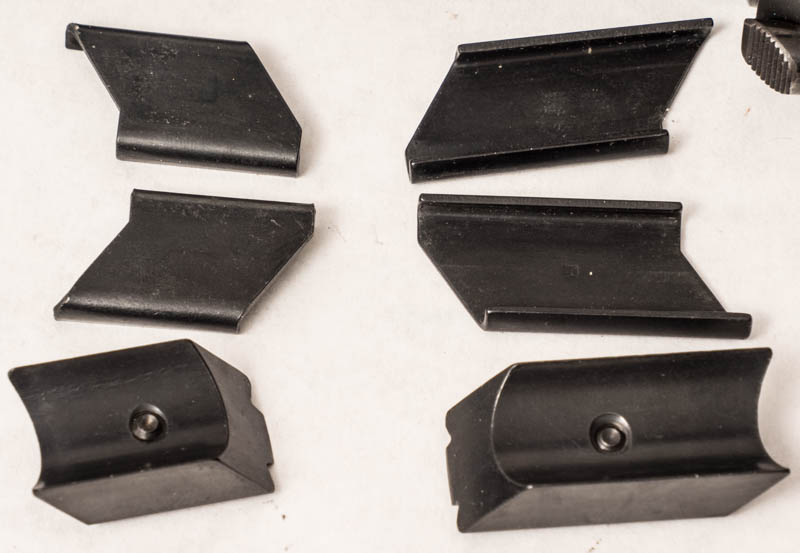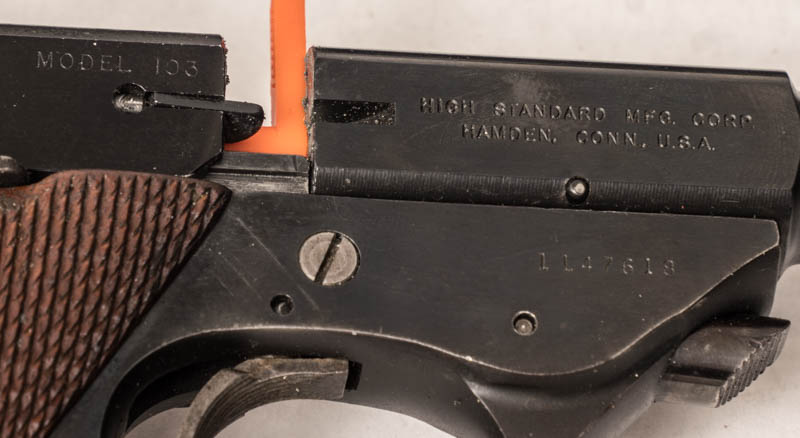 The aluminum slide is in nice condition, not beat up.  I have only shot it a little bit and always with target-grade ammunition.
Note this aluminum slide serial number does not match the 103 serial number.
.22 LR barrel, right side
.22 LR slide, serial number matches the 103 serial number.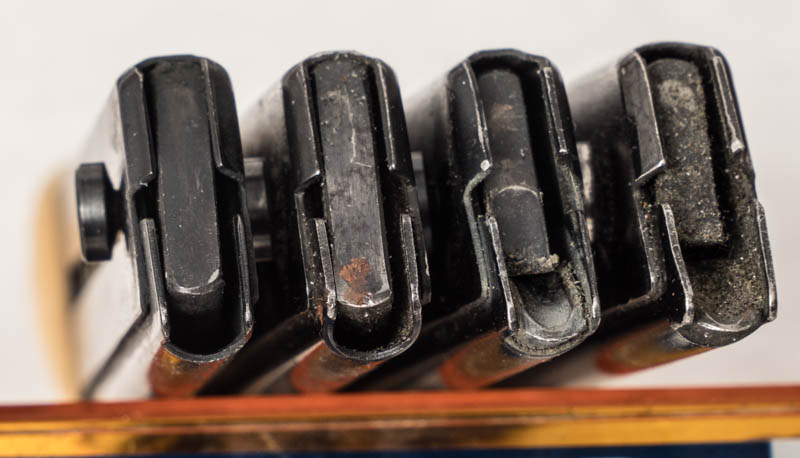 Mags included in the package.  All steel bases and followers.  LH two are .22LR, RH two are .22 short.  All are 10-shot.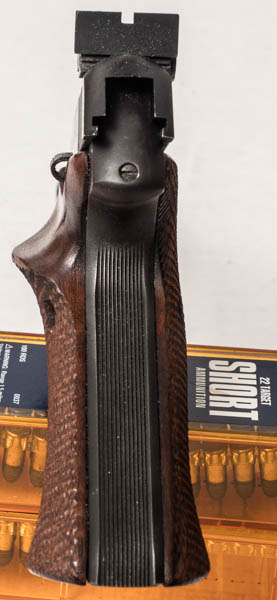 No noticeable wear on pistol front strap or back strap.
Here are 850 rounds of CCI Target Shorts, 50 each Fiocchi and RWS match shorts, and 100 rounds of CCI standard shorts.  I will sell these separately only after the main package is purchased, as that buyer may want them.  PM me if you want to be first in line.  $130 + shipping.  I don't know if ORM-D can ship in an Priority Mail small flat rate box.  Maybe you do?  If so, shipping should be cheap.
Here are three HS Military mags with proper steel bases and faded green followers. Two are .22Short mags, pinned to limit capacity to 5 rounds; $125 each.  One (RH) is a .22LR mag.  Occasionally these mags swell due to rust forming between the two halves of the sheet metal body.  This can be completely repaired by breaking the spot welds, cleaning everything up, and reassembling.  That's been done with this .22 LR mag and the body has been TIG welded.  It works just fine.  The welds are placed so they can be easily cut if a second repair is ever needed.  $75 for this one.  $10 shipping for each package of 1, 2, or 3 mags.

OldShooter




Posts

: 78


Join date

: 2014-05-15



i would take the 22 short ammo if all else fails--kurt----email webfoot56@icloud.com

webfoot56




Posts

: 17


Join date

: 2019-04-07



Greetings,

MOST ILLEGAL to ship AMMO via US Post Office.

Must be FEDEX, UPS, or other carrier.

Cheers,

Dave

fc60




Posts

: 1173


Join date

: 2011-06-11


Location

: South Prairie, WA 98385



kc.crawford.7 likes this post
Thanks.  I shipped ammo a few years ago but didn't remember the drill.

OldShooter




Posts

: 78


Join date

: 2014-05-15



go to ups hub they will ship it for you should be about13-15 dollars

webfoot56




Posts

: 17


Join date

: 2019-04-07



Don't forget there is a new label that goes on the outside. No more ORMD. I got confused when I received a package of 22 lr and didn't see the old label. It's now a diamond with part of it filled in. 

https://www.phmsa.dot.gov/training/hazmat/orm-d-phase-out

RodJ




Posts

: 280


Join date

: 2021-06-26



What a nice pistol. I sure could use a couple of magazines but a package deal is a package deal.  Good luck on your quest.

Greg
Last edited by GLSHOOTER on 8/27/2021, 4:12 pm; edited 1 time in total

GLSHOOTER




Posts

: 6


Join date

: 2019-10-17



fc60 wrote:Greetings,

MOST ILLEGAL to ship AMMO via US Post Office.

Must be FEDEX, UPS, or other carrier.

Cheers,

Dave
Who told ?

Multiracer




Posts

: 844


Join date

: 2017-03-15


Location

: North Ohio



https://www.usps.com/ship/shipping-restrictions.htm

Domestically Prohibited Items: You can't send these items in the U.S. mail: ... Ammunition

OldShooter




Posts

: 78


Join date

: 2014-05-15



Now on gunbroker with a $1000 starting bid.
https://www.gunbroker.com/item/908636542

OldShooter




Posts

: 78


Join date

: 2014-05-15



Similar topics
---
Permissions in this forum:
You
cannot
reply to topics in this forum