6 Boxes of cellophane sealed Eley 10x .22lr ammuntion---- $102.00 plus actual shipping
NOTE:  I'll be out of town from early Tuesday, June 7th until late Tuesday, June 14th.  If someone can get me funds, I could try to ship on Monday but no promises.
This is the last of my personal stock of 10x.  I was saving it for the day that I, again, shot in matches.
By way of disclosure, this ammo has been sitting for some time.  Perhaps 20 years.  A few years ago, I traded some of it for bullets with Terry Labbe, Magnus Bullets... who's a member of this Forum.  I didn't get any complaints from him and we did a number of successive trades.
I decided to just put my last 6 boxes up here to let others have a chance.  Who knows... maybe Terry will grab it.
I will sell these 6 boxes and no more. I just don't have any left (unless they are buried in the reloading room).  I also want to sell all 6 boxes at once because the hassle and expense of shipping.
Any questions, please ask or PM me.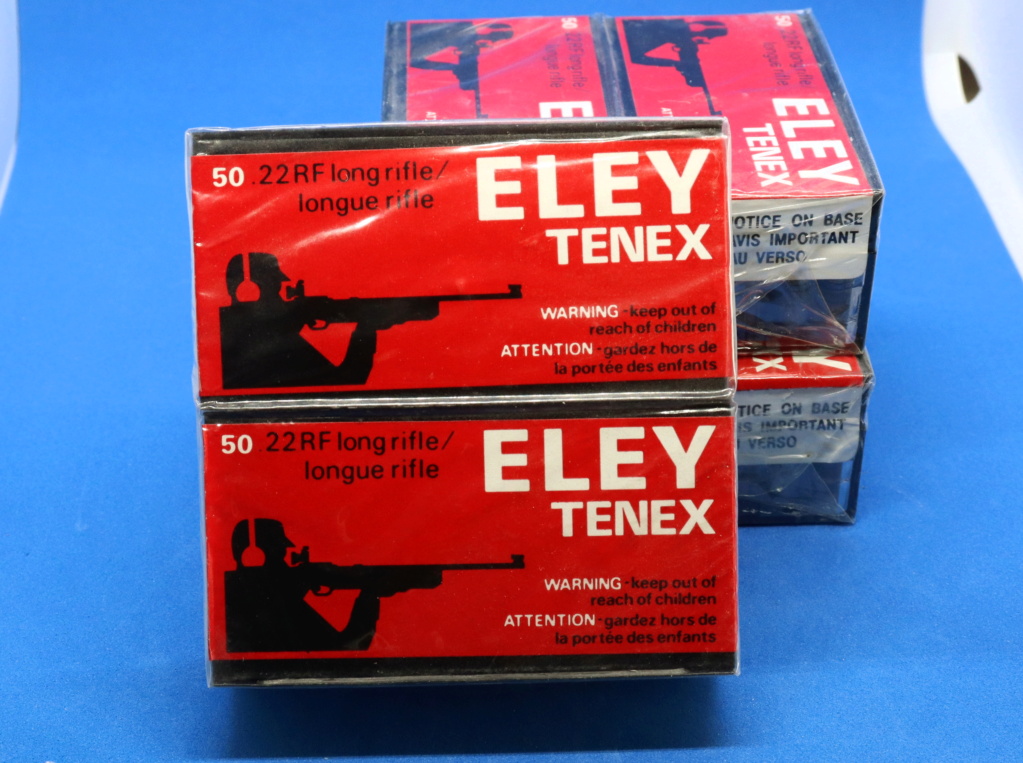 PBalkan




Posts

: 50


Join date

: 2011-06-11



300 rounds? If the bullet heads are not oxidized , I will take them.

rich.tullo




Posts

: 1712


Join date

: 2015-03-27



They are sealed in the cellophane.  I will be happy to open them and look and post a photo.   Will it be OK if two boxes are opened?

PBalkan




Posts

: 50


Join date

: 2011-06-11




PBalkan




Posts

: 50


Join date

: 2011-06-11



I have a good amount of Tenex approximately the same vintage. It looks exactly like that. It shoots absolutely lights out in my Anshultz 
Super Match. 
For me it would be a total waste to use it in a pistol! 
JKR

JKR




Posts

: 736


Join date

: 2015-01-13


Location

: Northern Wisconsin



My Tenex of the same vintage will not chamber in my Marvels, Nelson or Xesse due to the oxide.

If anyone has a solution to this issue please advise.

Blsi2600




Posts

: 157


Join date

: 2013-03-27


Location

: SW ILLINOIS



I waited a couple of days to allow folks to express views.

I'm more than happy to take close-up pictures of anything I'm selling.  The macro-lens can get in very close and magnify.  For some items that I sell on ebay, I've posted pictures from a digital microscope (like knife and straight-razor edges.

It should be obvious from the stuff that I'm selling that, at age 75 years, I've reached a station, in life, where I have no need to make a buyer unhappy with me for a few bucks.

Honestly.... to me that lead looks just fine.  The lube appears to be a bit milky.  I can rub off some of the lube and the bullet looks like new.  

However... this is match ammo.  To me, one of the key components of shooting well, in competition, was having confidence in my equipment and ammo.  I had enough to worry about with my own defects in skill and technique that I didn't want to worry about my equipment.

So.. if a person believes that this ammo is sub-standard, he should definitely not buy it.  And... no hard feelings

PBalkan




Posts

: 50


Join date

: 2011-06-11



I am sorry, I did not mean to suggest the ammo was sub standard I am sure it is fine. I cannot shoot it in my guns because I am not good enough, the ammo is for my Dad and I did not want to buy it and have to deal with his nonsense. They say do not look a gift horse in the mouth , well unfortunately, he did not get the memo. 

He is 80 years old and into 22lr Rifle Precision shooting these days and god forbid he makes a bad shot its everyone's fault except for the trigger puller. 

I just bought him some RWS 50 and Tenex to sample and he pesters me everyday with his opinions. I keep telling him just shoot and have fun.

rich.tullo




Posts

: 1712


Join date

: 2015-03-27



---
Permissions in this forum:
You
cannot
reply to topics in this forum