+4
BruceV
Pinetree
Texasref
SaraiEsq
8 posters
Ruger Mark IV Target pistol
I just received my new pistol yesterday and I wanted to show her off. 
We've already been on our first (and second) date to the range and I think we will get along fine.  I have already added a touch of white paint to the front and rear sights; the black on black on black was not working at all for me.  
Tonight's project at the range was trying to adjust the adjustable rear sight.  My shots were falling high and to the left.  I believe I've moved the sights to the right enough (or close to) and overshot the mark with the vertical adjustment.  I would have kept tweaking but, well, the RSO called for last mag...  
I have two indoor 1800s coming up (Saturday morning and Monday night) so I will get a chance to see how well she likes the line soon enough.  I feel terribly unprepared -- I've only fired 200 rounds with her! -- but I'm gonna give myself a little bit of grace and just have fun.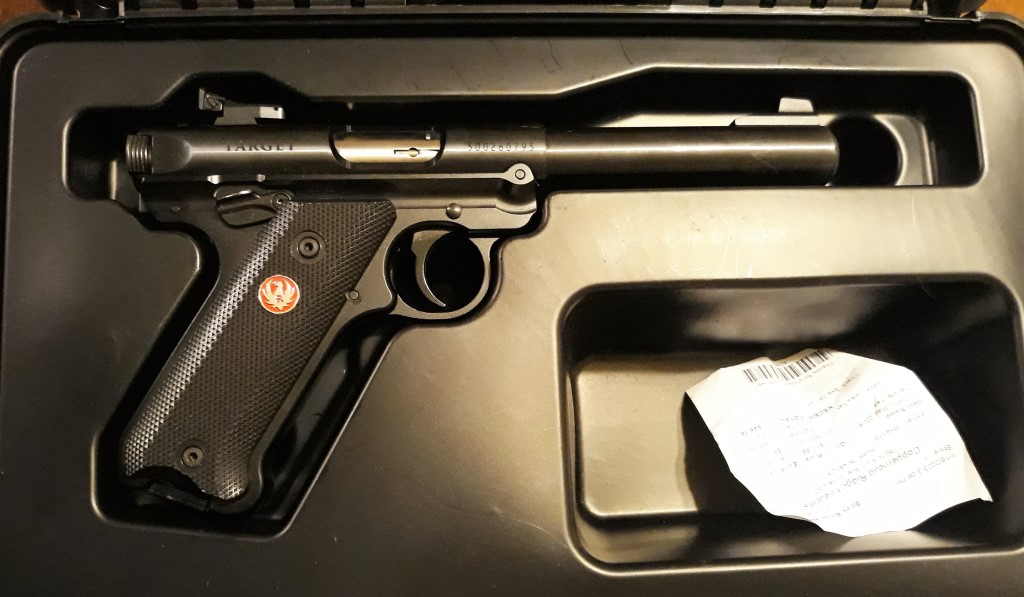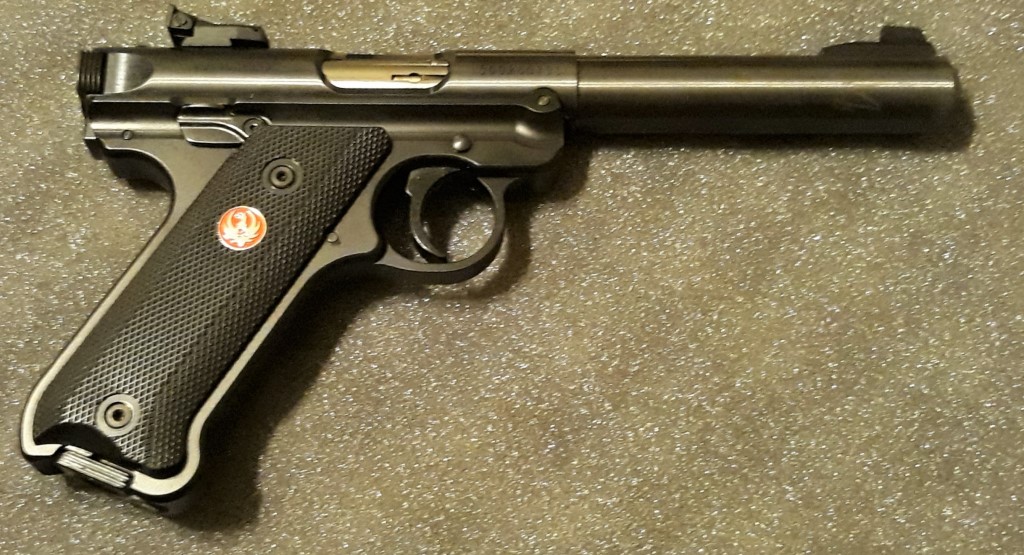 SaraiEsq




Posts

: 134


Join date

: 2022-09-25



Slamfire, x90rider, Ray Dash and shanneba like this post
Congrats on the new pistol. Have one just like it and could not be happier.
They really are very nice and shoot extremely well.

Texasref




Posts

: 110


Join date

: 2020-08-16


Age

: 67


Location

: Houston



Everyone should have a Ruger.



Pinetree




Posts

: 226


Join date

: 2017-05-13


Age

: 64


Location

: NWPA



Slamfire, Nightshift82 and SaraiEsq like this post
You really can't beat a Ruger for the money.  Great guns very reliable and they are accurate.  For a few bucks you can transform it into a really good bullseye gun, install a Volquartsen trigger kit in it.  It may not be as good as a world class trigger job but it sure as heck is way better than the stock trigger.

BruceV




Posts

: 100


Join date

: 2021-12-06



Rugers are awesome. Install a Volquartsen rear sight, in addition to that trigger kit, and I bet you will like it a lot better than the factory sight.

aub1957




Posts

: 132


Join date

: 2018-08-03



Those who have MKIV's, and use them in Bullseye Pistol, have liked their pistols.  Those that have MKIII's, as a rule have converted them to MKII's using Volquartsen parts.
It is good to see the "fish" hook Partridge front sight is gone. That was decades too long. I lost enough meat due to the fish hook, I removed the Ruger front sights from my pistols.

Slamfire




Posts

: 204


Join date

: 2016-04-19



The fish hook makes it a dual purpose survival tool.

RodJ




Posts

: 763


Join date

: 2021-06-27


Location

: TX




DHMG1




Posts

: 231


Join date

: 2011-10-28



Arthur and SaraiEsq like this post
Similar topics
---
Permissions in this forum:
You
cannot
reply to topics in this forum