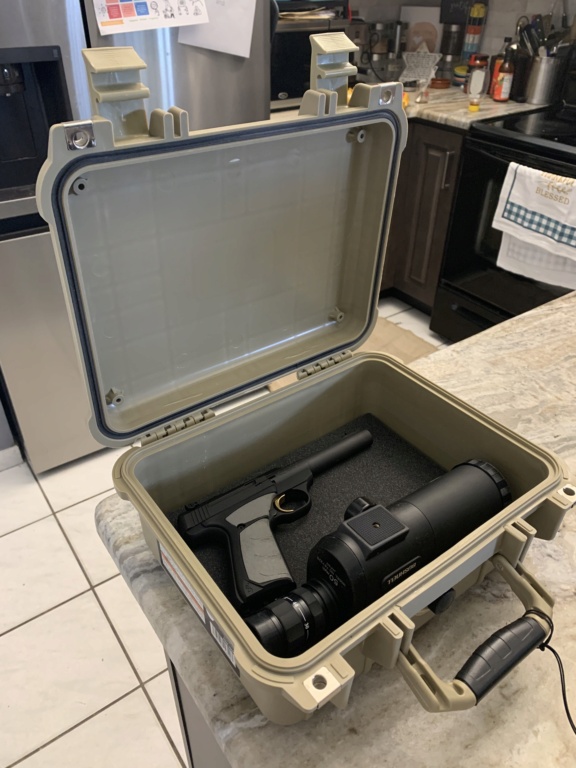 In response to speaking with several people regarding the future of bullseye pistol boxes and in reading the comments left on this forum, I have decided to work on creating a "kit" to modify Apache, Pelican, etc.. boxes for Bullseye pistol and target shooting. 
I was excited about working on an " IKEA" Bullseye box and even contacted a member of this forum that put the idea in a recent post but after looking at design considerations, metal cost, manufacturing cost, and a recent problem.. SHIPPING COSTS! I decided not to pursue this idea at this time. 
Like I have said multiple times on this forum, I am not a Bullseye Pistol shooter I am a .22 caliber target shooter but I like the organization provided in a traditional Bullseye Box. 
As some of you may know, my childhood friend and family member is a Mechanical Engineer and has the means to produce just about anything out of sheet metal. Some of you may own his recent reproduction of the famous Pachmayr magazine holder which many of you may have acquired though BullsEye Gear.com at one point. 
The goals with this project is to provide a "kit" that when installed will hold 1-2 guns at minimum and have an option for a "Hibard" style scope mount, a magnetic magazine mount on the top lid , some type of storage for small tools, ammo and accessories and or course a metal "stay" to keep the lid in a 90 degree open position. 
The box I will be modifying first is a small Apache box for my Browning Buckmark. 
I will say that at this point, I do have the scope mount, magnetic magazine holder and stay for the lid figured out. 
How the pistol is gonna be held in place securely is what I'm working on.
I NEED A 100% SCALE OUTLINE OF THE ARM AND SCREW MOUNT SHOWING THE SCREW HOLES AND SLOT FOR A GIL HEBARD SCOPE MOUNT. 
I could just purchase a reproduction from Red Feather Outfitters (GREAT PEOPLE) but I'd like to save the $49.95 plus tax and shipping if I can.
If ANYONE would like to share any ideas that you would like to see in this box or can help me in ANY WAY, please feel free to call me or email me.
Thanks to all of you for this great forum.
Ernie "The Eyeball" Fuentes
bsaernie@gmail.com
813-598-2902

askernie




Posts

: 21


Join date

: 2017-03-19



---
Permissions in this forum:
You
cannot
reply to topics in this forum