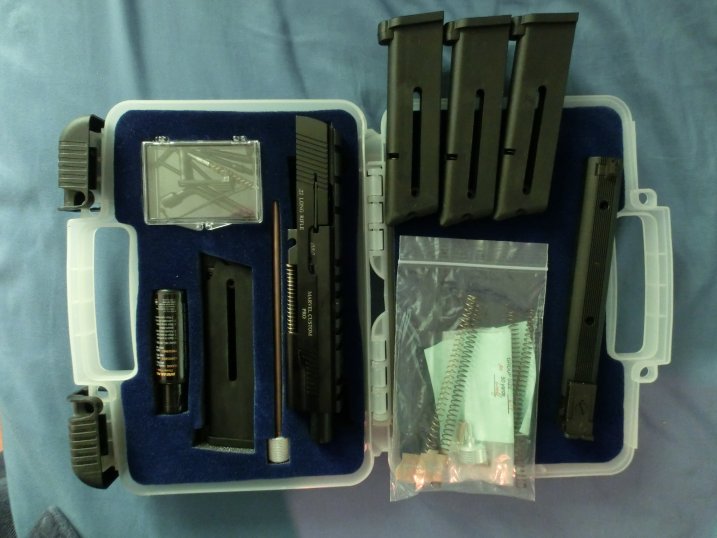 Advantage Arms Marvel Custom Pro
Bullseye Conversion for the 1911-A1
.22 Caliber Conversion Kit
This is unit #30 of the Bob Marvel Custom Pro .22 Conversion Kit based on the Advantage Arms 1911 Conversion.  Bob Marvel installed a custom barrel to be reliable and accurate for Bullseye competition.  Shoots great with Wolf and Eley Standard Velocity ammo. 
This unit is my backup and has been used very little. Includes the following:
It is set up with a picatinny rail but also has Iron Sights that can be installed by simply removing two screws.  And comes with two extra screws.
Four magazines
Magazine loader
Extra spring kit with 7#, 8# and two 9# springs
Cleaning rod and tool kit
Extra slide stop screw and wrench
Break Free CLP
Box is cracked at one hinge but still works fine.
POSTAL MONEY ORDER ONLY!
$575 shipped to lower 48.
Contact me at tomtips@charter.net
From the Advantage Arms web site:
----------------------------------------------------------------------------------
EXCLUSIVE FEATURES OF OUR 1911 CONVERSION KIT
1.  ADJUSTABLE SIGHTS
Both the Standard and Target models use Champion adjustable sights.
2.  LAST ROUND LOCK OPEN
The slide will lock open after the last round in the magazine has been fired. Our unique magazine design and patented heat-treated steel lock open insert allows us to offer this special and desirable feature which you can only find on 'Advantage Arms' .22LR conversion kits.
3.  FINISH
All Aluminum parts are Anodized Per Mil-A-8625 with a matte black finish. All steel parts are heat treated with a Black Oxide Finish. The barrel is made from heat treated 4140 steel.
4.  THE 30 SECOND INSTALLATION
Installation is simple and does not require any modifications to your 1911 pistol. Simply remove the 1911 magazine and slide as outlined in your 1911 owner's manual. Now slide the "Advantage Arms" slide onto the frame, insert the slide stop pin and tighten guide rod. Insert the conversion magazine. You are now ready to shoot.
This procedure can be accomplished in less than 30 seconds with some practice.
COMPATIBILITY OF OUR 1911 CONVERSION KITS
Our 1911 .22LR Conversion kit is designed to fit any full size 1911-A1 frame made to U.S. government mil-specs.
Attachments

Cimg0172.jpg

You don't have permission to download attachments.

(59 Kb) Downloaded 10 times

Cimg0171.jpg

You don't have permission to download attachments.

(55 Kb) Downloaded 6 times

Cimg0168.jpg

You don't have permission to download attachments.

(83 Kb) Downloaded 16 times
Last edited by TF on 2/19/2014, 8:42 pm; edited 2 times in total

TF




Posts

: 9


Join date

: 2011-06-10



Below are answers to questions I have gotten on this unit:

This unit has last round hold open.

The iron sight rib is included and easily swapped with the picatiny optic rail.

All parts are stock Advantage Arms except the barrel which is a hand selected barrel cut and installed by Bob Marvel.  A standard Advantage Arms barrel will fit in this unit.

The unit is used but in excellent condition.

Only 30 of these units were made.  I own #6, and the one for sale is #30.

PRICE REDUCED to $575 delivered!!!

TF




Posts

: 9


Join date

: 2011-06-10



There seems to be some confusion about this unit.  The Marvel Custom Pro was never sold by Advantage Arms.  Bob Marvel purchased the parts from Advantage Arms and added a custom barrel and tuned the extractor and ejector for greater accuracy and reliability.  It is not simply a barrel change, though that would be a great improvement alone.  Advantage Arms could not supply Bob Marvel with parts because of the great demand at the time and Bob stopped using them after he made 30 units.
More questions answered:
The magazines are polymer and all function reliably with this unit.
There is a test target included and the picture is below.
I found this video:  https://youtu.be/aJR3M2l49WA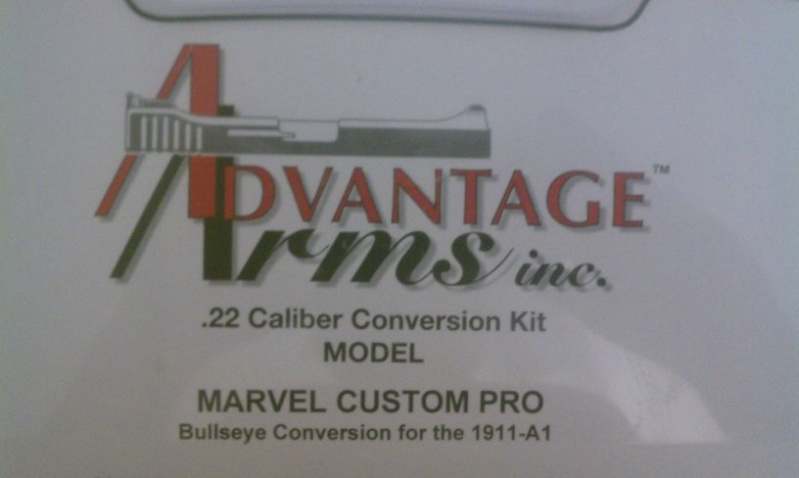 TF




Posts

: 9


Join date

: 2011-06-10




TF




Posts

: 9


Join date

: 2011-06-10




---
Permissions in this forum:
You
cannot
reply to topics in this forum