Hello All,

I shoot a 92FS with a KKM Barrel in Ball Matches.  My match bullet is the Sierra 8115 (w/5.0 grains of Vihtavouri) which is very accurate; it is also very pricey @ .20 per bullet.

What 115gr FMJ bullets have you used that were affordable and accurate @ 50yds?

Regards,

Keith

wheelsthatgrip




Posts

: 19


Join date

: 2013-08-21




james r chapman

Admin




Posts

: 2995


Join date

: 2012-01-31


Age

: 70


Location

: HELL, Michigan



AT 50 YDS THE SIERRA'S ARE THE BEST I'VE FOUND. THE ZERO'S ARE CLOSE BUT ABOUT AN INCH BIGGER AT 50YDS. THAT BEING SAID STILL A 10 RING GROUP AT 50 YDS. YOU CAN ALSO TRY THE HORNADY 115GR HAP HOLLOW POINT. THEY ARE BETTER THAN THE ZERO RN. AND THEY ARE LEGAL IN HARDBALL NOW.  THE HAP I GET FROM WIDENERS AT $330 FOR 3000 DELIVERED. THAT'S 11 CENTS A PIECE. JP

JIMPGOV




Posts

: 338


Join date

: 2011-09-27



I've had good luck with lots of bullets. I've used more Precision Delta FMJs than anything else. 

The Hornady bullets mentioned above are a really good deal too.

DeweyHales




Posts

: 623


Join date

: 2011-06-10


Location

: North Carolina



Thanks everyone for your input.   Would anyone like to share some loads for 115gr hollow points?

wheelsthatgrip




Posts

: 19


Join date

: 2013-08-21



I forget what load I use most. Hmmmm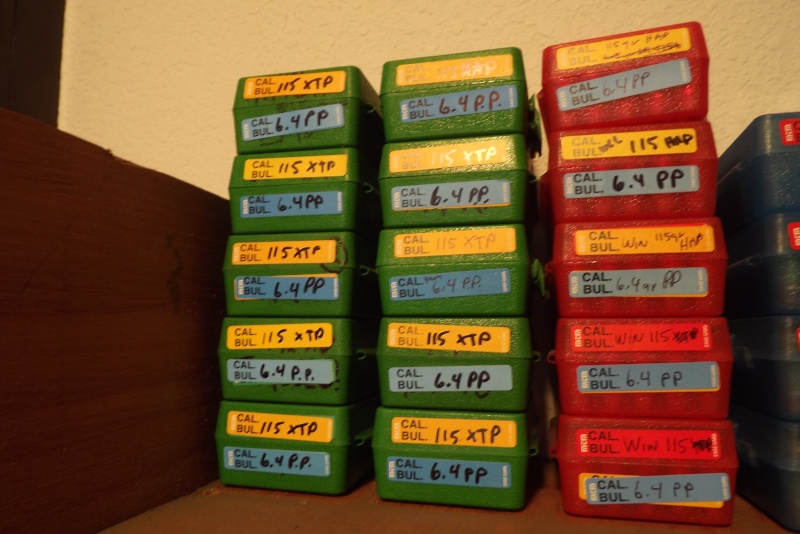 LenV




Posts

: 3383


Join date

: 2014-01-24


Age

: 69


Location

: Oregon



That's a tough one old master

How does that group for you at 50yds? I have used 6.0 grains of Power Pistol with mixed results (rnfmj)
Keith

wheelsthatgrip




Posts

: 19


Join date

: 2013-08-21



I used 6.0 gr with my rnfmj also. This load will shoot little groups inside that load. I still have several hundred rn loaded marked EIC. That was back when we needed to shoot RN for EIC. I went to the increased load and HP and don't plan on switching back. That load (6.4) will hold x ring out of my 952 sand bagged. The Sierra Tournament Master were by far the best FMJRN that I found. ( I didn't actually find them. Roddy Toyota told me to use them). There have been a lot of previous discussion here about best loads for the 9. Most agree that somewhere between 6.0 and 6.4 is the sweet spot. Your pistol might like a different load.

Len

LenV




Posts

: 3383


Join date

: 2014-01-24


Age

: 69


Location

: Oregon




---
Permissions in this forum:
You
cannot
reply to topics in this forum