Hi,
Anyone have or know where I can get a barrel [preferably new] for a S&W model 41? I need one that is drilled and tapped for a sight rail.
I have seen too many poor reviews on Clark replacement barrels and for Falcon-Lombardi. So, unless one of those is from 10+ years ago in amazing condition.....
Barrel length is not a priority.
Please let me know if you even think you know of someone that might be of help.
Thank you all, Jesse

Jes321




Posts

: 11


Join date

: 2015-11-25



How about a barrel liner?

joem5636




Posts

: 87


Join date

: 2011-06-11



Barrel liner? Please explain.
And how would that allow me to use a reflex sight without permanently changing the existing barrel?

Jes321




Posts

: 11


Join date

: 2015-11-25



http://www.ssusa.org/articles/2015/9/9/accurizing-the-sw-model-41/


for your viewing pleasure.

Chris Miceli




Posts

: 2715


Join date

: 2015-10-27


Location

: Northern Virginia



If you can, or know a local gunsmith? It is very easy to drill and tap the older model 41's. ( weaver k frame base)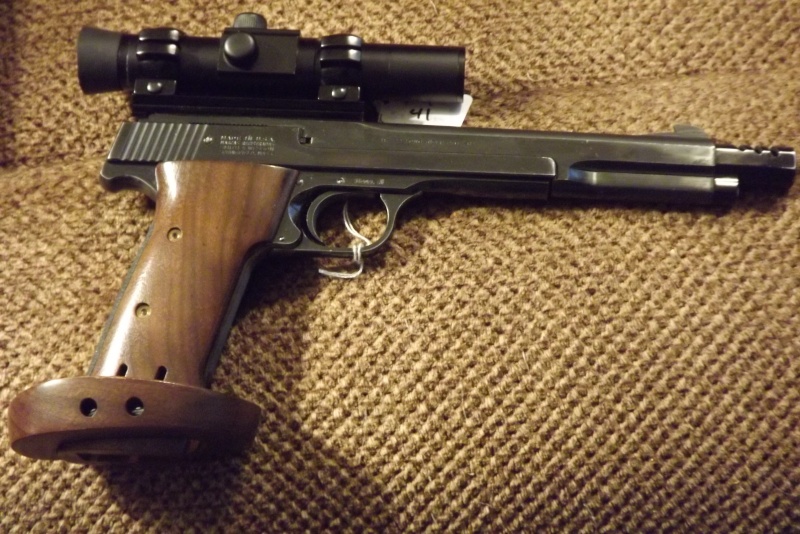 If you have the older long barrel drilling and tapping is a good option. If you have the 6" barrel with dove tail mount on the rear sight you have a bunch more options. BME makes a lot of choices for the model 52 and they also fit the older model 41.
http://www.bme-mounts.com/productlist.html   NFI

LenV




Posts

: 4589


Join date

: 2014-01-24


Age

: 73


Location

: Oregon



Anyone that can do the long drilling to install a barrel liner could easily drill and tap for a mount. I have a Bully barrel and like it. Not as tolerant of ammo as the original barrel, but accurate.

joem5636




Posts

: 87


Join date

: 2011-06-11



I am interested to know what poor reviews you have read on the Clark.
I have had 2 (still have 1) and both of them have been excellent.
The only 'issue' I have is that I have to keep the chamber clean as it is tight.  But my original S&W barrels were not much better in that regard.
I find the Clark and the Buly design better than the original as there is no sight rail above the chamber which cuts down the stove pipe possibility.
I have seen S&W barrels with that part milled off to provide the same improvement if you are using only a scope.

gulliver62




Posts

: 106


Join date

: 2011-10-27


Location

: Atlanta, GA



I've had very good results from the 5 Falcon barrels I have and the 1 Clark for my 41.
Lou once sent me a 1-1/2" (+ chamber) barrel for my GSP that was amazingly accurate at 50 yards (should have bought it from him).

Wes Lorenz




Posts

: 356


Join date

: 2011-06-27


Location

: Washington



Similar topics
---
Permissions in this forum:
You
cannot
reply to topics in this forum