I am considering buying a High Standard Supermatic Citation. I'd like to install a set of Herretts National grips on it to match my 1911. Looking at pictures on the internet, the right grip covers the right side of the magazine release "pull tab" (for lack of a better word). Does this make mag removal difficult in any way? Or is it possible to use two fingers on the mag catch?  Thank you in advance for your replies.

Mike38




Posts

: 512


Join date

: 2016-09-15


Age

: 62


Location

: Illinois



My wife has that setup on her 107

She simply uses her fingernail on the left side of the catch.

No issues for her.

jglenn21




Posts

: 2332


Join date

: 2015-04-07


Age

: 73


Location

: monroe , ga



Mike,
Check to see if you can release a magazine with your right thumb before you buy the grips. I have a gun that I couldn't get to work. There was some binding with the mag catch.

Bubba Blaster




Posts

: 187


Join date

: 2013-10-20



I have them on my 106. I have fat fingers but have no problem dropping the magazine. I do however have big problems (pun intended) putting the magazine in the pistol. I had to add a little length to the magazine to get them to push in. Even my pinky finger won't fit between grip halves. If I can make the mag release work then I am certain that someone with normal size hands would have no problem.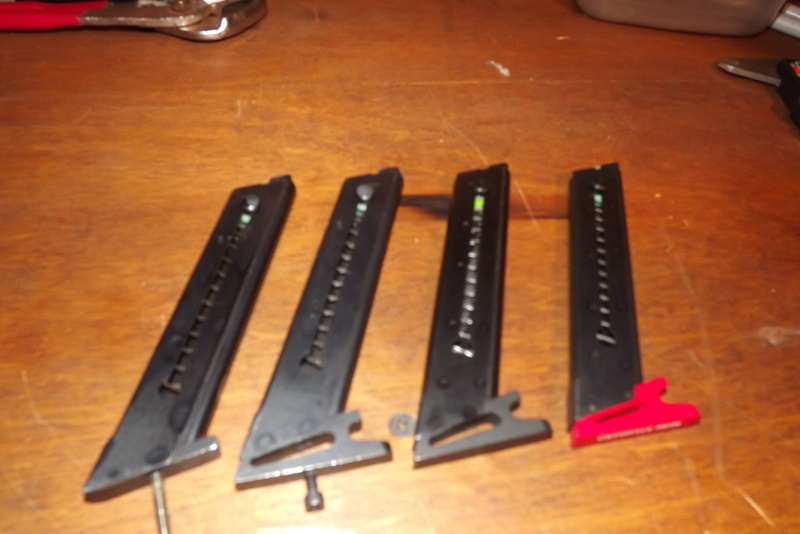 LenV




Posts

: 4505


Join date

: 2014-01-24


Age

: 72


Location

: Oregon



I tried operating the mag release with just one finger from the left side, not much luck. But, a drop of oil on the shaft that the mag catch spring is around made it very easy, even with one finger. I'll just have to remember to put a drop of oil there before each shooting session.

LenV, thanks for the pictures, that's a great idea putting the "extension" on the bottom of the magazine. It looks like an 8-32 socket head allen screw? Just drill and tap the mag bottom, right? But I may not need it. I have smallish hands / fingers, and I have no problems with the National grips on my 1911.

Mike38




Posts

: 512


Join date

: 2016-09-15


Age

: 62


Location

: Illinois



---
Permissions in this forum:
You
cannot
reply to topics in this forum