Hi,
Anybody using Accurate Bullet Mold bullets for 9mm? 
I was looking at their 35-115B.  It's a 115 gr. SWC inspired by the H&G 45 SWC.
http://www.accuratemolds.com/bullet_detail.php?bullet=35-115B-D.png

scheibenpistole




Posts

: 41


Join date

: 2016-10-06


Location

: South Carolina



I have used the 115gn L-SWC from MasterBlaster and Penn with good results.
They were based on the H&G #68.

noylj




Posts

: 318


Join date

: 2012-03-09


Age

: 69


Location

: SW USA



I run a similar bullet in a 38 super.. it's  126 gr.  Dardus makes it and NOE  has the mold..
Last edited by jglenn21 on 11/25/2016, 8:06 am; edited 1 time in total

jglenn21




Posts

: 1579


Join date

: 2015-04-07


Age

: 70


Location

: monroe , ga



Thanks!  
OK, I looked at the 115 gr SWC from Penn.  Yes, based on the H&G #68, pretty much like the Accurate mold.
Maybe I should get some from Penn to see how it works out.  The Accurate molds seem to be nice.  You can specify as-cast diameter for a particular alloy when ordering.  

Jim

scheibenpistole




Posts

: 41


Join date

: 2016-10-06


Location

: South Carolina



I did a little testing of the Penn 115gr in several pistols. You can see by the results that you have to work at it to get the right velocity/load to make it work for any given pistol. The 952-2 (1:18.75 twist) did not like the same ammo that the RO (1:16) liked. I should mention that none of the lead bullets tested shot as good as jacketed. These are just some of the results but pretty typical.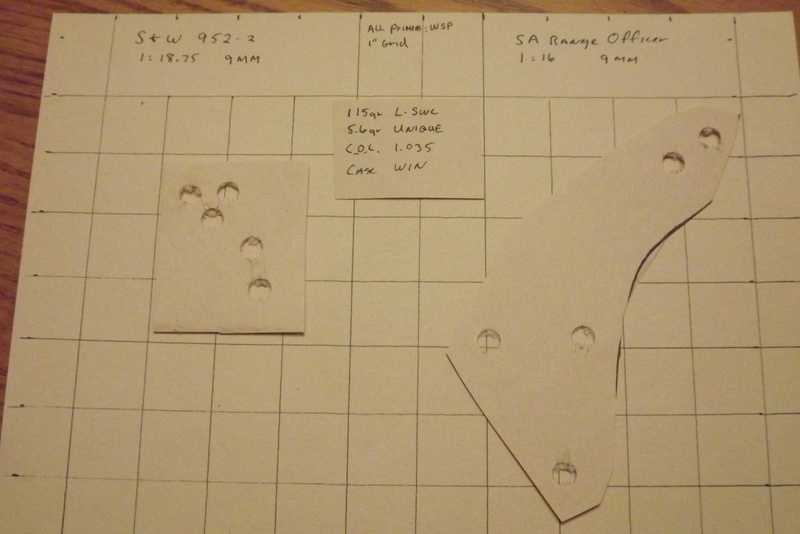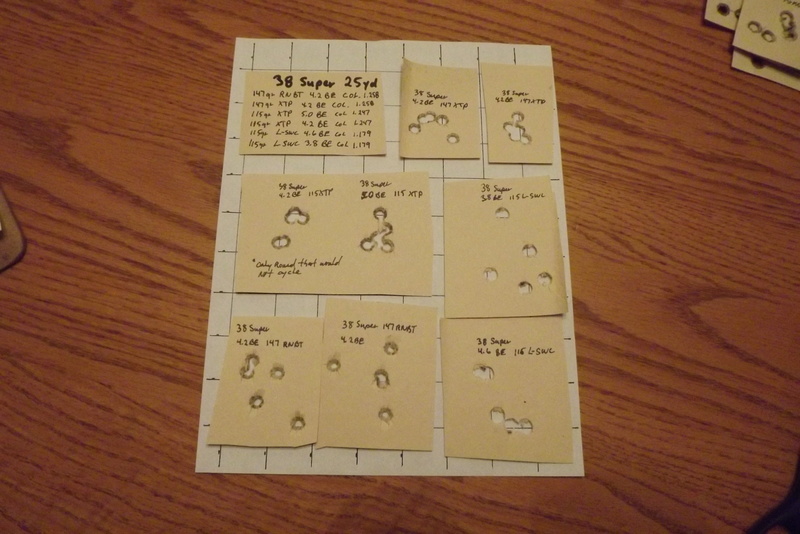 LenV




Posts

: 3375


Join date

: 2014-01-24


Age

: 69


Location

: Oregon



Hi Len,

Thanks for posting all the pictures!  Seems like 9mm might be a bit more work as a cast bullet cartridge, at least in some pistols.

Jim

scheibenpistole




Posts

: 41


Join date

: 2016-10-06


Location

: South Carolina



I've been shooting a 129 gr. version (actual weight of my bullets) of the bullet you posted. The mold is made by Mihec - its a replica of the H&G 275. I cast them of hard alloy (90, 3, 7) and size to .356".

At 25 yards it shoots 1.5 to 2" groups from arm rest using sorted brass and selected bullets. Groups look like LenV's .38 Super, bottom of the bottom target. And the occasional flyer that may or may not go to call --- grrrr.  4.5 grains of N340 gives 1140 fps. WSF also shoots well. Its full power 9mm. After 150 or so rounds, I get very minor leading that brushes out in a half dozen strokes with a brass brush and Kroil.

Select your brass. Using unsorted brass I get big groups and lots of flyers. The thing about 9mm brass is that in its ubiquity it is highly variable. Especially the taper/angle/depth of taper of the case walls. Cast bullets can get squeezed in thick tapered wall brass. Your bullet may help because the shorter length will keep it out of the taper more. Everyone who makes 9mm brass seems to make to a different spec and with about any idea of QC that can be dreamed up.

I think a gun that was sprung correctly for your bullet at lesser velocity and good brass could be really good for 25 yard shooting, but its probably not going to be as easy as loading decent .45 ammo. For 50 yards I'd go jacketed.

HenryA




Posts

: 94


Join date

: 2013-08-24



Some of the IDPA guys are using 146gr cast bullets with 3gr Bullseye. They say the recoil is very soft like shooting the old 148gr 38 wadcutter load. That might be worth a try.

Ghillieman




Posts

: 418


Join date

: 2012-02-14


Location

: TEXAS



Ghillieman brings up an interesting point.  I'd thought about that direction: 140-150 gr. slugs at 38 wadcutter velocity.  Above is a picture of the long discontinued Lyman 356472.  It was listed as weighing 140 gr.  This was developed for a Canadian target shooter using a modified P08 Luger Parabellum.  It looks like the forward band may be intended to ride the lands.  Apparently, the design was used by some winning competitors. 
Accurate Bullet Molds has a bewildering variety of weights and styles, from a 65 gr. wadcutter up to a 195 gr. slug intended for 9mm revolver.  
HenryA mentions a good point too about brass.  I'd like to know of any experiences or knowledge of who makes brass with the deepest straight that for heavy slugs.  
Thanks for all the great insights,
Jim

scheibenpistole




Posts

: 41


Join date

: 2016-10-06


Location

: South Carolina




---
Permissions in this forum:
You
cannot
reply to topics in this forum